« Back to Results
Saluck, Halper & Lehrman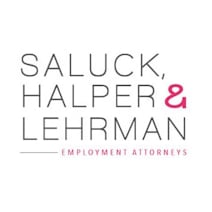 Personalized. Collaborative. Relentless. 
Our firm, SHL is committed to protecting the rights and interests of both workers and employers, and will work tirelessly to provide their clients with exceptional service and legal representation focused on positive results.
Knowing that each individual and employment matter are unique, SHL doesn't believe in a one-size-fits-all approach. By fostering close relationships and taking the time to truly understand a client's objectives, we are able to lay the foundation for completely customized representation.
Our deep and diverse backgrounds in litigation and employment law allow for collaboration throughout different stages of the case, always ensuring exceptional service for each client. 
Backed by experience and proven results, SHL is a fierce negotiator, dedicated to fighting on behalf of employees whose rights have been violated. The firm also helps businesses incorporate policies and procedures that will ensure their workers are treated fairly and lawfully. 
SHL serves clients and represents them in litigation in local, state, and federal courts. 
Contact us today if you need legal assistance with any of the following:
COVID-19
Employment Discrimination & Retaliation
Sexual Harassment
Wrongful Termination
Wage & Hour Claims
Family and Medical Leave Act Claims
Whistleblower Claims
Employment Contracts
Non-Compete / Non-Solicitation Agreements
Severance Agreements
Non-Disclosure Agreements
Employee Grievances
PIP Management
Personnel Practices & Procedures
Employer Compliance
Unemployment Applications & Appeals
Common Issues Encountered by Women in the Workplace
Call 914-247-0825 today to arrange your initial consultation.
Attorney Jill Raymond Saluck
Since the 1990's, Attorney Jill Raymond Saluck has fought for the rights of workers. With a passion and purpose for ensuring that her clients are treated justly, her experience has largely focused on representing employees in matters of discrimination.
Dedicated to combating unfavorable and illegal workplace practices, Attorney Saluck has a track record for consistently providing positive results for her clients. Whether it's offering counsel for sexual harassment, retaliation, wrongful termination, or unpaid wage claims, her skills have been utilized by both private individuals and large companies. Striking a balance between empathetic advocate and fierce negotiator, Attorney Saluck is solely focused on exceptional service and favorable outcomes for her clients.
Bar Admissions:
New York State Bar
U.S. District Court for Connecticut
U.S. District Court for Southern New York
Education:
Tulane University
Washington University School of Law

Doctor of Law (J.D.) 1995
---
Attorney Jill Halper
Attorney Jill Halper began her career as a negligence litigator with a boutique firm where she handled cases from inception through trial. She later transitioned to an in-house role as a commercial litigator. Over the past years, she has developed a passion for and niche in employment law where her practice involves representing employees and employers in all labor and employment matters. While her cases predominantly involve representing claimants and plaintiffs in discrimination and harassment matters, she also has found great success representing and counseling local business and employers on all aspects of employment law from the drafting of employment and severance agreements to advising employers on COVID issues and related disability matters.
She has found that she is able to provide great insight and advice, having had experience advocating for both sides and knowing what strategies to employ to protect her clients and yield the most optimal results. While Attorney Halper has extensive litigation experience, she is a skilled and strong negotiator who has been able to attain consistently impressive settlements and results. She strives to resolve cases without the need for costly and lengthy litigation and has been able to resolve claims and settle most cases in their early phases.
Bar Admissions:
New York State Bar
U.S. District Court, District of Connecticut
U.S. District Court for Southern New York
U.S. District Court for Eastern New York
Education:
University of Pennsylvania

B.A. in Communications 1988

American University Washington College of Law

Doctor of Law (J.D.) 1991
---
Attorney Randi Lehrman
Attorney Randi Lehrman has over 30 years experience as a litigator, formerly representing hospitals, physicians, nurses and nursing homes in medical malpractice and negligence actions. Since 2017, Attorney Lehrman has focused on plaintiff-side representation, handling all phases of litigation, from inception through trial.
Always a connector and communicator, Attorney Lehrman is also the Co-Founder of Gold Coast Connect, a premier networking and event company comprised of over 6,000 Fairfield County businesses and residents. Her rich legal experience coupled with her extensive networking and marketing skills offer clients a well-rounded perspective on a broad range of legal and business needs. 
Bar Admissions:
New York Bar
Connecticut State Bar
U.S. District Court, District of Connecticut
U.S. District Court for Southern New York
U.S. District Court for Eastern New York
Education:
State University of New York at Albany

Summa Cum Laude
Phi Beta Kappa Society
B.A. in Psychology 1986

Maurice A. Deane School of Law at Hofstra University

Doctor of Law (J.D.) 1989