« Back to Results
Pelley Law Office, L.L.P.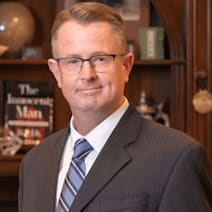 Criminal Defense | Serving Dallas, TX
Clients needing legal solutions for Criminal Defense can connect with Pelley Law Office, L.L.P., a local Texas practice.
Average Experience:
35 years
Affordable, Reliable and Respected Law Firm
With over 80 years combined experience, you can rest assured that our legal team has successfully resolved thousands of legal issues like yours many times. Congratulations, you have found a safe place to resolve your legal problems.
Throughout the past five decades, our firm has earned an excellent reputation by providing first-class professional service at a fair price. We are proud that the majority of our clients are referrals recommended to us from their friends or family members.
Our attorneys and knowledgeable staff treat our clients the way we would want to be treated: with courtesy, dignity and respect.
Contact us today if you need legal assistance with any of the following: 
Bankruptcy
Criminal Defense
Family Law
Call 972-608-0335 today to arrange your free initial consultation. 
­­­Attorney Richard A. Pelley
Bar Admissions:
Texas, 1974
U.S. District Court Eastern District of Texas
Education: 
Baylor University School of Law, Waco, Texas

J.D. - 1974
Honors: summa cum laude
Honors: Member, Delta Theta Phi Legal Fraternity

Baylor University, Waco, Texas

B.A. - 1973
Honors: summa cum laude
Major: Political Science
Professional Memberships and Achievements: 
Plano and Frisco's Best Attorneys, Living Magazine, 2013
Allen's Best Bankruptcy Attorney, Allen American Readers' Choice, 2011 – Present
Former Bankruptcy Trustee – Plano, TX
NACBA - National Association of Consumer Bankruptcy Attorneys
---
­­­Attorney Quinton G. Pelley
Bar Admissions:
Texas, 2002
U.S. District Court Northern District of Texas, 2002
U.S. District Court Eastern District of Texas, 2004
Education: 
Texas Tech University School of Law, Lubbock, Texas

J.D.
Honors: Executive Vice President, Student Bar Association
Honors: Executive Vice Chair, Board of Barristers
Honors: Member, Criminal Trial Lawyers Association
Honors: Member, Budget Committee
Honors: Member, Volunteer Legal Services
Honors: Member, International Law Students Association
Honors: Member, Welcoming Committee for Accepted Students
Honors: International Law, Thessoloniki and Skopelos, Greece and Istanbul, Turkey

Baylor University, Waco, Texas

B.A.
Honors: Member, Dean's List
Honors: Member, Golden Key National Honor Society
Honors: Member, Psy-Chi National Honor Society
Major: Psychology

Austin College, Sherman, Texas
Professional Memberships and Achievements: 
Volunteer, Legal Service Program, 2002 to 2002
Result: M.J. discharged all of her credit card debt and the IRS back taxes through the Chapter 7 and adversarial proceeding.
M.J. had over $85,000 in unsecured debt from caring for a sick family member as well as over $10,000 in back taxes. The IRS argued that the tax return was not timely filed, but we proved to the court that it was. – M.J.
---
Result: Aggravated Sexual Assault of a Child case dismissed after rejecting the D.A.'s final offer of 40-Years in prison.
Our client was accused of repeatedly raping his pre-teen daughter and was facing life in prison if he was convicted. Prior to hiring us, his bond was revoked for going near a school zone and the State of Texas indicated they never wanted him to see the light of day again. His family came to us for help. After several aggressive moves, we got all of the charges dismissed. – T.A.H.
---
Our client came to us after a Sexual Assault of a Child allegation came out from his wife in the middle of a child custody fight. We not only got those false charges dismissed without an indictment, we got his minor son back that his ex-wife had kidnapped after the false allegations were dropped during the divorce. – B.D.R.
---
Result: We proved to the U.S. Trustee that this family passed the 2nd half of the two-part Means Test and were eligible to file a Chapter 7. In short, they saved tens of thousands of dollars by choosing our trial lawyers to represent them.
This family of three had $60,000 in unsecured debt and needed to get out from under it quickly so they could start saving for retirement and their child's college education. They met with several other bankruptcy attorneys before meeting with us. Every other firm told them that they made too much money to file Chapter 7. Thus, the other firms' attorney fees for a Chapter 13 would be at least triple what it would be for a Chapter 7. We charged them less and got them a discharge in Chapter 7. – R.G. & S.G.