« Back to Results
James Runzheimer, Attorney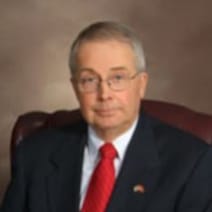 Business Law | Serving Arlington, TX
James Runzheimer, Attorney is experienced handling Business cases in the Arlington area.
Average Experience:
43 years
Serving Dallas-Fort Worth Clients Since 1980
For almost four decades, Arlington lawyer James D. Runzheimer has effectively, efficiently served individuals and small businesses in matters involving intellectual property, business law, real estate and more. He listens to you, learns from you, supports your goals and works hard to find solutions to your legal needs — personally handling every case, start to finish.
James D. Runzheimer strives to protect his Texas clients' concepts, designs, ideas and innovations, preserving their financial value through copyrights, trademarks and trade secrets. He also excels at preventing invasion of your privacy in cyber security matters.
Mr. Runzheimer skillfully assists clients with business formation and entity selection, commercial and civil litigation of employment tax disputes, due diligence, financial investment counseling, contract drafting and review, buy-sell agreements among co-owners of small businesses, and sales and purchases of business entities.
Contact us today if you need legal assistance with any of the following: 
Intellectual Property
Trademarks and Trade Secrets
Cyber Security
Copyrights
Business Law
Contracts
Business Litigation
Employment Tax Disputes
Real Estate Law
Call 817-795-2020 today to arrange your initial consultation. 
­­­Attorney James D Runzheimer
Bar Admissions:
Texas, 1980
Massachusetts, 1977
U.S. Court of Appeals 1st Circuit, 1979
U.S. District Court District of Massachusetts, 1979
U.S. District Court Northern District of Texas, 1980
U.S. District Court Northern District of California, 1991
U.S. Tax Court, 1979
Education: 
New England Law, Boston, Massachusetts

J.D. – 1977
Honors: Dean's List

University of Wisconsin, Madison, Wisconsin

Major: Accounting (B.B.A.), 1973
Major: English Literature (B.A.), 1967
Professional Memberships and Achievements: 
American Jurisprudence Award for Business Planning
Texas Society of Certified Public Accountants
"Mr. Runzheimer provided intelligent and insightful correspondence with my former employer. He resolved the conflict quickly, and I couldn't be happier with the outcome. He is an excellent attorney who I would use again, and I would recommend to anyone." – C.H.
---
"James Runzheimer has represented all of the legal interests of my two businesses, as well as my personal affairs, for the last 10 years. I have presented many challenging situations and dilemmas, which he has consistently resolved to my delight. James has a meticulous and calculating approach to legal issues that always impresses me. His experience in a broad range of fields, especially as a certified public accountant, has protected my personal and business interests both legally and financially." – P.L.
---
"As I enter my fifth year in business, I am very grateful to have had Jim Runzheimer as my legal advisor since founding my business. I never make critical moved without consulting Jim, who always walks me through both the risks and recommended mitigation strategies. Jim is a skilled and expert attorney, who is also a real pleasure to work with. I am so grateful to call Jim my legal advisor and friend, and I highly recommend him." – John G. Grubb, Chief Advocates, SoftwareAdvocates, LLC