Our Family Helps to Protect Yours
From Offices in Nashville, Hendersonville and Knoxville
Nothing is more important than family. If you have suffered a serious personal injury or a loved one has been killed due to the negligence of others, you need a law firm you can trust to protect your interests and demand justice from those responsible. At the Rocky McElhaney Law Firm in Nashville, Hendersonville & Knoxville, our family of talented Nashville personal injury attorneys and legal professionals has come together to provide families throughout Tennessee with the legal expertise they need to overcome their struggles and get the compensation they deserve. We outpace, outperform and overpower the competition
The Rocky McElhaney Law Firm provides personal injury clients in Nashville and throughout Tennessee with aggressive representation when they have been hurt in some way. By focusing exclusively on the injured, our Gladiators in Suits have been able to build a reputation for fierce advocacy and extensive knowledge of the laws. Our Nashville personal injury attorneys fight to ensure that your rights are upheld and that the person or persons responsible for your injuries or illness are held accountable for their actions.
Contact us today if you need legal assistance with any of the following:
Auto accidents
Truck & motorcycle accidents
Bicycle accidents
Aviation & railroad accidents
Personal injury
Premises liability
Workers compensation
Nursing home abuse
Child injury
Call Rocky McElhaney today at 615-932-6920 to arrange your initial consultation.
Attorney Rocky McElhaney
Representing only the people, not the powerful, over the past 18 years, Rocky has built this law firm to fight for people like you. What makes Rocky different is that he really cares about his clients. Every injured person is his dad and every ruthless insurance company is the one that impacted his family. From that viewpoint, Rocky and his team fight to make sure every client and their family get the maximum compensation for what they go through, not just a quick settlement.
Jurisdictions:
Tennessee, 1999
United States District Court, Middle District, Tennessee 1999
United States Appeals Court, Sixth Circuit, 2006
Education:
Nashville School of Law, J.D., with Honors
University of Tennessee at Knoxville, B.A.
Professional Memberships and Achievements:
Tennessee Association for Justice, Vice-President and is on the Board of Governors
Founded and co-chaired TAJ's Workers Compensation Practice Group, 2009
American Association for Justice, Member
Nashville Bar Association Young Lawyers Division, Board of Directors

Served as President for 2006-2007

Instructor: Intro to Law and Legal Writing at the Nashville School of Law from 2005-2008
$4,500,000 TRIAL COURT JUDGMENT in a dram shop or liquor liability case against two downtown Nashville/2nd Avenue bars for three family members from Cincinnati, Ohio traveling through Nashville on I-65 North. They were hit head on by a drunk driver going the wrong way on the interstate. The drunk driver had been over-served alcohol or served when he was obviously intoxicated at the two bars. The injuries were devastating and life-long. The drunk driver's insurance company also paid his policy limits and he was convicted of aggravated vehicular assault.
$4,000,000 SETTLEMENT for construction worker who suffered life-threatening and life-changing burns to his neck, cheek, chest, back and legs in an industrial work site explosion. An out-of-court settlement was reached in private mediation. Rocky and co-counsel obtained nationwide experts for the case.
$1,638,561 JURY VERDICT obtained for widow and family of a man who was struck and killed while walking in a cross-walk in Hillsboro Village area of Nashville. Award was for the family's loss of the love and guidance of the husband and father as well as the economic value of his expected remaining work life.
$1,044,594 TRIAL VERDICT for Nashville Metro firefighter was suffered a career ending low back injury when an EMT violated safety protocols and made an improper lift of a patient being loaded for transport. The fireman, in an instinct and to prevent injury to the patient, caught the patient's weight with his right arm. He later underwent spinal fusion and right shoulder surgery. The life-long first responder was forced to retire because of him limitations and is now on Social Security Disability. The verdict included over $600,000 of lost past and future earnings that Rocky proved through the testimony of a college professor of economics who was an expert witness.
$740,000 SETTLEMENT for an active and independent 85-year-young lady who broke her pelvis and hips, developing permanent bladder incontinence, as the result of an amusement ride accident.
$700,000 MAXIMUM ALLOWED RECOVERY against Dickson County Sheriff's Office for two men tragically injured and the family of a woman killed as the result of a negligent police chase. The sheriff's deputy wrongfully and dangerously engaged in high speed pursuit of a car because the officer saw the driver flick a cigarette out the window. At speeds approaching 100 mph, the officer chased the car for miles before the fleeing vehicle struck another car head on, catastrophically injuring the two innocent men in that car and killing the suspect's passenger. The claims for our clients were brought under the Tennessee Governmental Tort Liability Act (or "GTLA") which limits payments from governments in Tennessee to a maximum of $700,000 per incident.
$500,000 TRIAL JUDGMENT for 40-year-old Maryville, Blount County man who was severely injured when he was intentionally hit by a construction co-worker with a concrete rake and knocked into a 6-foot-deep ditch. The criminal attack resulted in a conviction for aggravated assault. RML's client underwent emergency surgery for a broken elbow and torn ligaments, missed half a year of work and has a scar on his arm. The judgment was comprised of $250,000 to compensate for the harms and losses caused by the injury and $250,000 for punitive damages to punish the criminal and deter others from intentionally hurting people.
Since 1997, the "Lead Counsel Verified" status has been granted to attorneys who possess:

The Right Professional Experience
A Spotless Record
The following attorneys at this firm are Lead Counsel Verified: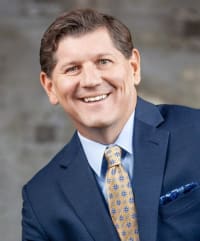 Rocky McElhaney
This attorney is Lead Counsel Verified in the following practice areas:
| Practice Area | Year |
| --- | --- |
| Personal Injury | Since 2017 |
| Practice Area | Year |
| --- | --- |
| Personal Injury | Since 2017 |
For Attorneys:
Download Lead Counsel Badge