Markowitz & Richman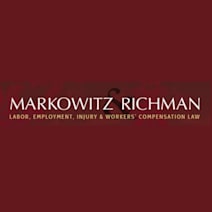 Focused on Protecting Workers' Rights for more than 25 years
Established in 1980, the law firm of Markowitz & Richman has been a pillar of the legal community throughout Pennsylvania, New York and New Jersey for decades. We are well-respected for our work with unions, and we have built a reputation for success in matters of employment law and related matters.
We focus our practice on two main areas: labor law issues and employment law issues. This focus has allowed us to vastly expand our knowledge of these areas in order to provide you the most thorough representation possible. We handle matters such as wage and hour claims, workers' compensation claims, breach of employment contracts and severance disputes, Family and Medical Leave Act claims and noncompete agreement litigation.
Our legal team represents executives, individuals, labor unions and benefit funds. We use our vast experience to provide a multifaceted approach to the practice of law, tailoring our approach to each client's needs.
Contact us today if you need legal assistance with any of the following:
Labor Law
Employment Law
Personal Injury
Workers' Compensation
Executive Representation
Well-respected and highly regarded, our firm is dedicated to serving clients. Our lawyers are considered some of the best in the country, and our support staff is the nerve center of the firm. These individuals assist us in maintaining the high level of organization needed to effectively and efficiently pursue your case.
Our exceptional attorneys and staff have a variety of educational backgrounds and experience that provide many different perspectives when reviewing cases. While cases are assigned to individual attorneys, we put the firm's full intellectual resources behind each matter we take on. We have the capacity to take a team approach to cases and, when necessary, we can call upon a network of highly respected experts. Call 215-875-3100 today to arrange your free initial consultation.
Attorney Matthew David Areman
Bar Admissions:
Pennsylvania, 2003
New Jersey, 2003
U.S. District Court District of New Jersey, 2003
U.S. District Court Eastern District of Pennsylvania, 2006
Education:
The George Washington University Law School, Washington, District of Columbia
Hamilton College, Clinton, New York

B.A. - 1996
Major: Public Policy 
---
Attorney Peter H. Demkovitz
Bar Admissions:
New Jersey, 1994
Pennsylvania, 1995
U.S. District Court District of New Jersey, 1994
U.S. District Court Eastern District of Pennsylvania, 1997
U.S. District Court Middle District of Pennsylvania, 1996
U.S. District Court Western District of Pennsylvania, 2009
U.S. Court of Appeals 3rd Circuit
Education:
St. John's University School of Law, Jamaica, New York

J.D. - 1994
Honors: cum laude
Honors: St. Thomas More Scholar
Honors: American Jurisprudence Awards
Honors: Who's Who

Temple University, Philadelphia, Pennsylvania
Rutgers College, New Brunswick, New Jersey

B.A.
Honors: Dean's List
Honors: Peter Spader Award
Major: Communications 
Professional Memberships and Achievements:
Pennsylvania Bar Association, Past Chair, Equal Rights, 2004
Jagiellonian Law Society, Board of Directors
Oreland Lions, Past President
---
Attorney M. Kay Gartrell
Bar Admissions:
North Carolina, 1969
Pennsylvania, 1974
District of Columbia, 1988
District Court Middle District of North Carolina
U.S. District Court Eastern District of Pennsylvania
U.S. Court of Appeals 3rd Circuit
U.S. Court of Appeals 6th Circuit
U.S. Supreme Court
Education:
Yale Law School, New Haven, Connecticut
Mississippi University for Women, Columbus, Mississippi

B.S. - 1964
Honors: cum laude
Major: Journalism and Psychology 
---
Attorney Richard Kirschner
Bar Admissions:
Pennsylvania, 1958
District of Columbia, 1982
New York, 1993
U.S. District Court Eastern District of Pennsylvania
U.S. District Court Western District of Pennsylvania
U.S. Court of Appeals 3rd Circuit
U.S. Court of Appeals 5th Circuit
U.S. Court of Appeals 6th Circuit
U.S. Supreme Court
Education:
University of Pennsylvania Law School, Philadelphia, Pennsylvania
Pennsylvania State University, State College, Pennsylvania

B.A. - 1954
Major: Political Science 
---
Attorney Thomas H. Kohn
Bar Admissions:
Virginia, 1974
District of Columbia, 1974
Pennsylvania, 1981
U.S. District Court of the District of Columbia, 1974
U.S. District Court Eastern District of Virginia, 1974
U.S. District Court Western District of Virginia, 1974
U.S. District Court Eastern District of Pennsylvania, 1981
U.S. District Court Middle District of Pennsylvania, 1981
Education:
Georgetown University Law Center, Washington, District of Columbia

J.D. - 1974
Honors: Kennedy Prize for Labor Law

Cornell University, I. L. R., Ithaca, New York

B.S. - 1969
Major: Industrial & Labor Relations 
Professional Memberships and Achievements:
Industrial Relations Research Association, past President
---
Attorney Paula R. Markowitz
Bar Admissions:
Pennsylvania, 1956
U.S. District Court Eastern District of Pennsylvania, 1957
U.S. Court of Appeals 3rd Circuit, 1958
U.S. Supreme Court, 1987
Education:
University of Pennsylvania Law School, Philadelphia, Pennsylvania
University of Pennsylvania Law School, Philadelphia, Pennsylvania

L.L.B. - 1952
Honors: magna cum laude
Honors: Order of Coif

Radcliffe College, Cambridge, M.A.

B.A. - 1949
Honors: magna cum laude
Honors: Phi Beta Kappa
Major: Russian Language and Literature 
---
Attorney Claiborne S. Newlin
Bar Admissions:
Pennsylvania, 1999
New Jersey, 1999
Delaware, 2005
Education:
Temple University School of Law, Philadelphia, Pennsylvania

JD - 05/1999
Honors: magna cum laude

Temple University James E. Beasley School of Law, Philadelphia, Pennsylvania

LL.M. Trial Advocacy, Honors - 05/2005
Saint Joseph's University, Philadelphia, Pennsylvania
Major: Labor Studies
---
Attorney R. Matthew Pettigrew
Bar Admissions:
Pennsylvania, 1980
New Jersey, 1994
New York, 1997
U.S. District Court Eastern District of Pennsylvania, 1980
U.S. District Court District of New Jersey, 1994
U.S. District Court Southern District of New York, 1997
U.S. District Court Eastern District of New York, 2004
Education:
Widener University School of Law, Wilmington, Delaware
Villanova University, Villanova, Pennsylvania

B.A. - 1972
Major: Political Science 
---
Attorney Stephen C Richman
Bar Admissions:
District of Columbia, 1968
New York, 1983
Pennsylvania, 1972
U.S. District Court Eastern District of Pennsylvania, 1973
U.S. District Court Middle District of Pennsylvania, 1973
U.S. District Court Southern District of New York, 1986
U.S. Court of Appeals District of Columbia Circuit, 1969
U.S. District Court Eastern District of New York, 2015
Education:
George Washington University National Law Center, Washington, District of Columbia
State University of New York at Buffalo, Buffalo, New York
Professional Memberships and Achievements:
Industrial Relations Research Association, Philadelphia Chapter, Past President
Pennsylvania Bar Association, Labor and Employment Law Section, Past Chairman
Labor Advisory Council to the American Arbitration Association, Member
Philadelphia Bar Association
American Bar Association
---
Attorney Quintes D. Taglioli
Bar Admissions:
Pennsylvania, 1979
U.S. District Court Eastern District of Pennsylvania, 1979
U.S. District Court Middle District of Pennsylvania, 1979
U.S. District Court Western District of Pennsylvania, 1979
U.S. Court of Appeals 3rd Circuit, 1985
U.S. Supreme Court, 1999
Education:
Vanderbilt University School of Law, Nashville, Tennessee
Franklin and Marshall College, Lancaster, Pennsylvania
---
Attorney Jonathan Walters
Bar Admissions:
Pennsylvania
Massachusetts
California
District of Columbia
Education:
Harvard Law School, Cambridge, Massachusetts
Harvard College
Professional Memberships and Achievements:
ABA, Member, Committee on the Development of Law
Philadelphia Bar Association, Co-Chair, Labor Law Committee
---
---
Attorney Joseph De Fortuna
Bar Admissions:
Pennsylvania, 2000
New Jersey, 2000
District of Columbia, 2014
Maryland, 2021
Education:
Rutgers University School of Law, Camden, New Jersey
St. Joseph's University, Philadelphia, Pennsylvania, 1997

B.A.
English
Magna cum laude
Sigma Pi. Zeta Alpha Chapter
Professional Memberships and Achievements:
American Bar Association
Pennsylvania Bar Association
Philadelphia Bar Association
New Jersey State Bar Association