« Back to Results
Shaheen & Gordon Attorneys at Law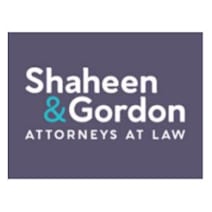 Personal Injury | Serving Nashua, NH
Getting legal representation for your Personal Injury issue is easier than you think. Let Shaheen & Gordon Attorneys at Law in Nashua, New Hampshire help you today.
Average Experience:
24 years
Fearless Legal Advocacy Committed to Your Peace of Mind
When you need legal help, Shaheen & Gordon, P.A. can work for you. Our firm of more than 40 lawyers in New England delivers strong legal representation in many areas of law, including personal injury, criminal defense, and more! Although ours is one of the largest and fastest-growing legal practices in this area, we're prepared to handle your case regardless of its size or complexity.
The outcome of your case is our foremost focus when we work with you. That's why we equip ourselves with access to the human and technological resources needed to help us work toward achieving favorable results for you.
Contact us today if you need legal assistance with any of the following:
Personal Injury
Workers' Compensation
Criminal Law
DWI
Corporate & Business Law
Trusts, Estates, & Guardianships
Divorce & Family Law
Immigration
Litigation
Employment Law
Social Security Disability
Real Estate Law
Municipal Law
Call 877-746-7005 today to arrange your consultation.
Attorney Ronald L. Abramson
Bar Admissions:
New Hampshire
U.S. District Court, District of New Hampshire (member CJA Panel)
U.S. Court of Appeals for the 1st Circuit
U.S. Court of Appeals for the 11th Circuit
Education:
J.D., George Washington University, 1993
---
Attorney Kirsten J. Allen
Bar Admissions:
New Hampshire
New Hampshire Federal Court
Education:
J.D., cum laude, University of New Hampshire Franklin Pierce School of Law, Concord, New Hampshire


Health Law and Policy Certificate
---
Attorney Stephanie K. Annunziata
Bar Admissions:
Education:
J.D., Benjamin N. Cardozo School of Law, 2013
---
Attorney James Armillay
Bar Admissions:
New Hampshire
United States District Court for the District of New Hampshire
Pennsylvania
Education:
J.D., Villanova University School of Law, 2016, cum laude
---
Attorney Olivia Bensinger
Bar Admissions:
New Hampshire
New York 
Southern District of New York
Education:
J.D., Harvard Law School, 2017
---
Attorney Lauren Breda
Bar Admissions:
Education:
J.D., University of New Hampshire School of Law, 2011
---
Attorney Anthony Carr
Bar Admissions:
New Hampshire
Maine
Hawaii
Vermont
United States District Court for the District of New Hampshire
United States District Court for the District of Hawaii
Education:
J.D. University of New Hampshire School of Law, 2013
---
Attorney Joseph A. Cherniske
Bar Admissions:
Education:
J.D., University of New Hampshire School of Law, 2010
---
Attorney William E. Christie
Bar Admissions:
New Hampshire
Massachusetts
United States District Court for the District of New Hampshire
United States District Court for the District of Massachusetts
First Circuit Court of Appeals
United States Supreme Court
Education:
J.D., Boston College Law School, 1994
---
Attorney Leah Cole Durst
Bar Admissions:
New Hampshire 
Massachusetts
United States District Court, District of New Hampshire
Education:
J.D., Northeastern University School of Law
---
Attorney Christine M. Craig
Bar Admissions:
New Hampshire
Maine
Massachusetts
U.S. District Court, District of N.H.
U.S. District Court, District of Maine
U.S. District Court District of Massachusetts
U.S. Claims Court
Education:
J.D. Northeastern University, 1995
---
Attorney Morgan Eastman
Bar Admissions:
Education:
J.D., University of New Hampshire, Franklin Pierce School of Law, 2021
---
Attorney Faye R. Goldberg
Bar Admissions:
New Hampshire
Maine
U.S. District Court of New Hampshire
U.S. District Court of Maine
Education:
Suffolk University, Boston, Massachusetts
---
Attorney Steven M. Gordon
Bar Admissions:
Education:
J.D. Washington College of Law, Washington, D.C., 1974
---
Attorney Tracey Goyette Cote
Bar Admissions:
Virginia
New Hampshire
U.S. Court of Appeals for the 4th Circuit
U.S. District Court for the District of New Hampshire
Education:
J.D., University of Maryland School of Law, Baltimore, MD
---
Attorney Cathy J. Green
Bar Admissions:
New Hampshire
United States District Court, District of New Hampshire
First Circuit Court of Appeals
United States Supreme Court
Education:
J.D., University of New Hampshire School of Law, Concord, New Hampshire, 1977
---
Attorney Timothy M. Harrington
Bar Admissions:
New Hampshire 
Maine 
Massachusetts
U.S. District Court, District of New Hampshire
U.S. District Court, District of Maine
U.S. District Court, District of Massachusetts
Education:
J.D., University of New Hampshire Franklin Pierce School of Law
---
Attorney Paul W. Hodes
Bar Admissions:
New Hampshire
U.S. District Court of New Hampshire
Massachusetts
U.S. District Court of Massachusetts
First Circuit Court of Appeals
U.S. Supreme Court
Education:
J.D., Boston College Law School, 1978
---
Attorney Lucy J. Karl
Bar Admissions:
New Hampshire
Illinois
United States District Court for the District of New Hampshire
United States District Court for the Northern District of Illinois
United States Court of Appeals for the First Circuit
United States Supreme Court
Education:
J.D., Washington University School of Law, St. Louis, MO, 1982
---
Attorney Nicholas G. Kline
Bar Admissions:
New Hampshire 
Maine
Massachusetts 
Education:
J.D., University of Maine School of Law
---
Attorney Jeffrey L. Manganaro
Bar Admissions:
Massachusetts
New Hampshire
Education:
J.D., cum laude, New England School of Law, 2007
---
Attorney Tim McLaughlin
Bar Admissions:
New Hampshire
Massachusetts
United States District Court for the District of New Hampshire
United States District Court for the District of Massachusetts
United States Court of Appeals for the First Circuit
Education:
J.D., Boston College Law School, 2009
---
Attorney Michael M. McLaughlin
Bar Admissions:
New Hampshire 
U.S. District Court, District of New Hampshire
Education:
J.D., Suffolk University Law School
---
Attorney Heather V. Menezes
Bar Admissions:
New Hampshire 
U.S. District Court for the District of New Hampshire
United States Court of Federal Claims
Education:
University of New Hampshire, School of Law
---
Attorney Francis G. Murphy
Bar Admissions:
New Hampshire
Commonwealth of Massachusetts
United States District Court for the District of New Hampshire
United States Court of Appeals for the First Circuit
United States Supreme Court
Education:
J.D., Fordham University School of Law, 1981
---
Attorney D. Michael Noonan
Bar Admissions:
New Hampshire
Maine
Massachusetts
Vermont
Hawaii
U.S. District Court, District of New Hampshire
U.S. District Court, District of Massachusetts
U.S. District Court, District of Maine
U.S. District Court, District of Vermont
United States Claims Court
United States Supreme Court
Education:
J.D. Boston University School of Law, 1990 (Paul J. Liacos scholar)
---
Attorney Jared P. O'Connor
Bar Admissions:
New Hampshire, 2003
U.S. District Court District of New Hampshire, 2003
Education:
J.D. magna cum laude - 2003
---
Attorney Sean T. O'Connell
Bar Admissions:
New Hampshire Bar
Maine Bar
U.S. District Court for the District of New Hampshire
U.S. District Court for the District of Maine
U.S. First Circuit Court of Appeals
Education:
J.D., University of New Hampshire School of Law
---
Attorney Andrew J. Piela
Bar Admissions:
New Hampshire
Maine State 
Massachusetts
Federal District Court for New Hampshire and Massachusetts
Education:
J.D., Boston College Law School, 1994
---
Attorney Danielle Pomeroy
Bar Admissions:
Education:
J.D., University of New Hampshire, School of Law
---
Attorney Brian M. Quirk
Bar Admissions:
New Hampshire
U.S. District Court, District of New Hampshire
U.S. Court of Appeals, First Circuit
Education:
J.D., New England Law | Boston
---
Attorney Christopher E. Ratté
Bar Admissions:
New Hampshire
United States First Circuit
Maine Bar
---
Attorney Lyndsay Robinson
Bar Admissions:
New Hampshire
United States District Court for the District of New Hampshire
Education:
J.D., University of New Hampshire Franklin Pierce School of Law, 2017
---
Attorney James D. Rosenberg
Bar Admissions:
New Hampshire
Massachusetts
United States District Court for the District of New Hampshire
United States Court of Appeals for the First Circuit
United States Supreme Court
Education:
J.D., Northeastern University, 1999
---
Attorney Brittani Schanstine
Bar Admissions:
Education:
J.D., Marquette University Law School, 2020
---
Attorney William H. Shaheen
Bar Admissions:
New Hampshire
United States District Court for the District of New Hampshire
United States Court of Appeals for the First Circuit
United States Supreme Court
Education:
J.D., University of Mississippi, with honors, second in class, 1973
---
Attorney Benjamin Siracusa Hillman
Bar Admissions:
New Hampshire
Massachusetts
New York
U.S. Court of Appeals for the Ninth Circuit
U.S. Court of Appeals for the Tenth Circuit
U.S. District Court for the Southern District of New York
U.S. District Court for the Eastern District of New York
Education:
J.D., Yale Law School, 2008
---
Attorney Randall E. Smith
Bar Admissions:
Maine
Iowa 
U.S. District Court District of Maine
U.S. Court of Appeals 1st Circuit
U.S. Supreme Court
Maryland
Education:
J.D., University of Iowa College of Law, Iowa City, IA, 1971
---
Attorney Alexander E. Spadinger
Bar Admissions:
Maine
U.S. District Court, District of Maine
United States Court of Appeals, First Circuit
New Hampshire
Education:
J.D. University of Maine School of Law, 2011
---
Attorney S. Amy Spencer
Bar Admissions:
New Hampshire
Massachusetts
New York
California
United States District Court for the District of New Hampshire
United States Court of Appeals for the First Circuit
United States District Court for the Southern District of New York
United States District Court for the Eastern District of New York
United States District Court for the Western District of Texas
Education:
J.D., Loyola Law School, Los Angeles, summa cum laude
---
Attorney Jim N. Tamposi
Education:
J.D., Boston College Law School, 1983
---
Attorney Roger D. Turgeon
Bar Admissions:
New Hampshire
Massachusetts
Maine 
U.S. District Court, District of Maine
U.S. District Court, District of Massachusetts
U.S. District Court, District of New Hampshire
1st Circuit Court of Appeals
Education:
J.D., Harvard Law School, 1980, cum laude
---
Attorney Lawrence A. Vogelman
Bar Admissions:
New Hampshire 
New York State 
U.S. District Court, Southern District of New York
U.S. District Court, Eastern District of New York
U.S. District Court, District of New Hampshire
United States Court of Appeals for the First, Second, and Third Circuits
United States Supreme Court
Education:
J.D., Brooklyn Law School, 1973
---
Attorney Cinde Warmington
Education:
J.D., Franklin Pierce Law Center