Worried About Family Problems? Every Generation Has Its Own.
We'll Help You Grow Past Your Legal Problems And Get You Generating Again!
We're LAW FOR YOUR GENERATION ®
At Lawgena, we understand the importance of providing Law for Your Generation.® Our law firm provides skills, technology, and understanding targeted to get you past your Family Law legal problems. No matter what stage of life you find yourself, we will get you generating again: we are Law for Your Generation.®
Matthew Swain Webbeking, Esq., has been practicing Family Law for more than 20 years. By personally meeting with hundreds, if not thousands, of clients over the years, and through his own personal experiences with life and family, Matthew has gained valuable understanding and perspective. Put together with his sharp legal skills and creative approach, Mr. Webbeking, paralegal Brenda Leal, and the team at Lawgena provide strong guidance to clients for surpassing their legal difficulties in the simplest, most economical way possible.
Contact Lawgena today if you need legal assistance with any of the following Family Law matter:
Child Custody
Child Support
Divorce
Domestic Violence
Father's Rights
Paternity/Parentage
Property Division
Unmarried Relationship
Lawgena attorneys and staff will focus on you and your family's needs. No matter what relationship difficulties you are facing, they will help you grow past your legal problems. They are LAW FOR YOUR GENERATION.®
Call Matthew Webbeking today at 877-529-4362 to arrange your free initial consultation.
Spanish-speaking lawyers available.
Attorney Profile
Matthew Swain Webbeking, Attorney
Jurisdictions:
Washington
United States District Court

Western District of Washington
Admitted To The Bar:
Education:
Seattle University School of Law, J.D.
Whitman College, B.A. Psychology; Philosophy Minor
Professional Memberships and Achievements:
Member, Washington State Bar Association
U.S. District Court for the Western District of Washington, Family Law Committee
Past Fauntleroy YMCA Board Director
Corporate Counsel Rightpsi Tm
Board of Directors of the Brazil Children's Charity
Trustee on Various Real Estate Properties and Trusts
Handled Multi-State Securities Litigation, Wage & Hour Claims
Handled Hundreds of Cases for Spanish-Speaking Clients
Foreign Languages Spoken:
Verdicts & Settlements
Lawgena Lawyers Have Handled Millions of Dollars in Family Estates and Marital Communities
Closed Complex Transactions Involving Sale of Family Businesses / Inventories and Secured Financing; Pensions, Annuities, Equitable Trusts, Etc.
Testimonials
"All odds were completely against me. Matt is simply amazing. A great family law attorney."
Mike S.
---
"The first time I talked to Matthew, He was very helpful. He helped me out tremendously with my separation case, and I couldn't have done it without him. Just when I thought I didn't have a chance to be able to afford a lawyer he was there for me. Matthew was very fair on his price, and worked very hard for me to settle my case. I would recommend him to anyone."
Brian O.
---
"I was married to someone living in another country who I didn't want or need to be married to anymore. (When your spouse unfriends you from facebook, that's a good sign your marriage isn't going well.) My experience with Matthew and his wonderful bilingual legal assistant Maria Rodriguez was the best part of this unpleasant process. I needed a lawyer who could help me get divorced from someone who lives in a different country -- one where Spanish is the spoken language. Matthew explained to me what needed to be done, and then he efficiently did what needed to be done. He was up front with me about what it would cost, he was true to his word, and he did exactly what he said he was going to do - and he did it quickly and correctly. There were no shenanigans. He's professional, respectful, and trustworthy. He's an excellent attorney. I highly recommend him."
Jonathan S.
---
"My experience with Lawgena has been great. Matthew took on my divorce case when I had to hire a new attorney at the last minute. He was able to get the courts to let me stay in the family home and spousal support for maintaining my house until we went to mediation. Being a retired disabled woman and having to face the future of losing my home and things I worked for as much as my former spouse I felt I was entitled to a settlement that was fair. Matthew and I had gone into mediation and I can only say thank you because I walked out of mediation with exactly what I was entitled to and more thanks to Matthew knowledge of the law. I want to thank also Maria Rodriquez who is Matthews assistant who also has been so helpful and always right there when I needed questions answered. She quickly would return phone calls or text never had to wait. I know that I can call Lawgena in the future and will always be assured that they will be there to help me with any legal matters. Thanks again Lawgena..."
Karen B.
---
"Un buen abogado excelente abogado me ayudo con mi caso de divorcio con buenos resultados. Yo lo recomiendo"
Jaime L.
---
"Matthew helped me clear information that was immensely important to my life. He and his assistant helped me very much, she is a sweet heart. I highly recommend them and they are honest and seek to help the Hispanic community."
Jessy R.
---
"It was really helpful that they have some one that speak Spanish so people that don't speak English they understand the system good. My experience with Lawgena was great."
Johnny B.

Since 1997, the "Lead Counsel Verified" status has been granted to attorneys who possess:

The Right Professional Experience
A Spotless Record
The following attorneys at this firm are Lead Counsel Verified: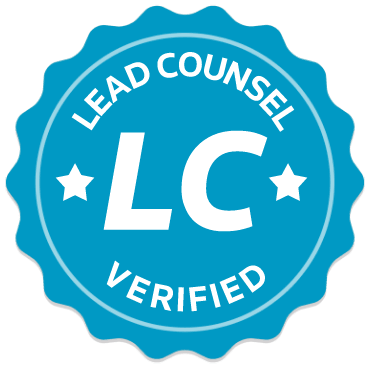 Matthew Swain Webbeking
This attorney is Lead Counsel Verified in the following practice areas:
| Practice Area | Year |
| --- | --- |
| Family Law | Since 2012 |
| Practice Area | Year |
| --- | --- |
| Family Law | Since 2012 |
For Attorneys:
Download Lead Counsel Badge