« Back to Results
Siegel & Coonerty LLP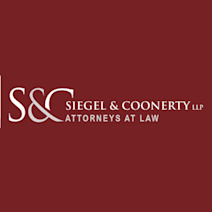 Make The Right Choice
Siegel & Coonerty is a leading New York personal injury and medical malpractice law firm. Our entire practice is dedicated to representing individuals who sustained serious bodily injury as a result of accidents and errors in medical care.
Selecting the right attorney is an important life decision that requires personal contact. So, whether you're here for yourself, a loved one, a friend or a neighbor, we suggest the best way to start is by calling us right now at 212-532-0532. We are committed to listening closely to what happened and providing you with the compassion, attention, and legal assistance that you need during this stressful time.
You should also discuss the accident or medical malpractice that found you here with other attorneys too, so when a decision is made on representation, it will be an informed one. Choose an attorney with extensive courtroom experience, an attorney with a balance of intelligence and understanding of the changes brought about by your injury and an attorney with whom you connect. Most of all select an attorney you believe will make a difference for you and your family.
Contact us today if you need legal assistance with any of the following:
Traumatic Brain Injury
Construction Accidents
Medical Malpractice
Motor Vehicle Accidents
Slip, Trip, & Fall
Call 646-847-2234 today to arrange your initial consultation.
Attorney Andrew W. Siegel
Andy Siegel graduated Great Neck North High School in 1981. He was involved in athletics and was honored as the Most Valuable Player of the lacrosse team. Andy attended Tulane University in New Orleans, Louisiana and graduated cum laude in 1985. He was a member of the lacrosse team that won the First Southwest Championship of Lacrosse and was elected Team Captain for his senior year.

Mr. Siegel went to Brooklyn Law School and worked at a medical malpractice defense firm during the course of his studies. Defending doctors and hospitals gave rise to the decision that his place in the legal community would be on the side of the injured individual. He has represented the injured victims of medical misadventures and general negligence continuously since graduating law school in 1988.

Andy litigated his first jury trial the day after he was admitted to the bar and has been in the courtroom ever since. He is the founding and senior litigating partner of Siegel & Coonerty, LLP, and has litigated to jury verdict multiple cases in his devoted and passionate manner successfully receiving large jury awards for the life altering injuries suffered by his clients. Mr. Siegel understands that to be a successful litigator, each trial requires full devotion of time and dedication of emotion to the client. It has been this formula, together with his passion for all things medical, that has made him such a courtroom success.

There are a wide range of matters involving serious bodily injury Andy litigates, but has a special compassionate interest in representing survivors of traumatic brain injury (TBI). Andy recognizes that "fair compensation" for the unquantifiable losses brought about by brain injury can never truly be achieved. Even the 43 MILLION DOLLARS a jury awarded one of Andy's TBI client's—the 3rd largest medical malpractice verdict in the United States—cannot tell the entire story.

Andy is on the Board of Directors of the New York State Trial Lawyer's Association as well as the Brain Injury Association of New York State. His many trial successes have regularly placed those outcomes among the "Top 100 Verdicts" reported in the state annually. Andy has been honored as a Super Lawyer continuously from 2010. Superlawyer selection represents the top 5% of lawyers in the specialty of personal injury and medical malpractice practicing in the State of New York.
---
Attorney Sean E. Coonerty
Sean E. Coonerty grew up in West Islip, Long Island, NY.  He attended West Islip High School and played Varsity tennis and soccer.  In his senior year, he was the tennis team's Captain, was named the Most Valuable Player, and his doubles team was undefeated.  He graduated in the top 6% of his High School class of over 425 students.
Early in life, Sean began working on the Great South Bay.  At 15 years old he was a mate on the fishing boat, Captain Rod, out of the Captree Boat Basin.  At 16, he began as a deck-hand at the Fire Island Ferries in Bay Shore.  By the time he was 19, he was a Ferry Captain in charge of a crew of 4, and up to 400 passengers aboard vessels up to 85 feet long.
Sean attended college at Binghamton University on an academic scholarship, and received a B.A. in Economics.  Following graduation, and after working full time on the Fire Island Ferries for a year, he was offered a scholarship and attended Brooklyn Law School.  After his first year in Law School he was a Summer Intern for the Federal Judge, Hon. Denis Hurley, in Hauppauge, NY. 
Following his second year in Law School he began as a Summer Associate for Aaronson, Rappaport, Feinstein & Deutsch, LLP, in Manhattan, NY.  At the end of that summer, Aaronson's office offered Sean a full time position upon graduating Law School.  He was the first Associate to ever be hired to the firm directly from Law School.  As an Associate Attorney, he was involved in all aspects of medical malpractice defense litigation.  He represented and defended physicians of various specialties, and medical institutions such as Brookdale Hospital, Brooklyn Hospital and Methodist Hospital.  In addition to preparing high exposure cases for trial, he also sat on steering committees for the Phen-Fen and Breast Implant class actions, as well as co-wrote an article for The New York Law Journal on the Physician-Patient Privilege.
After a couple of years defending doctors and hospitals, and witnessing first-hand the injustices suffered by the plaintiffs, Sean abruptly changed his career path.  He knew his true calling was to fight for the victims of negligence, not defend the perpetrators.  So, in February, 2001 he began working as an Associate Attorney at Andrew Siegel's top tier, plaintiff's personal injury and medical malpractice firm.  By January, 2008, Sean became Andy's partner, and together they developed the firm of Siegel & Coonerty, LLP. 
At Siegel & Coonerty, LLP, Sean represents a broad range of plaintiff clients in personal injury, medical malpractice and wrongful death cases, including construction/workplace accidents, automobile accidents, slip/trip and fall accidents, as well as any other accidents caused by negligence.  He has controlled hundreds of cases on behalf of the injured from the initial interview through trial.  As a Trial Attorney he has achieved verdicts in the five boroughs of New York City, as well as Nassau, Suffolk, Westchester and Dutchess Counties.  Among his most notable trials was in Brooklyn where he represented a worker who fell 60 feet in an elevator shaft – 6 weeks into the trial it settled for $4.6 Million dollars.  
Presently, Sean is the Managing Partner of the firm.  In addition to running the business, he reviews every single case at its inception, and provides a detailed outline for its handling until resolution.  His door is always open, and clients can call a direct line straight to his desk because he believes that each client is a person – not just a file number.  Sean has a particular interest in personally handling all of the firm's construction accident cases.  He is especially concerned with advocating on behalf of lower level laborers who are often forced to do the most dangerous work, with the least safety protection.  As such, Sean is extremely well versed in the Labor Law, the Industrial Code, and OSHA, and he consistently prevails in obtaining judgment as a matter of law based on his legal writing alone.  Although significant trials are now primarily handled by his partner, Andy, he remains extremely active in resolving cases at pre-trial mediation, where he has achieved numerous multi-million dollar settlements.    
Sean is admitted to practice law in New York State, and the Federal Courts in the Eastern and Southern Districts.  He has been honored as a Super Lawyer continuously since 2014.  A Super Lawyer is the top 5% of lawyers in the specialty of personal injury and medical malpractice practicing in the State of New York, as selected by his peers.
In the course of conducting countless depositions, Sean met and fell in love with his favorite Court Stenographer, Ada Luz. They were married in May, 2005, and they live in Garden City, Long Island, NY, with their two children.  Sean and Ada Luz are active in various charitable organizations, including The Coalition for Children Against Abuse and Neglect, Circulo de Hispanidad, Team for Kids, and the Children's Medical Fund.  Sean is an avid tennis/platform tennis player and skier, a coach for his kids, and a sports enthusiast in general.