« Back to Results
The Law Office of Andrew M. Doktofsky, P.C.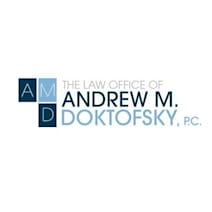 Long Island Bankruptcy Attorney With 19 Years of Experience!
If you are faced with overwhelming debt, the right legal guidance can lead you to a successful resolution. At The Law Office of Andrew M. Doktofsky, P.C. in Huntington, I help Long Island clients overcome their debt problems and make a fresh financial start. Through bankruptcy and other effective legal tools, my firm halts the aggressive tactics of debt collectors, and delivers a practical plan to relieve your burden. With 19 years of experience, I can identify creative answers to your most pressing concerns about debt relief, including bankruptcy, judgments, wage garnishments, and foreclosure.  Bankruptcy is a remedy designed to help people like you who cannot pay their debts, for reasons that are usually beyond their control, so you should not be afraid to get the help you need. Using all available legal options, I can help you build a strong financial future.
Contact us today if you need legal assistance with any of the following:
Bankruptcy — Whether a Chapter 7 liquidation or a Chapter 13 repayment plan works better in your situation, I provide effective advocacy throughout the bankruptcy process.
Debts and judgments — In disputes over debts and judgments, my firm strongly defends consumers against predatory creditors, lenders, car dealers, landlords and banks.
Credit reporting issues — Strict laws exist to prevent credit reporting companies from mistreating consumers. I help victims of improper credit practices seek the justice they deserve.
Probate and estate administration — I handle probate and estate administration matters so that assets are distributed efficiently and in accordance with the decedent's wishes.
Call 631-812-7712 today to arrange your free initial consultation.
Attorney Andrew M. Doktofsky

Like many people, my path in life has not been straightforward. Before entering the practice of law, I served with the New York City Police Department for twenty years. I worked on patrol in some of the toughest neighborhoods in New York City, including the 34th Precinct in Washington Heights, and the 79th Precinct in Bedford-Stuyvesant.
As a Sergeant, I was assigned to the 6th Precinct in Greenwich Village, in addition to supervising narcotics teams in Harlem. As a Lieutenant, I was assigned to the 109th Precinct in Flushing as the Operations Coordinator. I retired in 2004 with the rank of Captain, and at the time held the position of Executive Officer (second in command) of the 112th Precinct in Forest Hills. During my police career, I had the honor of being awarded twenty-four medals for outstanding police work.
In my twenty years in the NYPD, I learned the values of integrity and respect for tradition; the importance of maintaining the highest possible standards of ethics and professionalism; to never take anything for granted; and to always be prepared for the worst.
While still working in the police department, I decided to take my passion for the law even further. I made sacrifices and attended law school at night, graduating from Touro Law School in 1997. I was admitted to the Connecticut State Bar in 1997 and the New York Bar in 1998.
After working for a small law firm, I decided to venture out on my own, where I could build a more solid relationship with my clients. I practice in the areas of bankruptcy; debts and judgments; credit reporting violations; and probate/estate administration, because of the professional satisfaction that I receive from helping people through difficult times in their lives. That is the foundation of my law firm, which I remain committed to every day.
I could not have achieved my goals in life without the support of my wife Melissa. She is truly a remarkable person, and I am so proud of what she has accomplished as the president and founder of Toys of Hope, a non-profit children's charity.
Bar Admissions:
State Bar of New York
State Bar of Connecticut
Education:
Clark University, Worcester, Massachusetts, B.A. 1982
Touro Law School, J.D. 1997
Professional Memberships and Achievements:
Suffolk County Bar Association
National Association of Consumer Advocates
National Association of Consumer Bankruptcy Attorneys