« Back to Results
Law Office of Ronald V. De Caprio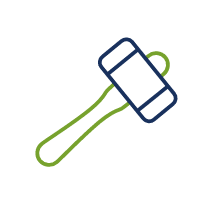 Rockland County Law Firm: Bankruptcy, Business Law And Civil Litigation
At the Law Office of Ronald V. De Caprio, we deliver attentive, experienced and high-quality representation focused on helping our clients achieve their goals. We understand the stress that accompanies dealing with a legal problem, whether the matter involves small business bankruptcy or the financial challenges of dealing with personal family matters. Our attorneys and staff understand the challenges faced by our clients and take a strategic approach to achieve effective results that our clients want achieved for them.
Filing for bankruptcy protection requires a strategic approach, a customized plan and the strong negotiating skills of an experienced attorney. The Law Office of Ronald V. De Caprio is recognized for providing high-quality, sophisticated legal services tailored to the unique needs of its clients. Our negotiating skills are top-notch. We bring decades of experience working with bankruptcy trustees, courts and creditors to your case. Our focus is results for you, and our team is dedicated to fully achieving your goals and preparing you for a successful financial future.
Our practice areas complement each other and frequently overlap. For example, we may serve the immediate needs of a business client by providing guidance during Chapter 11 bankruptcy, and then continue to provide the company with legal counsel regarding its operations, transactions and finances after the bankruptcy is complete.
Contact us today if you need legal assistance with any of the following:
Consumer Bankruptcy
Business Bankruptcy
Business & Commercial Law
Civil Litigation
Call the Law Office of Ronald V. De Caprio today at 845-406-4201 to arrange your consultation.
Attorney Ronald V. De Caprio
Ronald V. De Caprio is a graduate of the University of Pittsburgh School of Law and has an undergraduate degree from Binghamton University located in upstate New York. He was born and raised in Bronx, New York, and grew up in Rockland County, New York. He founded the law firm in January 2005 after having previously worked for bankruptcy and litigation law firms in New York and New Jersey, and is admitted to practice in the federal and state courts of both jurisdictions and has resolved cases by jury trial, bench trial, or settlement before trial.
The law firm represents businesses and individuals, with very simple, to difficult and complex, needs. Many of the law firm's clients begin their relationship with the law firm because of bankruptcy or bankruptcy-related concerns, and then remain with the law firm because of Mr. De Caprio's experience, and ability to guide them through everyday matters. Clients who are creating new businesses, buying or selling existing businesses, winding businesses down, negotiating leases, and with general corporate and commercial matters, have sought the law firm's advice. The law firm has successfully handled real estate transactions and real property litigation, divorce and family law concerns, criminal defense and personal injury cases, defamation and tort cases, and estate planning and probate concerns. The law firm possesses a comprehensive law library, keeps its technology state of the art and its resources up to date; and colleagues consult or refer their more difficult cases to Mr. De Caprio.
Bar Admissions:
New York, 1997
New Jersey, 1997
U.S. District Court Southern District of New York, 1997
U.S. District Court District of New Jersey, 1997
Education:
University of Pittsburgh School of Law, Pittsburgh, Pennsylvania
Binghamton University, Vestal, New York
Professional Memberships and Achievements:
New York State Bar Association, Member
Rockland County Bar Association, Member
American Bankruptcy Institute, Member
Mid-Hudson Bankruptcy Bar Association, Member
New York State Magistrate's Association, Member
Columbian Lawyers Association, Past President
Rockland County Bar Association, Board of Directors
Rockland County Bar Association, Former Liaison
North Rockland Rotary Club, Past President
Italian American Social Club, Member