« Back to Results
Bozanian McGregor LLC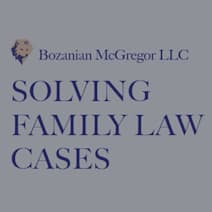 Each Case Is Unique
At Bozanian McGregor LLC, everything we do is based upon the grounding belief that the decisions impacting your family are the most important that you make.
Our mission is to help you make the best possible decisions during difficult times. The way we serve our clients is by being the best at what we do, through education and collaboration, and by constant and open communication to ensure the best possible outcome. 
Contact us today if you need legal assistance with any of the following:
Mediation / Arbitration
LGBTQ+
Domestic Violence and DCP&P
Prenuptial & Mid-Marriage Agreements
Divorce and Family Law
Estate Litigation
Estate & Guardianship
We are dedicated to resolving difficult family, estate, and guardianship matters fairly, affordably and efficiently. We work closely with each client to understand their unique family situation and to construct custom strategies designed to achieve their long-term goals. We recognize that family dynamics are complex and fluid, and that they require continuous attention to detail. Call 201-947-1500 today to arrange your free initial consultation.
Attorney Elton John Bozanian
Elton is a well-known and respected litigator who approaches each client as a person, always taking into consideration their individual circumstances and needs.  He is a compassionate and thoughtful advocate who takes great pride in crafting creative strategies that match the specific needs of each client.‍
During a storied career, Elton has taken on thousands of family, estate, guardianship, criminal, and civil cases.  He has been appointed in dozens of guardianship matters as attorney for alleged incapacitated persons, as guardian, administrator, guardian ad litem, and in high conflict, complex, contested guardianship and estate actions. I have been appointed to conduct intensive in-depth investigations and assessments.  He has been asked by the Courts to mediate high profile, high conflict, contested guardianship and family disputes. ‍
Elton's passion has always been family, guardianship, and estate practice, together with all the complexities that come along with each unique, family-oriented matter.‍
As a seasoned litigator, Elton now applies all of his background and experience to craft creative and innovative solutions for the most complex and high-conflict family, guardianship and estate matters. He is fair, understanding, and caring, yet decisive.  Elton volunteers as a Bergen County Mandatory Early Settlement Panelist and has satisfied the New Jersey Supreme Court's qualifications as a Rule 1:40 Family Mediator. Elton's foremost goal is to provide each client with the highest level of professionalism, attention to detail and integrity. Elton's sincere and genuine character is immediately evident when you meet him, giving every client the confidence that they are in the best hands, no matter the situation.
---
Attorney Matthew C. McGregor
Matt is all about professionalism, efficiency and focus.  From the very outset, his practice has been dedicated and committed to family and matrimonial law. Matt provides exceptional representation and support to clients throughout Bergen, Passaic, Hudson, Essex and Morris counties who are experiencing diverse and complex family law issues.
Matt deftly handles family cases which range from uncontested divorces to high-asset complex dissolutions.  His experience handling high conflict family, civil and tenancy matters only enriches his base of knowledge. While Matt is a tenacious litigator, he uses his litigation skills to guide his clients to negotiate optimal settlements.  Matt volunteers his time and advice as a panelist with the Bergen County Mandatory Early Settlement Panel program. Additionally, he has been appointed by the Bergen County Courts to serve as attorney for allegedly incapacitated individuals.‍
Regardless of the varied issues his clients may face, Matt prides himself in consistently delivering highly individualized attention to guide his clients to the most well informed decisions. He works proactively and methodically to devise strategies that will enable his clients to achieve their goals as efficiently and cost-effectively as possible. Matt takes great pride in maintaining the highest levels of professionalism at all times.‍
During law school Matt served as a junior editor of the Family Law Quarterly, a nationally recognized family law journal. He was an active participant in the ABA Client Counseling Competition and also received the CALI Excellence for the Future Award in Bioethics and the Law.
---
Attorney Stephanie O'Neill
Time and time again during her career, Stephanie has been praised by colleagues and clientele alike that she is an old soul of sorts, wise beyond her years. Stephanie was raised by a single mom in Queens, NY who helped her to grow and develop a strong sense of self and independence from an early age. Her early experiences have also motivated her to pursue a career in family law, where she could fight for the rights of other families. 
Perspective is critical to Stephanie, as she believes one of the vital skills she has acquired thus far is to be able to step back and see the entire picture when approaching any client, case, conflict, or family. As she works toward a matrimonial certification and walks a path toward practicing as a court approved mediator and parent coordinator, Stephanie values each and every step along the route as an indispensable part of her professional and personal development. 
Clients sense Stephanie's high levels of empathy and compassion right away, as well as her quiet strength. Stephanie takes the time to know every client as an individual, creating an atmosphere of openness and honesty. While she is focused on each client's case, she is intent on knowing the entire person; such as, "what else is going on in their lives besides why they are consulting with her." Stephanie feels she can better serve her clients' needs by connecting more deeply through genuine interest and understanding context, setting appropriate expectations, and finding the best solution under all of the circumstances. 
Since 1997, the "Lead Counsel Verified" status has been granted to attorneys who possess:

The Right Professional Experience
A Spotless Record
The following attorneys at this firm are Lead Counsel Verified: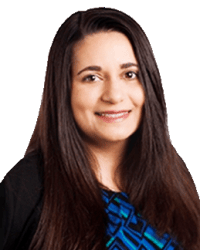 Stephanie O'Neill
This attorney is Lead Counsel Verified in the following practice areas:
| Practice Area | Year |
| --- | --- |
| Family Law | Since 2021 |
| Practice Area | Year |
| --- | --- |
| Family Law | Since 2021 |
For Attorneys:
Download Lead Counsel Badge
State Required Disclosure: No aspect of this advertisement has been approved by the Supreme Court of New Jersey.