Defense of Traffic Violations
The Law Office of E. Gregory M. Cannarozzi, Counsellor-at-Law, L.L.C., has provided superior traffic defense solutions to the residents of Oradell and the surrounding cities and counties of New Jersey: Bergen, Passaic, Hudson and Morris, as well as New York City and Rockland county New York.
Attorney E. Gregory M. Cannarozzi aggressively represents his clients concerning matters such as
DRIVERS LICENSE REVOCATION
DRIVING WITH A SUSPENDED LICENSE
DRIVING WITHOUT INSURANCE
LEAVING THE SCENE OF AN ACCIDENT
DMV HEARINGS
DWI/DUI
OTHER TRAFFIC VIOLATIONS
Call Attorney E. Gregory M. Cannarozzi of the Law Office of E. Gregory M. Cannarozzi, Counsellor-at-Law, L.L.C., at 866-784-2285 or via the contact form in the left-hand column to schedule a free consultation.

NEW JERSEY DMV APPROVED ONLINE DEFENSIVE DRIVING COURSE.
Complete this 100% online Fun and Simple Course presented by the famous Improv Comedy Club.
Completion of the course removes 4 Points from your driving record and provides you with up to 10% discount on your auto insurance policy.

SPECIAL OFFER FOR OUR CLIENTS: SAVE $5 (Enter GC101 at registration and Save)
CLICK ON BANNER FOR MORE DETAILS

Contact E. Gregory M. Cannarozzi

Traffic Violations
DUI/DWI:
"DUI" stands for Driving Under the Influence. If one is charged with DUI, an individual must be operating a motor vehicle and under the influence of a controlled substance, CDS. The presence of any CDS in one's urine while operating a motor vehicle gives rise to a violation in New Jersey of DUI. "DWI" stands for Driving While Intoxicated by alcohol. A DWI is a motor vehicle offense in New Jersey and therefore not eligible for probation. DWI charges apply when someone is operating a motor vehicle while under the influence of alcohol and his or her Blood Alcohol Content is above the legal limit.
DRIVERS LICENSE REVOCATION:
Typically, a driver's license will not be revoked for one or even two traffic tickets resulting from a moving violation such as speeding, running a stoplight or stop sign. However, if the offense is serious or if the driver has had previous convictions for moving violations in the past, his or her license may be revoked or suspended. If the driver is charged with reckless driving, or is involved in a hit-and-run, the defendant's license may be suspended for a year or more. If the driver is charged with drunk driving for a BAC reading of less than .10 but higher than or equal to .08, there will be a mandatory suspension of three months; for a BAC reading that is .10 or higher, the mandatory suspension will be seven months and may be up to one year.
LEAVING THE SCENE OF AN ACCIDENT:
New Jersey state law requires drivers involved in an vehicle accident where bodily injury or property damage occurs to stop immediately at the scene of the accident (or as close to the scene as possible without obstructing the flow of traffic) to wait for the arrival of law enforcement officers. In the State of New Jersey, if a driver leaves the scene of an accident where property damage occurs, s/he is subject to a $200 to $400 fine, 30 days imprisonment and a 6 months driver's license suspension. If a driver leaves the scene of an accident where serious injury or death occurs, s/he are subject to a $500- $1000 fine, 180 days imprisonment and 1 year driver's license suspension, in addition to other criminal charges that may be filed against them.

Since 1997, the "Lead Counsel Verified" status has been granted to attorneys who possess:

The Right Professional Experience
A Spotless Record
The following attorneys at this firm are Lead Counsel Verified: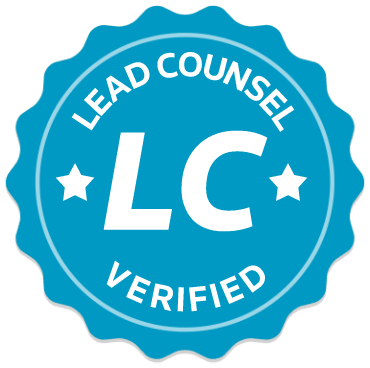 E. Gregory M. Cannarozzi
This attorney is Lead Counsel Verified in the following practice areas:
| Practice Area | Year |
| --- | --- |
| Probate | Since 2005 |
| Personal Injury | Since 2011 |
| Estate Planning | Since 2005 |
| Criminal Defense | Since 2008 |
| Practice Area | Year |
| --- | --- |
| Probate | Since 2005 |
| Personal Injury | Since 2011 |
| Estate Planning | Since 2005 |
| Criminal Defense | Since 2008 |
For Attorneys:
Download Lead Counsel Badge