Injury and Disability Attorneys in Nevada and California
If you or a loved one have been injured in an accident caused by someone else's negligence, you have the right to seek compensation. Shook & Stone provides legal assistance and advice to victims of Las Vegas or neighboring communities who want to file a claim for personal injury, medical malpractice or work-related accidents. Since the firm was founded in 1997, our experienced attorneys have handled multitudes of injury and illness cases, and we have secured more than $ 100 million in compensation for our clients. Motivated by a genuine desire to help injured victims, Shook & Stone is prepared to take on whatever your case entails.
Shook & Stone is a highly skilled disability and personal injury law firm prepared to fight for your rights and obtain just compensation. If you have suffered injuries in a car accident, or if your case involves birth injuries or wrongful death as a result of negligence, you can benefit from the personalized attention, dedication, and commitment that our attorneys offer.
Contact us today if you need legal assistance with any of the following:
Vehicle Accidents
Personal Injury
Trip/Slip & Fall
Work Injuries
Social Security Disability
Animal Attacks
Medical Malpractice
At Shook & Stone, we're prepared to handle whatever your case may bring—and if we don't win, you don't pay any fees. Call today at 702-829-7344 to arrange your free initial consultation.
Attorney Leonard H. Stone
As a strong negotiator and tenacious advocate, Leonard H. Stone has successfully recovered millions of dollars for deserving clients. He is a co-founder of Shook & Stone, specializing in personal injury litigation and all forms of disability law.
Leonard understands the deep impact that injury and illness can have on all aspects of an individual's life. For more than 18 years, he has worked to make sure his clients receive the attention and compensation to which they are entitled.
After beginning his career as an insurance defense litigator, Leonard has developed a unique ability to tackle complex medical cases. Knowing how insurance companies think gives him a unique edge, and has contributed to many big wins on behalf of his clients.
Education:
J.D., Loyola Marymount University
B.A., Brandeis University
Professional Memberships and Achievements:
State Bar of Nevada
Nevada Justice Association (currently serving on the Board of Governors)
American Association of Justice (AAJ) (served as acting delegate for the State of Nevada)
American Bar Association
Consumer Attorneys of California
---
Attorney John B. Shook
John Shook co-founded the law firm of Shook & Stone in 1997 and has been successfully advocating and fighting hard for his clients ever since. As one of the firm's senior partners, John has the extensive experience and litigation skills needed to take on even the most difficult cases and win. John serves as lead trial counsel on the firm's largest cases, and has obtained one of the largest single-claimant personal injury verdicts in Nevada history, a 20 million dollar verdict in a negligence case involving a man injured by a motor vehicle while on the job. Because of his successful trial experience, John is not afraid to fight big insurance companies in court and take your case to trial to obtain the results you deserve.
Even though he has more experience than most personal injury attorneys in Nevada, John continues to sharpen his skills to become the best advocate for his clients that he can be. John keeps up to date with the latest developments in personal injury law and utilizes the latest technologies available to fight for the firm's clients. Whether your case involves a defectively designed or manufactured product, motor vehicle negligence, a dangerous condition on a premises, or negligent medical treatment, John can provide you with the exceptional representation you need to get your life back to where it was before your injury.
In 2016, John had the honor of receiving certification from the Nevada Justice Association as a Personal Injury Specialist, a recognition given only to attorneys who have consistently shown superior integrity, professionalism, and knowledge of personal injury law in Nevada. John also serves as an official arbitrator in personal injury cases filed in the Eighth Judicial District, where he uses his extensive personal injury knowledge to help resolve disputes. If you want one of the most experienced and successful personal injury attorneys in Nevada to handle your case, then you want John Shook on your side.
Education:
J.D., University of Oklahoma, 1994
B.S., Oklahoma State University, 1991
National Criminal Defense College
National Institute for Trial Advocacy
Professional Memberships and Achievements:
American Association for Justice (formerly the Association of Trial Lawyers of America)
American Bar Association
State Bar of Nevada (elected chair of the Clients' Security Fund, 2009–2011)
Oklahoma Bar Association
Board of Governors for the Nevada Justice Association (honored for his help enacting legislation to aid Nevada's injured and disabled.
Colleague of the Nevada Law Foundation
Since 1997, the "Lead Counsel Verified" status has been granted to attorneys who possess:

The Right Professional Experience
A Spotless Record
The following attorneys at this firm are Lead Counsel Verified: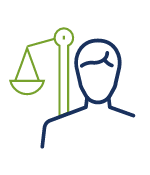 Robert L. English
This attorney is Lead Counsel Verified in the following practice areas:
| Practice Area | Year |
| --- | --- |
| Administrative Law | Since 2020 |
| Personal Injury Defense | Since 2020 |
| Social Security Disability | Since 2020 |
| Workers' Compensation | Since 2020 |
| Practice Area | Year |
| --- | --- |
| Administrative Law | Since 2020 |
| Personal Injury Defense | Since 2020 |
| Social Security Disability | Since 2020 |
| Workers' Compensation | Since 2020 |
John B. Shook
This attorney is Lead Counsel Verified in the following practice areas:
| Practice Area | Year |
| --- | --- |
| Personal Injury | Since 2014 |
| Practice Area | Year |
| --- | --- |
| Personal Injury | Since 2014 |
For Attorneys:
Download Lead Counsel Badge