Amber L. Cain, Attorney at Law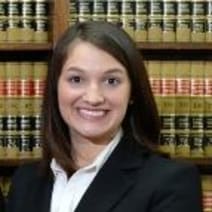 Helping Families through Transition
When a legal issue such as divorce or child custody affects your family, expect strong emotions on each side. The decisions you make will have a long-term impact on your relationship with your children and on your finances. You need an experienced attorney to craft a solution that will meet the best interests of your family today and into the future.
Amber L. Cain will take the time to understand your legal issues, your values, and your goals. She can offer a variety of legal options to protect your interests while promoting your success.
Contact Ms. Cain today if you need legal assistance with any of the following:
Divorce
Spousal Support
Asset Division
Settlements
Child Custody
Child Visitation
Child Support
Paternity
Juvenile Law Representation
Adoption
Wills
Estate Planning
Successions
Call 504-302-0416 today to arrange your initial consultation.
Attorney Profile
Attorney Amber L. Cain
Jurisdictions:
Education:
Louisiana State University Law Center, Baton Rouge, Louisiana

J.D./D.C.L. (Juris Doctor/Graduate Diploma in Civil Law) - 2012
Honors: Pro Bono Service Exceeding 50 Hours

Millsaps College, Jackson, Mississippi

B.A. magna cum laude - 2009
Honors: President's List
Honors: Phi Eta Sigma; Freshman Honorary
Honors: Eta Sigma Phi; Classics Honorary
Honors: Psi Chi; Psychology Honorary
Honors: Phi Beta Kappa
Major: Religious Studies
Minor: Psychology & Lilly Fellows
Employment History
Conroy Law Firm, PLC, Contract Attorney, 2012
Akers & Wisbar, LLC, Law Clerk, 2011 - 2012
LSU Law Juvenile Defense Clinic, Certified Student Attorney, 2012
Baton Rouge Battered Women's Program, Legal Extern, 2011
East Baton Rouge Parish District Attorney's Office, Extern, Domestic Violence Section, 2010
Office of the Louisiana Attorney General, Law Clerk, Criminal Appellate Division, 2010
Professional Memberships and Achievements:
Louisiana State Bar Association, Member, 2012 - Present
22nd Judicial District Court Bar Association, Member, 2012 - Present
21st Judicial District Court Bar Association, Past: Secretary-Treasurer, Current: Vice-President, 2013 - Present