The Maloof Law Firm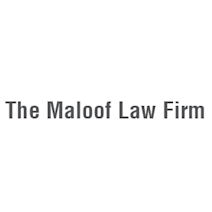 Strong Legal Representation by Devoted Attorneys
Since 1975, people throughout the Metro-Atlanta area have come to The Maloof Law Firm of Decatur for strong legal representation by devoted attorneys. We are proud to provide compassionate and professional services to clients charged with crimes and those who have sustained serious injuries.
Our criminal defense practice has handled everything from federal conspiracy trials to misdemeanor hearings in municipal courts; from murder cases to simple batteries; from drug cases involving many kilos of cocaine to misdemeanor marijuana charges regarding personal use. We've seen it all, but we never forget that every client's case is important. Any client facing incarceration or other sentencing needs an aggressive and competent defense, and anyone whose life has been altered in an accident deserves a team of attorneys who will fight for them.
The Maloofs have professional working relationships with prosecutors and court staff throughout Metropolitan Atlanta. They are or have been members of the Georgia Bar Association, the DeKalb Bar Association, the Educational Election Committee for GACDL, the Georgia Association of Criminal Defense Lawyers, and the American Bar Association. Mike Maloof, Sr. is a member of Georgia's Legal Elite, and he and Michael Maloof, Jr. have been repeatedly designated Georgia Super Lawyers by Atlanta Magazine. The Maloofs hold AV ratings with Martindale Hubbell, the highest possible rating in legal ability and ethical standards.
Contact The Maloof Law Firm today if you need legal assistance with any of the following:
Bond/Bail Hearing
Drug Defense
DUI Defense
Felony Defense
Illegal / Search / Seizure
Juvenile Criminal Defense
Misdemeanor Defense
Personal Injury
Probation & Parole
Sex Crimes Defense
Traffic Defenses
Call The Maloof Law Firm today at 404-373-8000 to arrange your consultation.
Attorney Mike Maloof, Sr.
Mike attended Emory Law School where he obtained a Doctorate of Jurisprudence. He has lived in DeKalb County all of his adult life. He started practicing law in 1972, and his offices have been at the same building in Decatur since 1975. He was originally with the law firm of Moulton, Carriere, Cavan and Maloof. From 1972 to 1980, while a partner with the law firm of Moulton, Carriere, Cavan and Maloof, Mr. Maloof worked as a deputy coroner in DeKalb County where he was charged with investigating the manner and causes of death. It was during this time he acquired a vast knowledge concerning forensic pathology in criminal cases.

Under the tutelage of the DeKalb County Medical Examiner, he successfully studied the methods of determining levels of alcohol intoxication and the science that is used to determine the effects of alcohol on the human body.
In 1983 he became a sole practitioner specializing in criminal defense and personal injury. He now practices law with his son at The Maloof Law Firm. When Atlanta Magazine began their Super Lawyer nominations, he was so nominated in 14 out of the first 15 years. He was named as one of Georgia's Legal Elite by Georgia Trend Magazine. His practice includes the entire state of Georgia in both state and federal courts.
---
Attorney Mike Maloof, Jr.
Mike Maloof, Jr. is an Atlanta native. He graduated from the Georgia Institute of Technology and attended law school at the University of South Carolina. He quickly became tired of practicing business law in South Carolina. He realized that he enjoyed going to court and litigating. He left an office setting focused on document review and came to work with his father and Troy Hendrick. Courtroom appearances were a way of life and still are for Mike. He spends 4 to 5 days a week in court.

He became a partner with Troy Hendrick where he focused primarily on traffic infractions and misdemeanors, but he is now a partner with his father and his focus is on DUI and felony cases.

Mike Maloof, Jr. was recently chosen as a Rising Star by Georgia Super Lawyers, an award only 2.5% of all lawyers receive. He is a graduate of the Bill Daniel'sTrial Advocacy Program. He has litigated cases at the Municipal, State, and Superior Court levels. He has won over 50% of the cases he has taken to trial.
---
Attorney Jason Hayet
The newest addition to the firm, Attorney Jason Hayet is an Atlanta native who attended Riverwood High School. He then went on to graduate from The University of Georgia with degrees in Economics and Political Science. Mr. Hayet later moved to Miami where he studied law at The University of Miami, graduating in 2015. A passion for the courtroom drove him toward a focus on trial skills and litigation, and he participated in the school's trial team during his time as a student.

This background garnered attention from the Maloof Law Firm, where he began clerking while preparing for the Georgia Bar Exam. After passing the exam and receiving his license to practice law, he was granted a position as an associate attorney with the firm. He manages a variety of criminal defense and bankruptcy cases, and makes frequent appearances for clients in the courts of DeKalb and Fulton County, and the Metro Atlanta area.
Excellent Lawyer. Highly Recommend
Mr. Maloof is an extremely charismatic, professional lawyer. He explained to me what was going to happen and what my options were in very simple terms, without any overly complicated legal jargon. He gave me his professional opinion but never pressured me one way or another about my case. Over the two years that I needed his services, he and his team were always available to answer any questions or concerns I had. Mr. Maloof ended up getting my charges significantly reduced. I received the best deal of anyone I spoke to in similar situations or that was in court that day. I did not fully appreciate the importance of a good lawyer until I saw so many scattered, lackluster lawyers go before me. I can't help but think that their unpreparedness significantly hurt their clients. Mr. Maloof seems to have a good working relationship with all the court officers, prosecutors, and judges in both the Fulton County and DeKalb County courthouses. Overall I would highly recommend Mr. Maloof's services. He made this distressing time as easy as it could be with an outcome that even I didn't think was possible.
- Posted by Raymond
---
Great Lawyer with a Legendary Reputation
I was arrested and charged based on an accusation from an ex girlfriend back in July 2011. I bonded out and was complying with my bond conditions but the bonding company went off of my bond for no reason or fault of my own but at the behest of another individual associated with the ex girlfriend's grandfather. I told my mother I wanted Maloof as my lawyer because I had heard of him through my barber and I had heard of his reputation. Everyone I came in contact with that knew of Mr. Maloof told me I was in good hands. While I was in jail it turned out that the roommate I had was a former Maloof client as well, and told me that Mr. Maloof had saved his life (got a murder charge dismissed), and even the judge at my first bond hearing informed me that I had a great lawyer, to do whatever he tells me to, and I was in good hands. Mr. Maloof visited me in jail multiple times. He is a no-nonsense attorney, he is very straightforward. He got my money back from the bonding company, and he made sure my probation in another county did not get violated. Maloof kept me out of prison, and kept me from going back to jail. During every meeting he always emphasized the fact that I need to stay out of trouble, because jail is not a fun place to be. Very straightforward lawyer for the people!
-Posted by Darian
---
Client Review
Michael Maloof is an outstanding attorney!! I sought Mike's representation after my daughter made some unfortunate mistakes and was charged with several offenses including drugs. Mike worked tirelessly on our case and exceeded all of our expectations. He was able to get all of my daughter's charges dismissed. Mike saved my daughter's future and my family is incredibly thankful. I highly recommend Michael.
- Posted by Julie
---
Facing Life
I am truly grateful that I was led to Mr. Maloof in my son's time of need!! My son was facing 4 serious criminal felony charges that all carried a minimum 10 yr sentence. This was our first time experiencing something like this and I didn't know where to start or what to do. I spoke with several other lawyers first and none of them felt right. Then a friend told me about Maloof! After reading reviews I gave him a call. What I appreciated most was when he offered to go visit my son to get to know him before taking the case and selling me any dreams. That meant the most because no one else cared enough to find out more about their potential client, all they wanted was for me to write the check. Maloof's gesture let me know that my son would be in good hands. He was very professional and provided the best services to my son and I from the moment I first spoke with him over the phone to the moment my son left the courtroom a free man with ALL charges dropped!! Mr. Maloof kept us informed throughout the whole process and was always very open & honest about what we should expect. He worked hard for my son and I felt that he genuinely cared for him as a person and not just as a client that he was getting paid for. Speaking of which, his fees were nothing in comparison to what some others were charging for same services and I didn't feel the genuine vibe from any of those lawyers who seemed to be more about the money. Overall, I am more than satisfied with the legal services that I received from Mike Maloof Jr. and I would recommend him to anyone seeking a Great lawyer who will fight hard and care about them!! Thanks Mike!! Forever Grateful!!
- Posted by Lester
---
DeKalb Misdemeanor Case
Dear Mr. Hayet, I want to express my gratitude for the good work you and your company did for me, for your professionalism, positive attitude and responsiveness. I would be happy to recommend you and use your services again, if I ever have the need to do so in the future. Thank you very much!
- Posted by Nedel
---
Excellent Service!
Mr. Maloof handled my case with great care, compassion, & a tad bit of humor as well. I'd recommend his services to anybody who needs them. Thank you Mike! You're the best!
- Posted by De'Andre
---
Best in the Business
Mike Maloof continues the legacy started by his father and grandfather in Dekalb county. His judgment, ethics and integrity are impeccable and his honesty unimpeachable. Fortunately, while I have never needed to use Mike Maloof for a serious charge, he was able to help me out on multiple occasions with traffic violations that enabled me to stay safe on the streets with no hits against my record. Even though my case was minor, Mike paid attention to every detail of my case as though it was major. You do not get that sort of attention from every attorney and Mike is an exception to the run of the mill attorney. If you are in the Atlanta area and need an attorney who will do the utmost for your case, seek out Mike Maloof.
- Posted by Walter
---
Astonishing Results!!
My son was charged with a severe charge of felony murder. After hiring Mr. Maloof, we regained confidence after having to fire the first attorney. Mr. Maloof, responded to every question and concern we had through the process. He remain extremely available through communication at all times. He answered all calls or emails during all hours of the day. He visited my son in the jail on regular bases. When the time came for preparations for court, Mr. Maloof worked over and double time to ensure all possible challenges that could or would have been presented in his case. After a long journey of highs and lows, Mr. Maloof and his team presented, executed and delivered a brilliant case for my son's case. Mr. Maloof delivered an Oscar Award winning performance in court. He utilize visual aids, he reintroduced probability and firmly reiterated key valid points to prove my son's innocence. The judicial system that is commonly referred to as a failure, finally prevailed in my son's case. He was granted immunity and all charges was dismissed. Mr. Maloof worked long hours, days and nights to fight for my son's right. He believed my son's innocence and fought for his justice. I would highly recommend the law office of Mr. Maloof to anyone without hesitation. I personally feel this experience has been rewarding to work with such a great, honest, direct, and knowledgeable man. Thank you Mr. Maloof and your brilliant team.
Posted by Angelica
---
Closed DeKalb Case
I called Mr. Hayet with a condition in my dekalb case Mr. Hayet got to court in a hurry to come to my rescue. He was able to close the case, and we ended up not owing any restitution money. He handled the case in a very professional manner. I felt comfortable when he walked in the room as he had knowledge on what was going on. Everything went smooth and was finished in a timely fashion and I was free to go that day.
- Posted by Nehemiah