Law Office of John W. Howe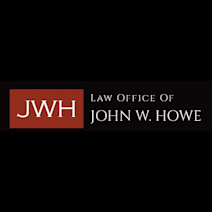 Defending Your Rights if You Have Been Charged of a Crime or You're Hurt in an Accident
The Law Office of John W. Howe understands that there are times when you need legal representation when faced with a personal injury, criminal charge or DUI.
Personal Injury
When another person's negligence or carelessness causes you harm, it's time to consider bringing a personal injury case. After an accident or injury, you can feel the physical and emotional effects for a long time — even for the rest of your life. You deserve financial compensation for the damages you've suffered. As your personal injury attorney, John Howe understands that your accident wasn't your fault and that it's unfair. He will hold the negligent party responsible for their wrongdoing and work to get you the maximum compensation possible for your suffering. Your case isn't just about the money — it's about undoing or lessening the harm done, and ensuring the wrong doesn't happen again to somebody else. Attorney John Howe can assist you with:
Car Accident
Motorcycle Accident
Tractor Trailer Accidents
Trucking Accidents
Injuries and Accidents
Premises Liability - Slip and Fall
Wrongful Death
Criminal Defense
Dealing with a criminal charge difficult. Every accusation could have an impact on your freedom and your future. Your defense begins once the state brings a case against you. Retaining a lawyer to protect you can make a critical difference in the outcome of your case.
The Law Office of John W. Howe is prepared to provide skilled, aggressive defense to you. There isn't a type of case or client that we turn down. We believe that comprehensive strategies for defense give us an effective position in courtroom negotiations. Attorney John Howe can assist you with:
Drug Violations
DUI
Traffic Tickets
Gang Crimes
Gang Violence
Domestic Assault
Sexual Assault
Contact attorney John Howe today at 678-487-2309 to arrange your free initial consultation.
Attorney Profile
Attorney John W. Howe
Bar Admission
Education
Georgia State University College of Law
University of Georgia
Associations
American Bar Association
Georgia Association of Criminal Defense Lawyers