« Back to Results
Debtstoppers Bankruptcy Law Firm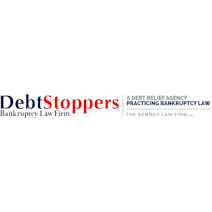 Bankruptcy | Serving Atlanta, GA
Debtstoppers Bankruptcy Law Firm, a local Bankruptcy firm with years of experience helping clients in the Atlanta, Georgia area.
Average Experience:
12 years
DebtStoppers Can Give You a Fresh Start
When your family is suffocating under the weight of late credit card payments, delinquent mortgages, and backbreaking medical bills, it can feel like you're all alone. If your creditors just keep calling and your debt keeps rising, it's easy to give up hope.
At DebtStoppers, our mission is to help you find your hope again. We've helped thousands of families wipe out their unbearable debt through bankruptcy and offered them a second shot at a better life. No matter how hopeless you feel like your situation might be, the truth is, fast and effective relief is available!
Contact us today if you need legal assistance with any of the following: 
Repossession
Foreclosure
Wage Garnishment
Credit Cards
Medical Bills
Asset Protection
Call 470-863-3460 today to arrange your free initial consultation. 
­­­Attorney Jessica Boone
Bar Admissions:
Education: 
Valparaiso University School of Law, Valparaiso, Indiana
University of Texas, Austin, Texas
Professional Memberships and Achievements: 
Chicago Bar Association (Member)
---
­­­Attorney Tom Nield
Bar Admissions:
Education: 
Indiana University Maurer School of Law, Bloomington, Indiana, 2019
University of Notre Dame, 2012
---
­­­Attorney Robert J. Semrad
Bar Admissions:
Illinois, 1994
U.S. District Court Northern District of Illinois, 1985
Education: 
DePaul University College of Law, Chicago, Illinois, 1994
Winona State University, Winona, Minnesota, 1991

B.A.
Honors: cum laude
Major: Psychology
---
­­­Attorney Megan Swenson
Bar Admissions:
Education: 
Northern Illinois University College of Law, DeKalb, Illinois, May, 2018

J.D.
Honors: Board Member, Student Bar Association

Northern Illinois University

B.A.
Major: History
Minor: Art History
---
­­­Attorney Jeremy Nevel
Bar Admissions:
Education: 
University of Illinois Chicago School of Law, Chicago, Illinois, 2015
Indiana University, 2010

B.S.
Major: Criminal Justice and Political Science
---
­­­Attorney Janna Quarless
Bar Admissions:
Education: 
Thomas M. Cooley Law School, Lansing, Michigan, 2007
University of Illinois Urbana-Champaign
Professional Memberships and Achievements: 
Michigan House of Representatives
Michigan Trial Lawyers Association, Intern
---
­­­Attorney Michael J. Spangler
Bar Admissions:
DePaul University College of Law, Chicago, Illinois, 2012
The University of Notre Dame, 2007

B.A.
Major: English and History
5* Jonathan Prince - "Phil Lehman is the best bankruptcy attorney in Georgia! Phil walked me through what I thought was a complicated bankruptcy process with ease. He took time to explain everything and got me the answers no one else could. Every attorney could learn something from Phil. Thank you Phil for your help and keep up the great work. Simply put, amazing people, amazing firm, and an amazing business model because helping people is their number one priority"
---
5* Ray Robin - "My experience with this office was a lot better with an amazing staff, including the courtesy officer! Everyone was very helpful, informative, & friendly! I couldn't have a chosen a better place to complete my bankruptcy. Thank you Debt Stoppers team for your hard work, dedication and exceptional customer service!"
---
5* Sharryll Sparks - " My experience with DebtStoppers was unbelievable, just truly AMAZING!! Bobby Palmer Managing Attorney, is the kindest, sweetest, most caring and smartest people I've ever had the pleasure of dealing with. He put me at ease was super super understanding and made me feel good. Dylan Steed was also incredible! He too made me feel at ease was extremely knowledgeable and very very sweet and kind. Thank you Bobby and Dylan for being number one winners and helping to get back on my feet and on the road to financial freedom!! You guys ROCK!!!!😄"
---
5* Tatorbug Reed - " Our experience with The Semrad Law Firm (dept stoppers) was very good. All the people there are so nice and willing to help you. The first appointment I had was with the attorney Craig Cooper and he was so helpful in making sure I understood how the process of chapter 7 goes. The second appointment was with a paralegal Tia Williams. She was super, she went over and beyond to make sure we understood each paragraph on every page. She even called me the next week to make sure everything was going according. That is what I call a caring firm. I highly recommend them. Thank you so much Tia!"
---
5* Jason Miner - " I was drowning in debt robbing Peter to pay Paul and sometimes Paul wasn't getting paid and these folks really helped us out now I've been able to save the car I can make my mortgage payments I actually have money left over every month to be able to actually go buy groceries instead of having to borrow money from people to make sure we have food in the house I love these people got everything quick got it done easy and we're in better Straits now big thank you to everybody who works there and their help and getting through this understanding what was going on and making sure everything was done correctly"
---
5* Damarcus Brittian - " The welcome from Bianca, Cindy & Evan will bring the best feeling of understanding. When I walked in the atmosphere is peaceful and welcoming. The knowledge of how things work and how things are going to work is what they gave me. This is one office that represents the way a business should be run and with the utmost concern for their customers. Team work is a standard that is very well displayed from Bianca, Cindy & Evan. Thanks for all you do!"
---
5* Tiffani Hudson - " I have had nothing but wonderful experiences visiting this office. They are professional, friendly and informative. From the front desk, to the lawyer himself they were all very accommodating. They answered all my questions, walked us through the process and we left feeling free. They were even patient with the fact that I had my children with me. I highly recommend Patrick and Bianca to help you get your life back! I'm so excited about my future because as we know credit is everything!"
Office Locations