When You Are Accused Of A Crime, Call the
Criminal Defense Attorneys of Schwartzreich & Associates
Fort Lauderdale criminal defense lawyers Schwartzreich & Associates have assisted more than 5,000 clients and have handled more than 80 trials in both Federal and State courts in Florida. Their extensive experience and zealous personal attention to each case have earned them an outstanding reputation as aggressive, highly effective client advocates with a distinguished history of successful results in both trials and plea negotiations.
Many of the high-profile cases handled by Florida criminal defense attorneys Schwartzreich & Associates, P.A. have been featured on national television (Dateline, 48 Hours, CBS, NBC, and ABC) as well as in the local press, including The Sun Sentinel and The Miami Herald.
Fort Lauderdale criminal defense attorneys Schwartzreich & Associates, P.A. have been helping people make these important decisions throughout their careers, providing trusted legal solutions to citizens accused of all types of criminal charges, including the following:
Criminal Defense
Drunk Driving Defense
White Collar Crime
Traffic Violations
Domestic Violence
Drug Offenses
Sex Crimes, including:

Sexual Assault
Statutory Rape

Felony & Misdemeanor Crimes

Armed Robbery
Arson
Assault
Battery
Burglary
Forgery
Kidnapping
Theft
"As a Broward County criminal defense attorney, I have represented clients from around the world who have been charged from minor violations to serious offenses. I have successfully represented clients in all stages of the process: prior to arrest, at arraignments, at trial, post trial and sentencing hearings, and on appeal."

- Attorney Eric Schwartzreich
If you have been accused of a crime, the decisions you make now can literally affect the rest of your life. The strength of your defense should be assessed by an attorney who fully understands the unique facts of your case and who knows how the law applies to your circumstances. Only then can you make the critical decisions that will protect your future.
Call Schwartzreich & Associates today at 866-721-7041, or complete the contact form provided on this site to arrange for your initial consultation.
Criminal Defense Frequently Asked Questions of Schwartzreich & Associates
The following information includes frequently asked criminal defense questions. The answers stated are general in nature and are not intended to apply to every situation. Each case is different and carries its own set of circumstances which must be taken into consideration by competent legal counsel. By contacting Schwartzreich & Associates, you can receive a personal consultation regarding your specific defense case.
Do I need a criminal lawyer?
This is the first and biggest question, really. And the best way to answer this question may be to rely on instinct: if your gut feeling is that you should talk to a criminal lawyer, you probably are right - seek advice.
The main reasons prompting the need for a criminal lawyer are:
You have been charged in court with a crime. This may occur following an arrest, or through a summons to appear in court and answer a criminal complaint or indictment. All people have an absolute constitutional right to the assistance of a lawyer in a criminal court case.
You have been arrested. If arrested for a potential criminal charge, a referral for criminal charge(s) may be made to the District Attorney in the county of the alleged law violation, or to the prosecutor for the federal district of the alleged violation. If an in-custody interrogation follows the arrest, the person being questioned has an absolute constitutional right to remain silent, and to have a lawyer present during the questioning.
You are being investigated for a crime. Law enforcement officers and prosecutors often contact people directly to answer questions about their alleged involvement in a crime.
Generally, the sooner a criminal lawyer is brought into a criminal case or investigation, the better potential results for the client. Do not take a wait-and-see approach to a criminal situation. Do not seek answers to questions about your rights and legal status from police officers and prosecutors, who do not have a legal duty to act in a suspect's best interest. Seek consultation with a law office that specializes in criminal defense.
What happens if I am arrested?
If you are arrested and charged with breaking a criminal law, the case is taken for an initial appearance before a magistrate, who advises the accused of the formal charge and potential penalties, and sets bond for future appearances in court. The bond may be a secured bond, where cash or property must be posted for release, or unsecured, requiring no cash or property to be posted for release. If the defendant cannot post a secured bond, he may be incarcerated pending the next appearance in court. If bond is posted or unsecured, he will remain free pending appearance at an arraignment. The initial appearance usually occurs within 72 hours of the arrest, or on the first date available if on a weekend or holiday.
What is the right to remain silent?
Just that -a person has the absolute right to remain silent if he or she is in custody and being questioned by police as the suspect of a crime. This is an adversarial setting between the police and the suspect. The police may use various tactics to get a suspect to admit to a crime or to make incriminating statements. These tactics may include appealing to a person's guilt or conscience, engaging in ploys like "good-cop/bad-cop," lying about the evidence against the person, making promises of leniency or release if the suspect confesses to a crime, or outright intimidation. This is such an inherently coercive setting for a person that the U.S. Supreme Court ordered that the now-famous standard Miranda warnings must be read to a person before the questioning process begins: "You have the right to remain silent. Everything you say will be used against you. You have the right to a lawyer. If you cannot afford a lawyer, one will be appointed to you."
Despite the warnings, people often ignore these rights and give incriminating statements to police that they later say are false, inaccurate, or the result of abuse, coercion or intimidation. Also, people often are unaware that any communication or information given to police is considered a statement - not just a written or signed statement. These statements can and will be used against a person - just like the warning says. Here is an analogy to illustrate: if you have a baseball bat, and someone tells you that if you hand him the bat he will hit you over the head with it, would you give that person the bat?
Think about the right to remain silent the same way - remain tight-lipped, and ask for a lawyer.
How can I tell if a lawyer is any good?
There are many theories about what makes a lawyer good: experience, age, how expensive they are, the connections they have. None of these theories provide a complete answer. A client must feel comfortable with his or her lawyer, be able to communicate with that lawyer, and be confident that the lawyer knows what he or she is doing. Ask questions about the lawyer's experience, both with the specific charge as well as criminal law in general. Ask about specific defense tactics and strategies in your case. Ask if the lawyer is comfortable in the designated court or with the prosecutor. Satisfy yourself that the lawyer understands you and your case, and knows what to do to advocate on your behalf. Discuss specific fee arrangements - these should be explained fully to you, preferably in writing.
Can police officers use force to arrest me?
A police officer may use as much force as necessary for a criminal arrest, as long as it is reasonable and lawful. After an arrest is made, a police officer may apply handcuffs to a defendant if the officer thinks that it is necessary to prevent injury or escape. If the defendant claims an unlawful application of force was used by the arresting officer, a judge will hear the defendant's argument and decide whether or not the force used was reasonable for the circumstances.
Will I be fingerprinted or have to be in a line-up?
If you are arrested, the police have the right to take your fingerprints and photographs. You may also be required to participate in a line-up, provide a sample of your handwriting, speak phrases associated with the offense, and/or to have samples of your hair taken. However, you may insist that an attorney be present during this time.
What is bail?
Bail is money or other property that is deposited with the court in order to ensure that the person accused returns to court when he or she is required to do so. If the defendant does not come to court when required, or violates his or her bail conditions, the bail will be forfeited to the court and will not be returned.
What happens during a bail hearing?
Upon arrest, the accused appears before a magistrate or judge for the alleged violation of a criminal law. The magistrate or judge will conduct a pre-trial bail hearing, resulting in four possible results:
Recognizance - This is the defendant's written promise to appear in court on the date set, and to abide by the terms set by the magistrate or judge. No monetary pledge, cash deposit, or security by property or professional bondsman is required.
Unsecured Bond - This release, pending court appearance, is based on the defendant's written agreement to appear in court on the date set and to abide by the conditions set by the magistrate or judge. It is backed by an agreement by the defendant to forfeit money to the court if she or he does not appear in court on the date set.
Secured Bond - This is secured by either a cash deposit, a pledge of real or personal property, or a pledge by a third party that the defendant will appear in court on the date set and will abide by the conditions of the release. The judge may forfeit any type of security in the event the defendant does not appear in court on the date set.
Ineligible for Bail - The defendant is denied a release pending court appearance.
The bail decision may be appealed to a judge who will reexamine the evidence. A violation of any agreement of release pending court appearance can result in the issuance of an "Order to Show Cause" why the release should not be revoked.
Why should I hire a criminal defense lawyer?
Any person who is facing a criminal charge, no matter how minor, will benefit from consulting a qualified criminal defense lawyer. Unlike civil court cases, where money or property may be at stake, a person suspected of committing a criminal act is in jeopardy of losing their fundamental freedom. Act quickly to protect your rights by contacting an experienced criminal defense attorney. An experienced criminal defense lawyer can identify important pretrial issues and bring appropriate motions which might significantly improve a defendant's case.
If you or someone you know in Ft. Lauderdale, or anywhere within the state of Florida, need the assistance of an experienced criminal defense lawyer, please contact Schwartzreich & Associates today at 866-638-5139, or complete the contact form provided on this site to arrange for your initial consultation.
Attorney Eric Schwartzreich
Ft. Lauderdale criminal defense Attorney Eric Schwartzreich has extensive trial experience-successfully representing clients facing many types of criminal charges including murder, drug trafficking, rape, sexual battery, grand theft, fraud, DUI/DWI, probation hearing and violations. He has helped more than 5,000 clients in Florida's state and federal courts, and has participated in over 80 jury and bench trials. Mr. Schwartzreich has also represented several law enforcement officers on behalf of the Police Benevolent Association.
Attorney Eric Schwartzreich is widely recognized for his knowledge of the American criminal justice system. He has presented lectures about the subject to Russian judges and law students at the prestigious Russian Legal Academy in Moscow, Russia. He has also been a guest lecturer at Saint Thomas University School of Law and has been invited by Judges of the 17th Judicial Circuit to lecture to both law students and undergraduate college students.
Attorney Eric Schwartzreich is a former assistant Public Defender for the 17th Judicial Circuit for Broward County and he has testified before the Senate Appropriations Committee in Tallahassee. In 1995, Attorney Eric Schwartzreich received an award for Intern of the Year.
Education:
St. Thomas University Law School, J.D.
Nova Southeastern University, M.B.A.
Muskingum College, B.A., Psychology
Professional Memberships:
Florida Bar, Member
Broward Association of Criminal Defense Lawyers, Member

Former Vice President, Former President-Elect
Former Treasurer

Phi Delta Phi (International Legal Fraternity), Member
Dade County Bar Association, Former Member
Federal Bar Association, Former Member
National Trial Lawyers Association, Former Member
---
Attorney Anthony Bruno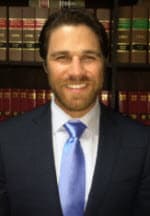 Anthony was born and raised in Broward County, Florida. Anthony is a graduate of St. Thomas Aquinas High School. After graduating from St. Thomas, he attended the University of Central Florida where he earned a bachelor's degree in Criminal Justice and minored in legal studies. It was while at UCF that he decided he wanted to be a lawyer. Being from South Florida, Anthony decided he wanted to come home to study law at the University of Miami. In law school, he was a member of Equity Playhouse, the law school's theater group where he was both a writer and actor. Towards the end of law school he worked at the Broward County Public Defender's Office through the University of Miami's internship program.
While doing his internship, Anthony realized that he wanted to be a criminal defense attorney. Upon graduating from the University of Miami with a Juris Doctor degree, he volunteered at the Broward County Public Defender's Office and once he passed the Florida Bar exam, he was offered a position at the Broward County Public Defender's Office which he graciously accepted. While at the Public Defender's Office, he has handled hundreds of cases ranging from minor crimes such as trespassing to more serious crimes such as aggravated battery. Anthony prides himself on being thorough while analyzing and evaluating cases and being a zealous advocate in court. Anthony will leave no stone unturned and explore every possible avenue when it comes to defending your case.
Education:
University of Miami School of Law
University of Central Florida
Professional Memberships: