Law Office of Rebekah S. Brown-Wiseman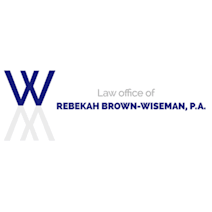 The Only Choice When Family Matters
When you are faced with a difficult family law issue, you need a strong and persuasive legal advocate at your side who will tirelessly promote your interests. Attorney Rebekah Brown-Wiseman is dedicated to providing quality legal representation and exceptional client service. Clients particularly appreciate that she is accessible to them. Ms. Brown-Wiseman herself will speak with all clients when they call or if she cannot take your call immediately, she will personally return your call within one business day. In addition, Ms. Brown-Wiseman provides each of her clients with her personal cell phone number to provide quick access to her.
Contact us today if you need legal assistance with any of the following:
Divorce
Adoption
Paternity
Child Custody
Property Division
Alimony
Relocation
Modifications
Guardian Ad Litem
Parenting Plans
Seminole Tribe Family Law
Call Rebekah Brown-Wiseman today at 954-563-1331 to arrange yourinitial consultation.
Attorney Rebekah Brown-Wiseman
Rebekah Brown-Wiseman is an experienced family law litigation attorney. This came from years of prior legal experience amongst which includes being a prior:
Florida State Attorney who represented the Florida Department of Children and Families in child custody and termination of parental rights cases.
State of Florida Guardian ad Litem Program lawyer who represented the best interests of children in child custody cases.
Family law attorney for both a large law firm and a boutique family law firm.
Professional Memberships and Achievements:
Broward County Association of Matrimonial Family Lawyers
American Association for Marriage and Family Therapy
Florida Association for Marriage and Family Therapy