Donaldson Stewart, P.C.
Trust Your Rights in a Firm that will
Fight to Insure Your Family's Future
The Arizona Family Law Attorneys at Donaldson Stewart, P.C. have handled numerous family law matters. The Firm consists of a knowledgeable team of professionals committed to providing quality services at reasonable rates.
Donaldson Stewart, P.C. is dedicated to the representation of people who are involved in family law matters. Our lawyers will work with you in all areas of your concern that relate to family law. Our goal is to resolve your family law conflicts and concerns, in a timely and efficient manner. This will result in greater emotional and economic benefit for you.
Donaldson Stewart, P.C. focuses on the following family law matters:
Divorce/Legal Separation
Paternity
Legal Decision Making (formerly known as "Child Custody")
Parenting Time
Child Support
Spousal Maintenance
Mediation
Orders of Protection
Enforcements and Modifications of Family Law Issues
Grandparents Rights
Prenuptial Agreements
If you or someone you know has a family law matter and needs to discuss the situation with a qualified family law attorney, do not hesitate and call Chandler, Arizona Divorce Lawyers at Donaldson Stewart, P.C. at 480-885-3700, or by completing the attached online contact form. Your concerns will be taken seriously by someone who genuinely cares.
­­­Attorney Monica H. Donaldson Stewart
Bar Admissions:
Arizona, 1997
U.S. District Court District of Arizona, 1997
Education:                                         
Arizona State University, College of Law, Tempe, Arizona
Arizona State University, Tempe, Arizona

B.S. - 1993
Major: Political Science
Professional Memberships and Achievements: 
Monica was Selected for Inclusion in Super Lawyers Southwest Rising Stars.
Monica was Selected as a 2019 Southwest Super Lawyer.
Collaborative Professionals of Phoenix, Executive Board Member, Present
Arizona's Finest Attorneys, 2011 to Present
Maricopa County Superior Court, Judge Pro Tem, Present
East Valley Bar Association, President, 2008 to 2009
East Valley Bar Association, Treasurer, 2009 to 2019
Maricopa County Association of Family Mediators, Secretary, 2018 to Present
East Valley Bar Association , Secretary , 2020 to Present
---
­­­Attorney Richard S. Fregin
Bar Admissions:
Arizona, 2006
Wisconsin, 1994
Education:                                         
Hamline University School of Law, St. Paul, Minnesota
University of Wisconsin, La Crosse, Wisconsin

B.S. - 1985
Major: Marketing

University of Wisconsin, La Crosse, Wisconsin

B.S. - 1991
Honors: magna cum laude
Major: Political Science
---
­­­Attorney Matthew B. Argyle



Bar Admissions:
Education:                                         
Arizona State University, Sandra Day O'Connor College of Law, Phoenix, Arizona
Brigham Young University, Provo, Utah

B.A. - 2013
Major: English
---
­­­Attorney Benjamin H. Cunningham



Bar Admissions:
Education:                                         
Arizona Summit Law School, Phoenix, Arizona
University of Phoenix

BS in Business Marketing - 2008
"I was in constant contact with Monica. She consistently and comprehensively replied to my questions and comments. I was very pleased with the representation provided to me." ~ John Stryker
---
"Monica took her time to listen and fully understand my case, offering suggestions with allowing me to provide input, and making me feel as though my case was her top priority. She is extremely responsive and always provided updates no matter how big or small. I feel Monica genuinely cared about what was in my best interests and my family. Monica and her team are one of the most exceptional I have worked with and I highly recommend her. If you want the best, hire Monica Donaldson!" ~ KM
---
"Best experience ever! Ben and his paralegal were amazing to work with. Highly recommend him to others needing family law assistance. Very impressed with the firm!" ~ LG
---
"I can't recall an instance where I wasn't able to get a hold of the firm. I had never been through a divorce, so the fear of the process was heavy but having the accessibility to the firm to answer my questions was priceless. I entered my divorce process believing all of the stereotypical themes related to the disadvantages of fathers in the eyes of the courts. I was lucky enough to have had a very knowledgeable firm that calmed my fears. I thought I would lose everything, but I received everything and more. I simply can't place a price on the service, care, time, and attention I received from the firm. I have my children, my home, and my health back." ~ FT
---
"The Firm's communication was professional and timely. Mr. Argyle demonstrated knowledge and patience when working on our case. He listened well and spent time understanding our unique situation before proceeding to discuss our options. Mr. Argyle communicated with us often and kept us on track according to the agreed timeline. We had a very positive experience."  ~ Anonymous
---
"When it came to choosing a lawyer for my divorce a few years ago, I was worried about cost but I was more worried about losing as children were involved. It is an understatement to say that I was impressed with Monica and her entire office. Not only were they always prompt in their responses to me, but the cost was reasonable. Monica is always honest and upfront." ~ JC
---
"I have nothing but positive things to say about everyone I have worked with there. Great job!" ~ LG
---
"Matthew Argyle was exceptionally responsive to all of our questions and requests, he is a wonderful attorney. I will recommend your office to any of our friends and family." ~ YS
Family Law FAQ's
What is the general process of obtaining a divorce?
A Petition is filed. The Petition gives the Court information about the parties, the children (if any) and the assets/debts. Since Arizona is a no-fault divorce state, the Petition must allege that the marriage is "irretrievably broken with no reasonable prospect of reconciliation." In Maricopa County, the Petitioner must pay a filing fee to the Court in the amount of $338. Under certain circumstances, the Court can waive or defer this fee.
The Petition is served. Service can be accomplished in several ways: (a) personal service by a process server or law enforcement officer; (b) if the Respondent does not reside in Arizona, certified mail/return receipt requested; (c) acceptance of service; and (d) publication, if the Respondent cannot be located after diligent efforts have been made.
A Response is filed. The Respondent has twenty days (thirty if served outside of Arizona) to file a written response if he/she disagrees with any of the requests made in the Petition. In Maricopa County, there is a filing fee of $268 for the Response.
Decree of Dissolution. The Decree is the document the Court signs to signify that your marriage is dissolved. There are three ways to get this accomplished: (a) After Trial. If the parties are unable to resolve their contested issues after reasonable attempts, the Court will conduct a trial to hear evidence and testimony, then rule on the outcome; (b) By Default. If the Respondent does not file a timely Response, the Petitioner can attend a hearing during which the Court will confirm that the final orders match the requests in the original Petition, and the Decree will be signed during the hearing; (c) By Consent Decree.
What are the issues involved in a divorce?
Legal Decision Making/Parenting Time. Legal Decision Making (formerly known as "Child Custody") refers to decision-making authority, primarily regarding non-emergency medical and educational decisions as well as personal care decisions. Legal Decision Making can be "joint" (where the parents share authority), or "sole" (where one parent has authority). Joint legal decision making does not mean equal parenting time. If the parties share joint legal decision making, the parents may share equal time, or the child may reside primarily with one of the parents.
Child Support. Child support is calculated according to a statutory formula. The relevant factors are the parents' gross (before taxes) monthly incomes, the number of children, the ages of the children, the cost of medical insurance, the cost of daycare, and the amount of parenting time exercised by the non-residential parent. The parties' incomes are generally based on a regular 40-hour workweek, but if one party is unemployed or underemployed, the Court has the discretion to attribute additional income.
Spousal Maintenance. In Arizona, there is no statutory formula for calculating spousal maintenance (known as "alimony" in some states); rather, there is a list of factors set forth in the statute, and the judge is required to address each factor in making a spousal maintenance determination.
Division of Assets/Debts. Since Arizona is a community property state, the Court presumes that any asset or obligation acquired during the marriage is community (except for gift or inheritance), and anything acquired prior to the marriage or after the date the Respondent is served is separate property.
Attorneys Fees. In most cases, each party will pay his or her own filing fees and legal fees. The Court has the discretion to award attorneys fees after considering the parties' comparable financial resources and the reasonableness of the position each party has taken during the proceedings, as well as other statutory considerations generally based on the conduct of the parties during the proceedings.
Since 1997, the "Lead Counsel Verified" status has been granted to attorneys who possess:

The Right Professional Experience
A Spotless Record
The following attorneys at this firm are Lead Counsel Verified: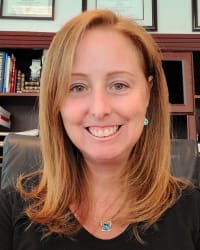 Monica Donaldson Stewart
This attorney is Lead Counsel Verified in the following practice areas:
| Practice Area | Year |
| --- | --- |
| Divorce | Since 2003 |
| Family Law | Since 2003 |
| Practice Area | Year |
| --- | --- |
| Divorce | Since 2003 |
| Family Law | Since 2003 |
For Attorneys:
Download Lead Counsel Badge