Successfully Defending the Rights of the Accused
Since 1994, I have been dedicated to defending the rights of the accused. If you have been accused of a crime, or you are worried that you may be accused of a crime, call me. I have represented thousands and thousands of people to the successful conclusion of their criminal cases. I want to talk to my clients about the best case outcome. For some clients, the best case outcome means a trial and an acquittal. For others, it means a substantial reduction of their charges. And yet for others, best case outcome means handling their matter in a quiet way, so that employers, family and friends never find out about it.
Contact me today if you need legal assistance with any of the following:
Felony Crimes
Assault and Battery
Criminal Law
Domestic Violence
Drug/Narcotics
Drunk Driving Defense
Identity Theft
Juvenile Law
Traffic Violations
White Collar Crime
Call today at 253-250-4936 to arrange your free initial consultation.
Attorney Profile
Attorney Michael Austin Stewart
Tough and aggressive in the courtroom, yet approachable and open to his clients, Mike Stewart is one of the most skilled and sought-after Criminal Defense attorneys in the Tacoma area. For over 17 years, he has successfully defended clients in cases ranging from homicide to D.U.I. The vast majority of his clients are referred to him by clients and other lawyers who know the great work he does.His knowledge of all aspects of criminal defense is such that he is called upon to teach continuing legal education (CLE) to other attorneys. He has received numerous accolades from fellow attorneys for my ability to impart knowledge regarding the intricacies of criminal defense, and is consistently among the top-rated CLE speakers.
He is a member of the Washington State Bar Association, the Pierce County Bar Association and the Washington Association of Criminal Defense.
A young wife shot in the head, her husband pulled the trigger;
was it an accident or did suspicion lead to murder?
"A year-and-a-half after shooting his 19-year-old wife, Danielle, 21-year-old Skylar Nemetz is on trial in Tacoma, Washington, charged with murder in the first degree.

"I feel like my heart was -- ripped outta my chest and all the veins, too, with it the day that my wife died," Skylar Nemetz told "48 Hours" correspondent Erin Moriarty in his only interview.

"But you caused it," Moriarty noted.

"I know," he replied. "That's the most painful thing out of all of this is knowing that I caused it."

Skylar Nemetz shot his wife. No one disputes that. The only question is why? Did he pull the trigger in a jealous rage? Or was it just an accident? And will you reach the same conclusion the jurors did?"

"I've been a defense attorney for 20-plus years. Toughest case I've had," Stewart said.

Asked why, he replied, "'cause I've got a kid that I absolutely believe. I believe this is an accident, and the facts and the circumstances around it look bad."
Testimonials

"The best defense I have ever had and I have had a lot of lawyers. He goes the extra mile for his clients."
- Seth
---
"Mike is a hard working, professional with excellent insight. He believes in his clients rights and innocents and is motivated to give them their lives back. I give Mike Stewart my highest praise. Thank you Mike."
---
"My son needed a lawyer. As I live on the East Coast, I was in a quandary. A friend highly recommended Michael Stewart and very quickly it was evident why. Attorney Stewart proactively jumped into the case and handled it smoothly and professionally. We could not have asked for a better outcome to a situation that could have be negatively career-altering. I cannot more highly recommend Attorney Stewart." -Heidi
---
"I was searching for an Attorney for some time, Michael Stewart became the last. When I walked into Michael Stewart's office I felt more comfortable than any of the other attorneys I had talked to right away. When consulting with him he laid out every step of the way and ever possible outcome that could come from my situation. Throughout the year long battle, I felt at ease knowing that Michael Stewart was guiding me through the process and never missed a beat. It is amazing at how many cases he was handling and yet it always felt as if my case was the only one. He seemed to always be one step ahead and prepared me for what was to come. I specifically liked how he didn't beat around the bush when it came to telling me anything with the case. Michael Stewart made the atmosphere comfortable and I felt like he wasn't my attorney, he felt more like a brother. I felt like he was a caring individual and was there for me and to represent me to the best of his capabilities. If you need an attorney Michael Austin Stewart is your man, he will be there with you every step of the way and will never lead you on the wrong path through the entire process. Thanks to Michael Stewart not only from me but my friends and family. I couldn't of hired a better attorney for the job. Thanks again Michael, you are the best attorney out there in my book." -Matthew
---
"Michael went above & beyond my expectations,and I'm no stranger to the court system.if anyone is trying to find the best lawyer you already did.I trust this man 100%, The first time I sat down and talk to him walking out of his office I felt very comfortable and confident that he is the right man for the job. Michael saved my life I'm not just saying that he literally did.he is worth every minute ,dollar, etc. he can create miracles out of a hopeless situation time and time and time again.He he understands situations ,court rooms ,and life like the back of his hand I can't say enough good things about this guy ,he's just simply worth it.....thank you so much Michael" -David
---
"So thankful for Michael for working for my son at the most difficult time in his life. A first time offender who had no idea what was going to happen. Michael did an amazing job for our family. He is very self confident about his abilities and rightfully so. I would defiantly recommend Michael Stewart to anyone looking for an outstanding criminal attorney." -Keva
---
"It's an unfortunate situation to have to deal with the possibilities of loosing ones freedoms. What I appreciated most was a clear plan was laid out and beautifully executed. Mr Stewart has handled several things for me over the last fifteen years and everytime he has over delivered. When I call he answers, and I'm sure he will for you." -Patrick
Since 1997, the "Lead Counsel Verified" status has been granted to attorneys who possess:

The Right Professional Experience
A Spotless Record
The following attorneys at this firm are Lead Counsel Verified: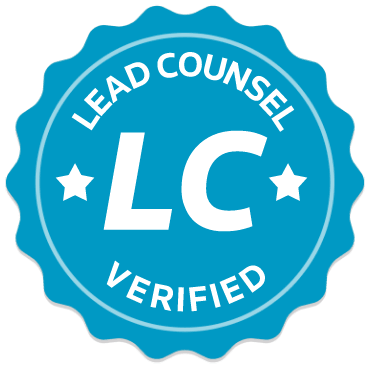 Michael Austin Stewart
This attorney is Lead Counsel Verified in the following practice areas:
| Practice Area | Year |
| --- | --- |
| Criminal Defense | Since 2013 |
| Practice Area | Year |
| --- | --- |
| Criminal Defense | Since 2013 |
For Attorneys:
Download Lead Counsel Badge