« Back to Results
Brian Murry, Attorney at Law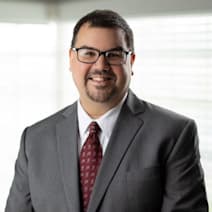 Providing Frank Advice In Divorce And Family Legal Matters
Many families in Washington do not want a prolonged legal fight when they are facing serious legal issues. They want to find compromises that resolve their cases quickly and amicably. At Brian Murry, Attorney At Law, PLLC, I use negotiation and mediation to reach a fair outcome at a price you can afford.
Since 2010, I have helped individuals in Tacoma, Olympia and the surrounding communities in Pierce and Thurston counties with legal situations that include divorce, child custody, parenting plans, spousal and child support, the division of assets and debts, establishing parentage, post-decree modifications and enforcement of divorce orders. As a U.S. Navy veteran, I use my experience as a service member to guide those in the armed forces through military divorces.
Contact us today if you need legal assistance with any of the following:
Custody & Visitation
Divorce
Domestic Violence & Neglect
Family Law
Father's Rights
From the moment you sit down with me, I will be working on your case. I am available to answer your questions and alleviate your concerns every step of the way. If I need additional information, I proactively reach out to my clients. Call 253-330-8985 today to arrange your free initial consultation.
Attorney Brian Murry
When working with you, I offer clear, candid legal advice. I am a lawyer who will tell you what you need to hear, not necessarily what you want to hear. This straightforward approach allows me to give you realistic and practical information so that you are fully informed about your rights and your options.
My goal is to solve your problems and get the job done on your behalf as your attorney so that you and your family can move beyond this challenging period in as timely a manner as possible. Whether you need help filing for divorce, dividing marital assets or determining child custody and child support for a child with unmarried parents in Pierce County or Thurston County, I have your interests covered.