« Back to Results
Fury Duarte PS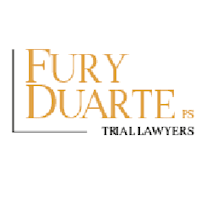 Personal Injury | Serving Bellevue, WA
Assisting people in Washington with their Personal Injury needs. Learn More.
Average Experience:
26 years
We Believe in Helping People
At Fury Duarte, our personal injury attorneys are committed to representing individuals and families, who have been wrongfully hurt or killed throughout the greater Seattle metropolitan area. If you, or someone you care about, has been injured in a car or motorcycle accident, medical negligence, an injury at sea (admiralty), a property owner's negligence, or an accident arising from use of a defective product, you need the counsel of an experienced personal injury (PI) attorney. Consistently recognized as one of the best PI law firms in Washington State, Steve Fury and Francisco Duarte can help you get the compensation that you deserve.
An important factor when choosing the right attorney is to find one that you trust. Since 1991, Fury Duarte has built the firm's reputation one client at a time, treating each with the utmost dignity and compassion. The philosophy, "The client is first and foremost," is the reason why this award-winning PI firm continues to thrive today.
Contact us today if you need legal assistance with any of the following: 
Personal Injury

Admiralty (Injuries at Sea)
Wrongful Death
Medical Malpractice
Automobile Accidents
Construction Injuries
Product Liability

DUI
Criminal Defense
Call 425-643-1606 today to arrange your free initial consultation. 
­­­Attorney Francisco A. Duarte
Bar Admissions:
Admission to the Washington State Bar 1994
United States Court of Appeals for the Ninth Circuit 1994
United States District Court, Western District of Washington 1994
United States District Court, Eastern District of Washington 1995
Education: 
University at Buffalo School of Law, JD

State University of New York 1991 – 1994

University at Albany, BA Mathematics

State University of New York 1983 – 1987
Professional Memberships and Achievements: 
Top Twenty-five Super Lawyers in Criminal Defense,
Washington Law & Politics Magazine
Super Lawyer, Washington Law & Politics 2004 – Present
Best Lawyers in America 2013 – Present
Top 100
Rising Star, Washington Law & Politics, 2004
Rising Star, Washington Law & Politics, 2003
Rising Star, Washington Law & Politics, 2002
Certificate of Achievement, National College of DUI Defense
Certificate of Appreciation, Washington Foundation for Criminal Justice
Certificate of Achievement, NITA
Certificate of Achievement, Gerry Spence Trial Lawyers College
Certificate of Appreciation, Washington State Bar Association
Robert J. Connelly Award for Excellence in Trial Advocacy, University at Buffalo School of Law
---
­­­Attorney C. Steven Fury
Since 1991, Steve Fury has remained faithful to his vision of a building a small, intimate law firm that is devoted to helping those who have been personally injured. Many clients have reaped great rewards from having Steve represent them – from wrongful death cases to construction accidents, car accidents, products liability, and admiralty cases.
As a result of Steve's many successes on behalf of his clients, the American Board of Trial Advocates (ABOTA), an invitation-only national honorary organization for the trial bar, elected Steve to ABOTA in 2000. ABOTA, divided between members of the plaintiffs and the defense trial bar, selects fewer than 100 members from over 28,000 members of the Washington State bar.
Education: 
Harvard University, JD, cum laude, 1979
Stanford University, BA, with distinction, 1974
---
­­­Attorney Scott David Smith



Bar Admissions:
Washington State Bar Association
US District Court for the Western District of Washington
US Court of Appeals for the Ninth Circuit
Education: 
Oklahoma City University School of Law, JD, summa cum laude
Arizona State University, MS, Aviation Management and Human Factors
Arizona State University, BS, Aeronautical Management Technology, magna cum laude
---
­­­Attorney Megan M. Dunn



Bar Admissions:
Washington State Bar Association
US District Court for the Western District of Washington
Education: 
Walter F. George School of Law – Mercer University, JD
Southern Polytechnic State University, BS, Electrical Engineering Technology
Fury Duarte has experience in a wide range of personal injury, DUI and criminal defense cases. The following is a sample of the verdicts and settlements our clients have received:
$3.6 Million – 58-Volt Electrical Injury
$2.8 Million – Automobile Collision Traumatic Brain Injuries
$1.5 Million – Highway Design Fatality
$1.5 Million – Motorcycle v. Car Collision
$1.3 Million – Forklift v Pedestrian Collision
$1.3 Million – Maritime Injury to Tugboat Captain
$1 Million – Wrongful Death of Baby
$700,000 – Maritime Injury to Minor
$600,000 – Pedestrian v. Car Collision
$500,000 – 82-year old Traumatic Brain Injury in Car Collision
$400,000 – Maritime Traumatic Brain Injury to Fisherman
$300,000 – Product Liability Ladder Accident