LaHood Norton Law Group PLLC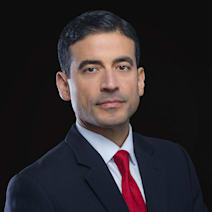 Protecting Your Rights and Your Liberties
As Criminal Defense Lawyers, their goals are to fearlessly defend the accused and protect their innocence. LaHood Norton offers the knowledge clients need to make the best decisions in challenging times. Your rights will always be vigorously fought for throughout a variety of criminal allegations, including but not limited to, DWI, Aggravated Assault, White Collar Crimes, Weapons Charges, Probation Violations, Drug Possession & Distribution, and other Federal- and State-level offenses.
LaHood Norton sets itself apart from other firms by combining the experiences of former high-level prosecutors who have successfully represented both sides of the justice system.
If you or your loved one is in need of representation for a criminal charge, LaHood Norton is ready to help. We know the ins and outs of a courtroom and how it operates which allows us to be one step ahead when representing our clients. Our team has experience as high-level prosecutors and defense lawyers giving us knowledge of the inner workings of the justice system to reach the best possible outcome for our clients.
We understand being arrested can be confusing and frightening and that the outcome of your case can have serious consequences that may affect you and your family. The legal system can be overwhelming. You need a legal team that will take your case seriously and fight for you.
With over 70 years combined experience, we are prepared to fearlessly defend your rights.
Contact us today if you need legal assistance with any of the following:
Federal Offenses
White Collar
Fraud
Economic Crimes
Money Laundering
Drugs
Conspiracy
R.I.C.O. (Racketeer Influenced and Corrupt Organizations)
Public Integrity
Weapons Violations
Illegal Entry
Pretrial Violations
Probation Violations
Appeals
Writs
State Offenses
Murder
Aggravated Assault
Crimes of Violence
Intoxicated Manslaughter
Intoxicated Assault
DWI (Misdemeanor and Felony)
Drug Distribution
Drug Possession
Public Integrity
White Collar and Financial
Theft
Burglary
Guns and Deadly Weapons
Domestic Violence
Assault
Probation Violations
Appeals
Expunctions
Nondisclosures
Call Lahood Norton Law Group PLLC today at 210-610-7834 to arrange your free initial consultation.
Attorney Nicholas "Nico" LaHood
Jurisdictions:
Education:
St. Mary's School of Law | Juris Doctorate
St. Mary's University | B.A. in Finance and Financial Services
Professional Memberships and Achievements:
Board Member for Child Safe San Antonio
Board Member the Bexar County Family Justice Center
Board Member Rape Crisis Center
Recognized in Politics Magazine
Texas Monthly Super Lawyers edition, as a "Rising Star" in 2007, 2008, 2009, and 2010