Attorney Jay D. Ellwanger
Jay opened Ellwanger Law to fulfill a lifelong goal of honoring his family's history by establishing a law firm dedicated to the eradication of discrimination and the defense of civil rights. Jay's practice used to involve the representation of both plaintiffs and defendants in a broad spectrum of intellectual property, employment, and commercial matters, first at one of Texas's largest law firms and next at a respected litigation boutique. Now, Jay focuses solely on the representation of plaintiffs who have individual and class-wide discrimination and civil rights claims.
Jay earned his undergraduate and law degrees from the University of Texas. While in law school, Jay was a member of the Texas International Law Journal, chair of the Board of Advocates, selected to the Order of Barristers, named the top advocate of his graduating class, and was the national champion of the "Tournament of Champions" mock trial competition. Since graduating, Jay has served as an Adjunct Professor at UT Law School since 2003 and has been named a Texas Rising Star or Super Lawyer" by Texas Super Lawyers and Texas Monthly magazine every year from 2007 to 2020. He has served as a Barrister of the Robert W. Calvert chapter of the American Inns of Court.
Jay is also committed to service beyond the legal profession—he chaired the Board of Wheat Ridge Ministries from 2016-2018 during its missional transition to the We Raise Foundation, and also served as Chair of the Board of Urban Roots from 2011-2016 and currently serves as co-chair of its capital campaign committee. He is also a proud graduate of Leadership Austin's 2007-2008 Essential Class. Additionally, Jay was honored as the recipient of the 2009 Austin Under 40 Award in the legal category. The award is given annually by the Young Men's Business League and the Young Women's Alliance of Austin to allow the community to recognize their peers under the age of 40 who have achieved extraordinary professional success while simultaneously demonstrating outstanding community service.
---
Attorney David Henderson
David Henderson is a seasoned trial lawyer who joined Ellwanger Law to fight for justice. David earned his BA in Plan II Honors and his law degree from the University of Texas. Afterwards, he joined the litigation section of one of Texas's largest law firms. Though David enjoyed the intellectual challenges of complex litigation, he wanted to try cases; so, he joined the Special Crimes Division of the district attorney's office.
David has tried over 70 jury cases to a verdict, ranging from civil cases to human trafficking to capital murder. David was so successful in court that the Texas District and County Attorney's Association (TDCAA) invited him to train other attorneys across the state, including at TDCAA's semi-annual Trial Skills Course. From his first presentation, David was one of TDCAA's most highly rated speakers. Additionally, during his time at the DA's Office, David was named local Criminal Justice Member of the Year and received the President's Award for outstanding service from Mothers Against Drunk Driving.
To improve his courtroom skills, David joined Toastmasters International. In 2010 he won its World Champion of Public Speaking after competing against over 30,000 contestants from 113 countries. Though he competed to become a better trial lawyer, David delivered his best speech outside the courtroom when he convinced Dr. Josephine Thinwa to marry him. She liked it so much that she etched a copy above their mantelpiece. When not in court, David enjoys teaching Bible classes with Josephine, serving on the Friends of the Dallas Public Library's board of directors, and barbecuing as often as he can.
---
Attorney Holt Lackey
Holt began his career at one of the nation's prominent and most influential law firms and worked as counsel to Texas's United States Senator and Representatives in Washington, DC. During that time, he saw that too often the legal playing field is tilted in favor of those with the money and power to hire the best lawyers and lobbyists, while too often the rest struggle to have their voices heard. Returning to his hometown of Austin after six years in the halls of Congress, Holt has dedicated his career to leveling the scales of justice and working to live up to the highest ideal of our Legal System and, our Democracy etched above the doors of the Supreme Court: Equal Justice Under Law.
Holt joined Ellwanger Law as a co-founding Partner to fight for all employees' equal rights to fair pay, fair treatment, and freedom from harassment and discrimination. A third-generation lawyer, the pursuit of justice is a family tradition of Holt's, whose grandfather worked for President Johnson when he signed the Civil Rights Act and Voting Rights Act. Holt graduated from Northwestern University and then went on to the University of Texas School of Law, where he graduated with honors and was a member of the Texas Law Review. Holt serves as Secretary of the Board of Equality Texas, serves on the Board of the Anti-Defamation League of Austin, and is a Member of the City of Austin's Economic Prosperity Commission and Joint Cultural Commission.
---
Attorney Toby Costas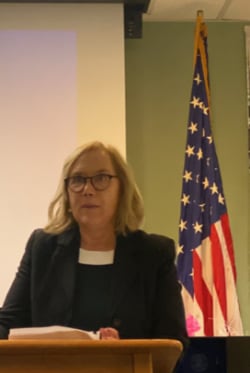 Toby Wosk Costas brings 30 years of discrimination law experience to the firm. As a Supervisory Trial Attorney for the U.S. Equal Employment Opportunity Commission (EEOC), she prosecuted cases alleging discrimination under all the laws enforced by the EEOC. She has fought for the right of employees to speak a language other than English in the workplace, creating important legal precedent followed by courts both inside and beyond Texas, and achieving a highly favorable verdict in court. She has fought for the disabled under the Americans with Disabilities Act (ADA) since its inception in 1990, achieving verdicts and settlements for employees with such challenges as cancer, hepatitis C, renal failure, back injuries, carpal tunnel, MS, and diabetes. She has conducted training on the ADA–to lawyers, law students, investigators and corporations. In the harassment arena, she prosecuted and successfully resolved by consent decree the case of an employee pressured by her boss into a sham marriage to benefit the immigration status of his relative. She has achieved favorable verdicts in race and sex harassment cases in both Texas and Oklahoma courts.
Toby was first inspired to attend law school as an undergraduate studying journalism at Northwestern University. Dissecting Supreme Court decisions on the First Amendment in a journalism law course was challenging—and thrilling. Then, in law school at Case Western Reserve University, it was the Criminal Defense Clinic that clinched her decision to focus her career on groups that don't get a fair shake under the law. After graduating, Toby worked for six years as an Assistant Public Defender in Cook County, Illinois where she saw that indigent defendants who couldn't make bail always wanted to enter a plea to get "time served." Yet clients with means had the freedom to fight from the outside, sometimes working out a plea that could be expunged from their record, or able to live a normal life out of jail during the long period awaiting trial. This iniquity instilled in Toby a desire to fight for justice—first as a Public Defender, then with the EEOC, and now with Ellwanger Law.
---
Attorney Jen Despins
Jen has over a decade of experience representing employees, and 15 years of experience of working on employment law issues.  Jen was in the Honors Program at the University of Delaware and then received a full-tuition merit scholarship to attend Hofstra University School of Law.  While in law school, Jen served as the Associate Editor of the Hofstra Law Review and graduated as the Salutatorian of her class.
Jen's advocacy experience isn't limited to employment disputes—she also successfully represented a Pakistani woman and a Congolese man in two separate immigration removal proceedings in federal court. Jen received the Sanctuary for Families Award for Excellence in Pro Bono Advocacy on behalf of domestic violence victims and their children for her successful representation of her Pakistani client. Jen also successfully represented the families of 9/11 victims in a joint litigation with the New York Times against the City of New York for the release to the public of evidence relating to the events of 9/11. Ms. Despins' represented the families through their successful appeal to the New York Court of Appeals.
---