« Back to Results
Hilliard Martinez Gonzales LLP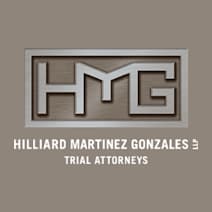 Personal Injury | Serving Corpus Christi, TX
Representing people in Corpus Christi, Texas with their Personal Injury issues.
Average Experience:
18 years
A Texas Law Firm with A National Reputation for Relentlessly Pursuing Justice
Hilliard Martinez Gonzales LLP. We're trial lawyers. We've been powerful advocates for our clients since 1986, guided by honor, tenacity and know-how. If you or a loved one has been injured because a company was negligent or reckless, we're on your side. We have what it takes to pursue justice on your behalf — experience, insight, drive and grit. Hilliard Martinez Gonzales LLP. We stand with you and we fight to win.
By standing strong and prepared on behalf of our client, we bring our own unique humanity to each case. An HMG lawyer is a thoughtful, powerful warrior and a person whose full life has meaning and substance. By understanding our own story we develop the power and persuasion to tell our client's story. By giving to our client the full essence of who we are, as human beings and as lawyers, we assure them the most complete and powerful protector of their rights: The Trial Lawyer.
Contact us today if you need legal assistance with any of the following: 
Personal Injury
Brain Injury
Burn Injury
Child Injuries
Oil Field Accident
Pool And Water Park Accident
Premises Liability
Slip And Fall Injury
Whistle Blower
Wrongful Death
Car Accident
Defective Vehicle
Self-Driving Accident
Tesla Vehicles
Motorcycle Accident
Truck Accident
Uber, Lyft and Rideshare Accident
Corporate Business Law
Business Litigation
Commercial Contract Disputes
Defective Products
Medical Malpractice
Talcum Powder Cancer
Corporate Legal Malpractice
Proving Innocence
Social Justice and Civil Rights
Class Action
CPAP Recall
Call 844-400-6637 today to arrange your free initial consultation. 
Attorney Robert Hilliard
Attorney Robert Hilliard has been practicing law in the state of Texas for over 35 years, gaining national recognition for his work on many high-profile cases. He was recently awarded the 2021 Corpus Christi Bar Association's Lawyer of the Year Award. His firm represents clients in mass torts, personal injury, product liability, commercial and business litigation and wrongful death matters.
HOTEL RWANDA HERO KIDNAPPING
In August 2020, Paul Rusesabagina, the man portrayed as a hero in the Academy Award-nominated movie Hotel Rwanda, was taken against his will to Rwanda and charged with terrorism, murder and other crimes. According to the New York Times, Rusesabagina had been asked to travel to Burundi to speak to local churches. In Dubai, he boarded a jet chartered from GainJet, believing he was on a flight to Burundi. Instead, he was taken to the Rwandan capital, Kigali. In partnership with Rusesabagina's family and international human rights groups, Bob Hilliard agreed to join Mr. Rusesabagina's legal team. On December 14, 2020, Hilliard and team filed action against GainJet, alleging that Rusesabagina was kidnapped and flown to Rwanda without due process.
SCOTUS
On June 7, 2010, Sergio Hernandez Guereca, an unarmed 15-year-old, was playing with his friends near the U.S./Mexico border when he was shot and killed by U.S. Border Patrol agent. Mr. Hilliard, representing the teenager's family, argued the case before the U.S. Supreme Court on February 21, 2017. Two years later, SCOTUS ruled against Sergio's family. Mr. Hilliard stated, "In this case, justice doesn't travel as far as a bullet does. To be left with no remedy, given a lethal and unprovoked shooting, weakens the constitutional foundation of America's house."
---
Attorney John B. Martinez
Former Nueces County Court At-Law No. 3 Judge John B. Martinez joined Hilliard Martinez Gonzales LLP in 2011. Mr. Martinez spent nearly five years on the bench where he presided over criminal misdemeanor cases, probate matters, mental competency hearings and civil cases. Mr. Martinez was also the presiding administrative judge for Nueces County Courts At-Law.
Prior to becoming a judge, Mr. Martinez was an attorney at the Law Offices of Doug Allison from 2003-2006 where he primarily worked on cases involving defective products, toxic torts, personal injury and commercial litigation. From 2000 to 2002, Mr. Martinez worked for the law firm of Chaves, Gonzales & Hoblit LLP.
Mr. Martinez started his legal career in Corpus Christi with the Kleberg Law Firm specializing in admiralty and maritime law, insurance defense, general commercial litigation and general civil litigation. He is a member of the State Bar of Texas and is admitted to practice in all state courts and federal courts in the Southern District of Texas. Mr. Martinez is Board Certified in Personal Injury Trial Law by the Texas Board of Legal Specialization, an honor bestowed to only a select few attorneys in Texas. He is also a member of Mensa as well as a former member of the College of the State Bar and Corpus Christi Young Lawyers Association.
Mr. Martinez received his law degree from Baylor University School of Law in Waco, Texas and his undergraduate degree in political science from Texas A&M University in College Station.
John is licensed by the State Bar of Texas, the State Bar of New Mexico, the State Bar of New York, and the Bar of the District of Columbia, and is admitted to practice before the United States Southern District of Texas and the United States Supreme Court.
---
Attorney Rudy Gonzales, Jr.
Rudy Gonzales, Jr. is an experienced trial lawyer — he's taken more than fifty trials to a jury verdict and has amassed substantial jury awards and settlements for plaintiffs and their families. Mr. Gonzales is board-certified in Personal Injury Trial Law by the Texas Board of Legal Specialization. He is licensed to practice law in the state courts of Texas, the United States District Courts in the Northern, Southern, Western and Eastern Districts of Texas, United States Court of Appeals Fifth Circuit and the United States Supreme Court.
Mr. Gonzales joined Hilliard Martinez Gonzales LLP as a partner in 2010. Prior to joining HMG, he was the founding partner of a large defense law firm with nationally recognized litigation clients. Mr. Gonzales is a member of the State Bar of Texas, Corpus Christi Bar Association (Vice President 1990, President 1992) and Nueces County Young Lawyers Association (Director 1982-83, President 1985). He has been named a Super Lawyer every year since 2006.
In 2014, Mr. Gonzales was accepted into the American Board of Trial Advocates ("ABOTA"). ABOTA is a national association of experienced trial lawyers dedicated to the preservation and promotion of the civil jury trial.
Mr. Gonzales attended the University of Texas Austin for his undergraduate studies and received his Bachelor of Arts in 1975 before accepting a commission as an officer in the United States Navy. Following his Naval career, Mr. Gonzales attended the University of Texas School of Law and received his Juris Doctor degree in 1981. While at UT School of Law, he excelled as a member of the Board of Advocates and winner of a prestigious mock trial competition.
Rudy is licensed by the State Bar of Texas and is also admitted to practice before the United States District Courts of the Northern, Southern, Eastern and Western Districts of Texas.