« Back to Results
Tigue Law Firm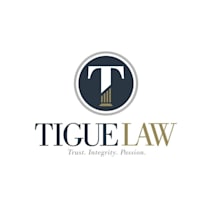 Scranton Family Law Firm
Helping people translate their personal decisions into legal actions, Tigue Law provides dedicated family law representation to clients throughout Lackawanna and Luzerne counties in Pennsylvania. We offer clarity and the straightforward guidance people need as they deal with changes to their family structures. Our law office strives to help those we represent to achieve solutions to their legal issues that address their needs and accomplish their legal objectives.
Personally working with our clients to develop a path for resolution, we handle a range of family law issues, including divorce, division of marital assets, spousal support, child custody and visitation, and child support. Advocating on behalf of them and their rights, we strive to represent our clients' best interests in settlement negotiations or courtroom proceedings.
Offering stability as people navigate the complexities associated with family law matters, our law office strives to make the process as smooth as possible for our clients. We understand that dealing with the legalities of divorce and other such issues can be overwhelming and that the decisions they make can have a lasting impact on their relationships. Our attorney explains to client and prospective clients their legal options and helps them weigh the advantages and disadvantages of each potential strategy.
At Tigue Law, our team not only aids clients with family law-related matters; we also assist survivors of sexual assault and domestic violence to obtain sexual violence protection, protection from abuse and protection from intimidation orders. Our law office also represents people against unjust sexual or domestic violence allegations, and we accept DUI cases. A former criminal prosecutor in Lackawanna County, our attorney has unique insight into the authorities' procedures and approaches, which we draw on to help obtain the best outcomes possible to our clients' legal problems.
Contact us today if you need legal assistance with any of the following:
Adoption
Custody & Visitation
Divorce
Father's Rights
Mediation & Collaborative Law
Call 570-344-7071 today to arrange your initial consultation.
Attorney Stephanie Lynne Tigue

Prior to opening Tigue Law Firm, I was a criminal prosecutor in the Lackawanna County District Attorney's Office for 6 1/2 years. I prosecuted domestic violence cases, PFA contempts, theft and fraud cases, drug cases, robberies, burglaries, and other crimes of violence. I also gained experience in a law firm environment researching and litigating unique issues of law in personal injury cases for 2 years. Today, my practice is dedicated to helping people in need of legal services concerning family law, protection from abuse (PFA/PFI/SVPO) and criminal defense - areas that require an intimate knowledge of the law, as well as an in depth understanding of how my clients are personally affected by their cases.
My family law clients are typically experiencing changes to family structure that involve divorce and child custody, and are dealing with complicated uses such as division of martial assets (Equitable Distribution), and Support (Spousal Support/Alimony or Child Support). In some cases, domestic violence is an issue, and protection from abuse orders are necessary. I aggressively fight for my clients and ensure that their rights are protected.
Furthermore, nothing influences a family quite like criminal charges. My experience as a former prosecutor has given me a comprehensive understanding of the criminal court system and recognition that substance abuse, mental health issues, which may be the root of the problem, warrant rehabilitative measures. I will help my clients address their issues and choose the best strategy for resolving your criminal charges.