« Back to Results
Schoenfeld & Schoenfeld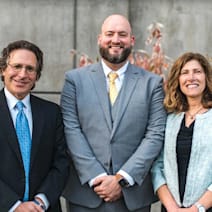 We help victims of accidental injuries get the financial reconciliation they deserve
If you suffered serious injuries due to someone else's recklessness, or if you were injured at work, you are entitled to receive benefits for your losses. However, you can face an arduous fight against the insurance company or your employer to get the compensation you deserve.
We can help you. We have protected the rights of our injured clients since 1991 and we have a proven track record in personal injury matters, workers' compensation insurance and cases of discrimination at work.
Our team of lawyers who are husbands, Steven and Karen Schoenfeld, really care about their clients. Our attorneys and our staff will keep you informed and trained about the system, how long your case can last and related risks. We will guide you through the legal process at each stage of the road.
Contact us today if you require legal assistance with any of the following issues:
Car accidents
Truck accidents
Bicycle accidents
Scooter accidents
Pedestrian accidents
Highway accidents
Medical negligence
Brain injuries
Spinal cord injuries
Death due to negligence
Construction Accidents
Slip and fall
Civil liability of establishments
Call the office Schoenfeld & Schoenfeld today at 503-868-5359 to schedule your free initial consultation.
Attorney Karen R. Shoenfeld
Karen Schoenfeld earned her bachelor's degree in Mathematics and Political Science from Union College in northern New York in 1986. Later, she earned her law degree from St. Johns University in New York City York, in 1989.
At law school, Ms. Schoenfeld was the legal secretary of Cahill, Gordon and Reindel, on Wall Street in New York City. She was also editor of the law magazine of her faculty, and graduated as one of the best students in her class. Upon leaving law school, he continued working for the same office. Among its clients were insurance, financial and asbestos manufacturing companies. This allowed her to learn more about the business world of the United States, for which she feels grateful.
The lawyer moved to Portland, Oregon, with her fiance Steve Schoenfeld in 1989 and began working for the powerful law firm Ball, Janik, LLP, in their Portland offices. Ms. Schoenfeld became a member of the Federal Bar Association in 1993, and while working at Ball, Janik, handled various types of commercial and consumer litigation.
Over time, Ms. Schoenfeld realized that helping consumers and injury victims was her passion. She switched to private practice with her husband, Steven Schoenfeld, in 1992. Since then, she has tirelessly and exclusively represented the interests of injured people in Oregon, in cases of death due to negligence, motor vehicle accidents, medical malpractice, workers' compensation insurance and cases of abuse of insurance and employment.
Ms. Schoenfeld has long been a member of the Oregon State Bar, the Multnomah Bar Association and the Oregon Trial Lawyers Association. He frequently participates in political clashes on behalf of injured victims and consumers. He speaks Spanish fluently, which he learned when he studied in Mexico while in college.
When they are not working as lawyers, Karen and Steve Schoenfeld, parents of two teenagers, enjoy having an active outdoor life. They love mountain biking and hiking together on Mount Hood, traveling to foreign places, and skiing and snowboarding with their children.
Bar Admissions:
Education:
St. John's University School of Law, Jamaica, New York

Doctorate in Jurisprudence, 1989

Union College, Schenectady, New York

Bachelor of Humanities, 1986
Professional Memberships and Achievements:
Member of the Multnomah Bar Association
Member of the New York State Bar Association
Member of the American Bar Association
Portland Office
2051 SE Belmont Street
Portland, OR 97214
---
Hood River Office
216 Columbia Street
Hood River, OR 97031