« Back to Results
The Lampe Law Office, LLC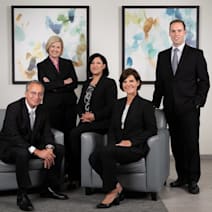 At The Lampe Law Office, LLC, our mission is as straightforward as the advice that we provide to our clients: We strive to provide our clients with the exceptional, results-oriented representation they deserve, and we aim to put our clients' minds at ease once they have entrusted us with their cases.
Our lawyers use thorough research, honest presentation and proven trial strategies to intelligently and efficiently attack legal issues.
Hard Working, Client-Focused Lawyers
Our team is results-oriented, but also practical with the advice we give, honest with our opinions, and ethical in our representation in achieving a client's goals. From the first consultation, our clients receive personal attention and custom-tailored advice that is specific to their situations. We do not delegate legal work outside of the office or to those who are not lawyers, so our clients know that an experienced lawyer is protecting their interests at all times.
Every single case that comes to our firm is of the highest importance to our clients. Understanding this, we pursue each claim — from straightforward family law proceedings to complex divorces to probate litigation — with the hands-on attention and exceptional representation our clients need.
A Respected Referral Destination For Attorneys
We work tirelessly to remain at the forefront of evolving legal topics so that we can offer our clients the high-quality representation they deserve. Our efforts have been noticed by our peers.
Our Attorneys
Our attorneys work collaboratively with one another so that our clients can benefit from the combined knowledge, experience and skills of our entire team
Attorney M. Lynn Lampe
Lynn graduated from Ohio University Scripps School of Journalism in 1988.  She then began law school at the University of Cincinnati School of Law and graduated in 1992.  During law school, she began working for the Butler County Prosecutor's Office as an intern.  After obtaining her juris doctorate, she began full- time work at the Butler County Prosecutor's Office, primarily litigating child abuse cases.  Lynn began her private practice nearly 20 years ago.
While Lynn has handled an array of various types of litigation cases, she has primarily focused her practice on family law. She is well-respected by her peers and frequently consults with other practitioners on a variety of family law topics.  Lynn is knowledgeable in her field including business evaluations, retirement divisions, and spousal support and custody issues.
She is a skilled negotiator and recognizes that client-focused solutions often require complex and in-depth settlements. Lynn strongly believes that achieving a negotiated outcome that meets a client's goals far outweighs costly and unpredictable litigation. However, if negotiations fail, Lynn's clients know that she possesses the skill and knowledge to litigate all aspects of their legal matter.  Lynn's knowledge and experience relay a committed representation to clients, providing them with the confidence that she is the right choice for their legal needs.
---
Attorney Vicki Richmond
Vicki earned a Bachelor of Arts degree in English from the University of Cincinnati in 1996. She went on to the University of Akron School of Law to earn a Juris Doctorate degree in 2000. After passing the bar that same year, Vicki has been practicing law in Ohio since 2000.
Vicki focuses her practice on matrimonial and family law related matters. She has dedicated her practice to supporting families and helping individuals address issues which are often times difficult and life changing. As a family law attorney, Vicki strives to help families navigate the divorce process with a problem-solving attitude.
Specific areas of her practice include divorce, legal separation, dissolution, child custody, parenting time, child support, spousal support, property division, domestic violence protection orders, paternity, step-parent adoptions, name changes, as well as juvenile and probate court matters.
Vicki is a trained Collaborative Law attorney and has represented clients who choose to utilize the Collaborative Law process. She is also a member of the Ohio State Bar Association and the Butler County Bar Association.
---
Attorney Hanna B. Haddad
Hanna graduated from Princeton High School in 1986 and went on to attend the University of Cincinnati. She earned a Bachelor of Arts in 1999 and a Bachelor of Science in 2000. Following her passion for law, she graduated from the Salmon P. Chase College of Law in 2002 with a Juris Doctorate and was commissioned by the Ohio Supreme Court on May 9, 2003.
Hanna was a sole practitioner from 2003 until she joined The Lampe Law Office in 2017. Her areas of practice included family law, criminal defense, personal injury and bankruptcy. Family law was her primary focus. It is the area of law that she found herself most passionate about.
During her time as a sole practitioner, Hanna served in the role of Executive Director and Contract Attorney for the Butler County Bar Association. In this capacity she developed invaluable relationships with many colleagues throughout Butler County.
Of all Hanna's accomplishments, she is most proud of being a mom. She has two handsome teenaged sons, Laurance and Mathew, and a beautiful daughter Claudia, who will soon be a teenager. Hanna is strongly rooted in her family and has dedicated her professional career to supporting families as they address issues that arise through family law matters.
---
Attorney Thomas S. Sapinsley
Tom graduated from Indiana University in 1978 with a degree in economics. Tom then attended  the University of Cincinnati College of Law. Tom has been in private practice for more than 35 years.  Although Tom's primary field of practice is family law, he enjoys handling other types of litigation including business and employment related matters.  Tom's philosophy is that an acceptable negotiated settlement is always better for the client than proceeding to trial with all of its risks, uncertainties and related expense.  Tom believes that by fully educating the client on legal matters and providing other valuable information helps the client immensely. To that end, Tom considers himself a facilitator who will assist the client in making the best decision.  Oftentimes, divorce is the client's first experience with an attorney. This is typically a stressful situation which can be minimized by engaging an attorney, such as Tom, who understands that the client requires and expects prompt, responsive and complete services.
---
Attorney Stephen J. Otte
Stephen graduated from Hanover College with honors in 2014 and continued his education at the University of Cincinnati College of Law, graduating in 2017. In law school, Stephen was a Senior Articles Editor of the Cincinnati Law Review, served as the vice president of the UC Mock Trial Team, and was involved in multiple pro-bono activities. He also externed for Judge William O. Bertelsman, Senior Judge in the U.S. District Court of Eastern Kentucky. 
Upon graduating from law school, Stephen began his career in employment/labor law.  From there, he transitioned to family law in order to pursue his passion for helping families and to utilize his strengths in litigation and negotiation. He practiced family law in the Cincinnati area from 2018 until joining The Lampe Law Office in March of 2020. 
Stephen has experience in a wide variety of family law matters including divorce, dissolution, child custody, parenting time, child support, and domestic violence protection orders.  He adopts a client-focused approach in each case, always providing his clients with personalized attention and effective representation.