Michael A. Newland. Esq.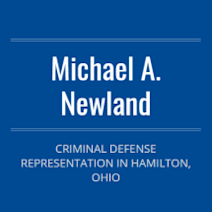 Don't Face the Legal System Alone. We Intend to Fight for You
Protect yourself and minimize the consequences of your criminal offense by ensuring you have the best legal defense possible. Michael Newland will provide quality, experienced representation for an affordable price. Trust that you're getting an attorney who will work tirelessly to protect your rights and secure the best possible verdict for your case.
Criminal law can be extremely confusing and stressful. Relieve some of your anxiety when you call Michael Newland. We will provide honest legal advice and treat each case with careful attention to detail. We can also help you draft your will.
Contact Michael Newland, Esq. today if you need legal assistance with any of the following:
Felonies and misdemeanors
Assault and battery
Probation violations
Theft and drug charges
DUI and traffic violations
Juvenile crimes
Call 513-887-9595 today to arrange your free initial consultation.