« Back to Results
Law Office of David A. Chicarelli Co., LPA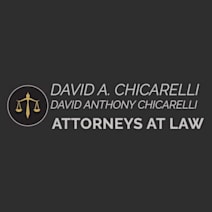 Criminal Defense | Serving Franklin, OH
Law Office of David A. Chicarelli Co., LPA helps Franklin clients with their Criminal Defense needs.
Average Experience:
29 years
Law Firm Offering a Range of Legal Services
If you have been charged with a crime, there are many reasons to hire a criminal defense attorney. If you are convicted of the crime, you will have a criminal conviction on your record, can be facing jail time and be forced to pay fines. All of this can impact your life as you know it right now, and your life in the future. A great criminal attorney near me can help to fight the charges you are facing or get them reduced.
As you look to hire a criminal defense attorney, there are many important questions that you want to ask the criminal attorney near me. You want to ask them about their experience with cases like yours and what their win to loss percentage is. You want to ask what defenses they think they can use to help defend you against the charges that you are facing. You want to know what potential hurdles they think that your case may present. And of course, you want to ask them about the price. Do they charge a flat fee to defend you or will they be charging you by the hour to defend your case? Asking each of these questions and carefully listening to the answers can help lead you toward the best attorney to fight the charges that you may be facing.
Contact us today if you need legal assistance with any of the following: 
Criminal Law
Civil Law
Family Law
General Law
Call 937-743-1500 today to arrange your initial consultation. 
Attorney David A. Chicarelli
I have over 40 years experience as a trial lawyer. 
I've been involved in many large litigation cases, including the Who Concert case involving nine deaths in 1979, and the Miamisburg train derailment class action suit in 1986.
I have handled thousands of serious civil matters, felony, and misdemeanor cases, as well as numerous multimillion dollar personal injury settlements and handled many high profile murder cases.
Work, Experience & Credentials:
City Law Director Carlilse 1985 - Present
Real Estate Law and Business Law instructor at
Miami University 1979 - 1990
Magistrate in Warren County Court 2009 - 2015
Judge in Warren County Court  2013 - 2014
Member of the Ohio State Bar Association
Warren County Bar Association
Worked at the office of Ruppert, Bronson, Chicarelli & Smith 1975-1999.
Education:
University of Cincinnati College of Law 1975
Miami University 1971
Meadowdale High School 1968
---
Attorney David Anthony Chicarelli
Since moving back to Ohio from Chicago to join my father's firm, my practice has been primarily focused in the areas of criminal defense, divorce/custody, and personal injury. I have worked on hundreds of felony and misdemeanor cases from OVI's and drag racing all the way to burglary and murder cases.
In addition to my extensive private practice work, I also assist in several municipal courts in the Dayton/Cincinnati area with prosecution. I have been serving as the Carlisle Mayor's Court prosecutor since 2015 as well as Interim Law Director for the Village of Carlisle. I have successfully prosecuted hundreds of cases in my roles as prosecutor; therefore, I feel I bring a unique insight and skill set in my criminal defense practice. 
Education:
Chicago Kent College of Law, Illinois Institute of Technology 2014
Miami University, Cum Laude 2011
Springboro High School 2007
Awards & Credentials:
Phi Beta Kappa Society, Miami University 2011
Distinguished Howard White Award in Political Science, Miami University 2011
CALI Award in Legal Writing II 2012
Deans Honor List, Chicago-Kent 2013 & 2014
Deans Honor List, Miami University 2007 - 2011