« Back to Results
Burns Day & Presnell, PA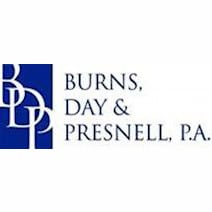 Personal Injury | Serving Raleigh, NC
When you need legal representation for your Personal Injury, connect with Burns Day & Presnell, PA in Raleigh, North Carolina.
Average Experience:
32 years
High Quality, Cost-Effective Legal Representation
Burns, Day & Presnell, P.A., is committed to providing high quality, cost-effective legal representation for our clients. Founded in 1987, our firm brings decades' worth of experience to every case. With nearly 200 years of combined legal experience, our firm offers clients comprehensive and practical counsel.
Burns, Day & Presnell, P.A. consists of eight dedicated full time attorneys and several supporting staff members. Practicing in a wide range of areas, our lawyers provide client-focused, cost-effective representation tailored to each client's individual goals and objectives. Personal one-on-one client relationships are essential and valued at our firm. We are grateful for our many long-standing client relationships. 
Contact us today if you need legal assistance with any of the following:
Estate Litigation
Personal Injury & Wrongful Death
Contract and Business Disputes
Trials & Dispute Resolution
Call 919-263-3744 today to arrange your free initial consultation.
Attorney Kendra K. Bader
Bar Admissions:
Minnesota
North Carolina application pending
S. District Court for the District of Minnesota
Education:
Gonzaga University School of Law, J.D., 2010
University of North Carolina - Chapel Hill, Bachelor of Arts, 2006
---
Attorney Charlie Carter
Bar Admissions:
North Carolina
District of Columbia
United States Supreme Court
U.S. Courts of Appeals for the District of Columbia and Fourth Circuits
U.S. District Courts for the Eastern, Middle and Western Districts of North Carolina, and for the District of Columbia
Education:
University of North Carolina, Juris Doctor
Duke University, B.S. in Engineering
Professional Memberships and Achievements:
North Carolina Bar Association


Environment, Energy and Natural Resources Law Section
Administrative Law Section

Carolinas Air Pollution Control Association


Past President and Member of Board of Directors

Air and Waste Management Association


Tenth Judicial District, Member
---
Attorney Jim Day
Bar Admissions:
North Carolina
Eastern and Middle Districts of North Carolina
US Supreme Court
Education:
Wake Forest University School of Law, Juris Doctor, 1975
Purdue University, Bachelor of Science in Aeronautical - Astronautical Engineering Sciences, 1972
Professional Memberships and Achievements:
North Carolina Bar Association, Member
North Carolina Bar Association Business Law Section, Member
North Carolina Bar Association Real Estate Section, Member
Wake County Bar Association, Member
Tenth Judicial District, Member
---
Attorney Dan Higgins
Bar Admissions:
North Carolina
Eastern and Middle Districts of North Carolina
Education:
William and Mary School of Law, Juris Doctor, 1981
Madison College, Bachelor of Arts, 1978
Professional Memberships and Achievements:
American Bar Association, Member
North Carolina Bar Association, Member
North Carolina Bar Association Litigation Section, Member
Wake County Bar Association, Member
Tenth Judicial District, Member
---
Attorney Andrea L. Hinshaw
Bar Admissions:
North Carolina, 2009
Eastern District Federal Court, 2010
Education:
University of North Carolina at Chapel Hill School of Law, Juris Doctor with honors, 2009
Furman University, Bachelor of Arts in Political Science and Spanish, magna cum laude, 2006
Professional Memberships and Achievements:
North Carolina Bar Association, Member


North Carolina Bar Association Estate Planning Section

Wake County Bar Association, Member


Wake County Bar Association, Athletics Committee

Tenth Judicial District, Member
---
Attorney Greg Hinshaw
Bar Admissions:
North Carolina, 1975
Eastern District Federal Court, 1975
Education:
Wake Forest University School of Law, Juris Doctor, 1975
University of North Carolina- Chapel Hill, Bachelor of Science, 1972
Professional Memberships and Achievements:
North Carolina Bar Association, Member
North Carolina Bar Association Real Property Section, Member
North Carolina Bar Association Construction Law Section, Member
North Carolina Bar Association Estate Planning Section, Member
Wake County Bar Association, Member
Tenth Judicial District, Member
American Land Title Association, Member
---
Attorney Emily Iverson
Bar Admissions:
North Carolina, 2008
New York, 2010
Education:
The University of North Carolina School of Law, Juris Doctor, with High Honors, 2008
Wake Forest University, Bachelor of Science in Mathematical Business, summa cum laude, 2005
Professional Memberships and Achievements:
North Carolina Bar Association, Member


Member of the Business Law Section and Real Estate Section of the NCBA

Wake County Bar Association, Member
Tenth Judicial District, Member
New York Bar Association, Member
---
Attorney Julia Young Kirkpatrick
Bar Admissions:
North Carolina
U.S. District Court for the Eastern, Middle, and Western Districts of North Carolina
Fourth Circuit Court of Appeals
US Bankruptcy Court for the Eastern, Middle, and Western Districts of North Carolina
Education:
Campbell University School of Law, Juris Doctor, 2000
North Carolina State University, Bachelor of Science, 1996
Professional Memberships and Achievements:
American Bar Association, Member
North Carolina Bar Association, Member
Construction Law Section, Member
Wake County Bar Association, Member
Tenth Judicial District, Member
---
Attorney Jay Mills
Bar Admissions:
North Carolina
Georgia
Fourth Circuit Court of Appeals
Eleventh Circuit Court of Appeals
Education:
University of North Carolina School of Law, Juris Doctor with Honors, 2002
Wake Forest University, Bachelor of Arts, magna cum laude, 1998
Professional Memberships and Achievements:
North Carolina Bar Association, Member
North Carolina Bar Association's Fiduciary Litigation Committee
Wake County Bar Association, Member
Tenth Judicial District, Member
---
Attorney Lacy Presnell
Bar Admissions:
North Carolina, 1976
Federal Court in North Carolina and Fourth Circuit Court of Appeals
United States Supreme Court
Education:
Wake Forest University School of Law, Juris Doctor, 1976
University of North Carolina at Chapel Hill, Bachelor of Arts, 1973
Professional Memberships and Achievements:
North Carolina Bar Association, Member
North Carolina Bar Association Litigation Section
Wake County Bar Association
Tenth Judicial District, Member