« Back to Results
Sedhom Law Group, PLLC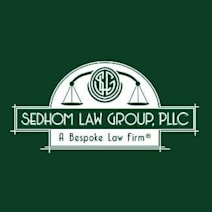 A Custom and Comprehensive Approach to The Practice of Law
At the Sedhom Law Group, PLLC, a bespoke law firm®, our firm was founded by attorney Rania V. Sedhom. In working to serve her clients, she saw a need for comprehensive assistance and unlimited access to seasoned guidance on the full range of topics that affect their businesses. What we provide to our clients is the ability to immediately access the counsel they need to be able to make informed decisions in a time-critical manner. We can assistance on many issues that you or your business may be facing. That ability to deliver the practical solutions our clients need on critical issues sets us apart.
Contact us today if you need legal assistance with any of the following:
Fashion Industry Law
Construction Law
Logistics Industry
Asset Protection/ Trusts and Estates/ Estate Planning
Manufacturing
Food and Beverage/Alcoholic Beverages
Healthcare Industry
Technology
Litigation
Employment Law/Executive Compensation/Employee Benefits
Contracts and Corporate Law
Intellectual Property and Trade Secrets
We are attorneys with business acumen that help you monetize your business. We understand the industries that we support and how their business works. That experience allows us to offer insightful solutions that can create real advantages for your business. In the end, our goal is to facilitate your success, and we will do what we can to serve that end. If we cannot help you, we will help you find the right legal resources to meet your needs.
Call us at 212-549-1819 to arrange your free initial consultation.
Attorney Rania V. Sedhom
Bar Admissions:
New York
New Jersey
U.S. District Court Eastern District of New York
U.S. District Court Southern District of New York
U.S. District Court District of New Jersey
U.S. Court of Appeals 3rd Circuit
Education:
Syracuse University College of Law, Syracuse, New York

Honors: Vice-Justice of the Phi Alpha Delta Law Fraternity

Law Digest: The Labor Lawyer and The Digest, Editor

Columbia University
I have known Rania for some years now and worked with her and her team on several HR issues. I have to say, she is definitely my "go-to" counsel. She is not only witty, but extremely conversant in every facet of law and takes pride in her law business. I can always count on Rania for the purest truth, even when I don't want to hear it. She is a respectable lawyer in her field and has always been professional in our business endeavors. I am confident in her counsel and highly recommend her services under Sedhom Law Group.
- Patricia Strong
Kanematsu USA
---
Working with Rania Sedhom has been an absolute pleasure. She is informed, highly professional and responsive. We have worked alongside her on various different projects, ranging from contractual agreements with press and sales agencies, as well as with private label and design consultation positions. We always felt that she had our best interest as the designer in mind. She is incredibly well-versed in the world of luxury goods and the luxury market, something that is essential when asking for legal advice in these areas. She is amicable, encouraging and supportive. In a world where the designer is often taken for granted, it is invaluable to have the support of someone as dedicated as Rania is to provide the strongest legal guidance possible. We would recommend Rania to all luxury brands.
- Phoebe and Annette Stephens
Anndra Neen
---
Although needing an attorney or legal advice typically means that one may be under a great deal of stress, Rania Sedhom brings a calm confidence to each situation that tends to ease any unnecessary worry. She has a clear matter-of-fact attitude balanced with a down-to-earth and witty approach that I have come to sincerely appreciate. I trust her advice and actually look forward to our meetings. Her timeliness is impeccable, and she tends to go above and beyond her duties. As a small business owner and artist, I feel confident that I have Rania to turn to for all legal matters, particularly matters related to employment and the labor board and general matters of legality that I need help deciphering. I highly recommend Rania for expert legal advice.
Warmly,
-Brynne Billingsley
Progressive Pilates Williamsburg
---
Rania's book, How to Choose the Best Attorney to Help you Monetize Your Business: 5 Practical Tips For Business Owners, C-Level Executives and In-House Counsel, is an insightful guide for better understanding how an attorney should be working to monetize your business. The 5 practical tips are essential to a synergistic relationship and yet often overlooked by businesses when searching for an attorney. She reminds the reader what is important when entering into a new business relationship and does so in a concise, enjoyable and plain language way that is unexpected and refreshing. The "bespoke" approach to in-house counsel will change the way people think about legal representation.
- Christopher Olshan, Chief Marketing Officer, The Luxury Marketing Council
www.luxurycouncil.com
---
As an owner of a business there are a lot of challenges and obstacles one must face. As my business has grown it has been increasing more difficult to stay on top of government regulations, labor laws, affordable health care act, and many other legal issues that constantly arise. It is often the case that when a legal or any other type of problem arises, we reach out for legal counsel after the fact. It has been my experience dealing with many different lawyers that they are only interested in putting a band aid on the issue at hand, stop the bleeding, but never look at the business as a whole, never getting to the source of the why problems arose, and bill me for every single second I engaged them. For years I was very hesitant to contact a Lawyer for advice.
After years of dealing with frustrating lawyers I met Rania Sedhom. Rania was welcoming and happy to speak with me, she showed in protecting my business not only in one instance but offered a proactive approach to prevent issues.
Rania spent the time to understand my business. She looked at my businesses potential and became a part of making it successful. She has helped me implement policies and procedures to improve and protect my business. Rania is not only a well-rounded attorney; she is one of my most trusted advisors on all business matters. I highly recommend her.
-Ernie Cappello, CEO, Window - Fix, Inc.
www.windowfixinc.com
---
I was referred to Rania over a year ago by one of my close friends. I attended an executive compensation seminar where Rania was a presenter. The information was very informative and relative to our current business environment. I am in the Financial Service industry and this was important information for both me and my clients.
Rania and I have worked together with mutual clients on a number of cases. She is an expert in employee Benefits and has helped me and my clients with understanding (Obama Care) the Affordable Healthcare Act. She is working closely in the negotiation process for one of my client's as an expert on the Affordable health care act.
I feel confident in working with Rania and her firm. I would recommend her services to any business client who has questions on employee benefits or is looking for guidance and advice in these areas.
-Patrick P. Luckart, Raymond James & Associates, Inc.
www.raymondjames.com/patrickluckart/
---
Rania Sedhom is the most pragmatic, efficient, and prompt attorney that I have ever had the pleasure of working with. There is absolutely no delay in response, in completing a task, or in conferencing with other attorneys when necessary. She is straightforward, honest, ethical, and fair in all areas. It is always a pleasure working with her.
I recommend her whenever given the opportunity and will always use her services when necessary.
- Dr. Rotimi Akinyemiju, Former COO, Moda Operandi, Inc.