Sanford Heisler Sharp, LLP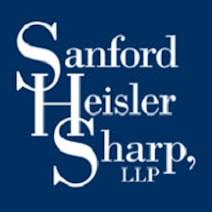 Employment Discrimination | Serving New York, NY
Sanford Heisler Sharp, LLP, a reputable Employment Discrimination firm headquartered in New York, serving across the country.
Average Experience:
16 years
Recognized as Law Firm of the Year
Sanford Heisler Sharp is celebrated by the leading professional journals as the number one ranked employment rights firm and number one ranked human rights firm, drawing acclaim from judges across the country, top publications evaluating the legal industry, the nation's leading mediators, and even adversaries against whom we litigate.
Sanford Heisler Sharp has attorneys who have collectively tried hundreds of cases, a former federal Chief Judge who has tried and overseen as judge over one-hundred cases, attorneys who have clerked for state and federal judges across the United States, and a brilliant staff which supports the firm's attorneys and plays a vital role in case management. We have won precedent-setting verdicts and settlements for C-Suite executives, attorneys, directors, managers, and hourly workers. We are a firm of passionate and dedicated professionals who care deeply about justice and routinely outperform attorneys and staff on the other side.
Contact us today if you need legal assistance with any of the following: 
Discrimination & Harassment
Whistleblower & Qui Tam
Financial Services Litigation
Asian American Litigation & Finance
Wage & Hour Cases
Criminal/Sexual Violence Litigation
Trial Practice
Appellate Practice
Other Public Interest Litigation
Call 888-681-5583 today to arrange your free initial consultation. 
­­­Attorney David Sanford

Bar Admissions:
New York
Maryland, 1997
District of Columbia, 1998
Education: 
J.D., Stanford Law School
ABD, UNC, Chapel Hill
M.A., UNC, Chapel Hill
B.A., Vassar College
Professional Memberships and Achievements: 
U.S. Supreme Court, 2005
U.S. Court of Appeals for the District of Columbia, 1998
U.S. Court of Appeals for the First Circuit, 2016
U.S. Court of Appeals for the Second Circuit, 2017
U.S. Court of Appeals for the Seventh Circuit, 2010
U.S. District Court for the District of Maryland, 1998
U.S. District Court for the District of Columbia, 1998
U.S. District Court for the Northern District of Florida, 2006
U.S. District Court for the Central District of Illinois, 2006
U.S. District Court for the Southern District of New York, 2020
---
­­­Attorney Jeremy Heisler

Bar Admissions:
Education: 
J.D., Brooklyn Law School, magna cum laude

Editor, Brooklyn Law Review

B.A., Brooklyn College, cum laude
Professional Memberships and Achievements: 
U.S. Court of Appeals for the Second Circuit, 1984
U.S. District Court for the Eastern District of New York, 1980
U.S. District Court for the Southern District of New York, 1980
---
­­­Attorney Kevin Sharp

Bar Admissions:
Tennessee, 1993
U.S. Supreme Court
U.S. Court of Appeals for the Sixth Circuit
U.S. District Court for the Middle District of Tennessee
U.S. District Court for the Western District of Tennessee
U.S. District Court for the Eastern District of Tennessee
U.S. District Court for the Northern District of Ohio
U.S. District Court for the Eastern District of Michigan
U.S. District Court for the Eastern District of Wisconsin
Education: 
J.D., Vanderbilt University School of Law
B.S., Christian Brothers College, summa cum laude
Professional Memberships and Achievements: 
Sustaining Life Fellow, American Bar Foundation
Fellow, Napier-Looby Bar Foundation
Fellow, Nashville Bar Foundation
Member, American Bar Association
Member, Nashville Bar Association
Member, Tennessee Bar Association
Member, Federal Bar Association
Member, National Employment Lawyers Association (NELA)
Tennessee Bar Association Leadership Law Class, 2005
Board member, Tennessee Supreme Court Lawyers' Fund for Client Protection, 2004-2009
Member, TBPR Disciplinary Hearing Committee, 2000-2006
Special Disciplinary Counsel to the Tennessee Supreme Court, 2001
Former president, ALS Association, Tennessee Chapter (nonprofit organization dedicated to serving patients and families living with Lou Gehrig's Disease)
Volunteer Counsel, Jeanne A. Carpenter Epilepsy Legal Defense Fund, 2005-2010
Former board member (2001-2004) and legal counsel (1994-2004), Girl Scout Council of Cumberland Valley
Office Locations