« Back to Results
Rich Michaelson Magaliff Moser, LLP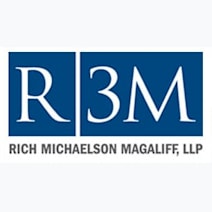 Established Strengths in Financial Restructuring and Complex Transactions
When a business must confront complex decisions with important legal implications, experience matters. So do other factors, such as the level of focused attention your concerns receive and the return on your investment. Ultimately, results matter most, and at Rich Michaelson Magaliff, LLP, our attorneys have the depth of experience and creativity to get things done.
Our firm brings together dedicated, accomplished business lawyers who were partners in other law firms before joining forces. This cohesive team shares common ground and has complementary skills that serve our clients — ranging from mid-market companies to Fortune 500 corporations — extremely well. We know our strengths, maintain our focus and reward our valued clients' trust in our firm.
Contact Rich Michaelson Magaliff, LLP today if you need legal assistance with any of the following:
Business & Commercial Law
Bankruptcy Law
Business Organizations
Contracts
Debtor/Creditor
Call Rich Michaelson Magaliff, LLP today at 646-453-7851 to arrange your consultation.
Attorney Edward F. Collins
I am a transactional lawyer and a problem solver, adept at using my broad knowledge and expertise to resolve complex situations and transactions. I have extensive experience in the areas of commercial real estate, mortgage finance, asset-based lending, structured finance and securitization.
---
Attorney Howard P. Magaliff
My primary objective is to protect my clients' business and legal interests. My expertise includes strategic mediation and arbitration, which makes my clients happy because it protects their interests while saving them time and money. As a consultant to distressed companies, I help my clients maximize recovery and return to profitability. Advising clients as they emerge from a temporary setback, I outline the legal rights, obligations and options for proceeding and we collaborate on a strategy to reposition and renew the company's performance going forward.
---
Attorney Robert N. Michaelson
I have more than 36 years of experience as a bankruptcy, creditors' rights and restructuring attorney. My practice also includes general commercial litigation in both the state and federal courts as well as corporate matters. Over the course of my career I have had significant involvement in some of the largest and most complex bankruptcy proceedings representing debtors, creditors, trustees and creditors' committees, and I have also represented small and medium sized businesses and individuals. In addition, I serve as a post-confirmation litigation trustee.
---
Attorney Jeffrey N. Rich
I have more than 49 years' experience in the areas of creditors' rights, financial restructuring, and bankruptcy, and extensive experience in corporate law, asset-based lending, equipment leasing, factoring, commercial finance and securitization of assets. During my career, I have litigated in both federal and state courts, including the bankruptcy courts and appellate courts. I have also been a court-approved mediator for the United Statas Bankruptcy Courts for the Southern and Eastern Districts of New York since inception for disputes arising in and out of bankruptcy proceedings and am also called upon to mediate corporate and commercial matters outside of the financial restructuring area.