« Back to Results
Randi L. Karmel, PLLC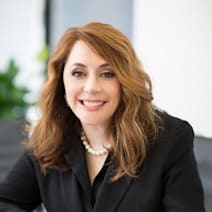 We Listen To Your Needs And Respond With Practical Solutions
From 1991 through 1996, Ms. Karmel served as an Assistant District Attorney in Kings County, where she litigated and investigated misdemeanor and felony cases and advanced the Domestic Violence Bureau, Investigations Bureau, Felony Trial Bureau and Major Narcotics Investigations Bureau, among others. She subsequently served as Special Counsel at the New York City Department of Investigation, where she was later promoted to Deputy Inspector General. She entered private practice in 1997, and established Randi L. Karmel, PLLC, in 2006.
Ms. Karmel received her law degree from the American University, Washington College of Law and is admitted to practice before the Courts of the State of New York, New Jersey, Maryland and the District of Columbia. She is a member of the Family Law Section of the New York State Bar Association, the Family Law Section of the Brooklyn Bar Association, and the Women's Bar Associations of New York and Kings Counties, and serves on the Executive Committee of Judges and Lawyers Breast Cancer Alert. She has lectured on matrimonial issues in conjunction with financial programs designed to protect assets and retirement benefits.
Contact us today if you need legal assistance with any of the following:
Family Law

Divorce


Asset Protection
Family And Matrimonial Trial
Order Of Protection And Restraining Order
Prenuptial And Postnuptial Agreements

Property
Child Custody
Mediation
If you are going through a divorce or need help handling any other family law issue, speak to an attorney about your case as soon as possible. At Randi L. Karmel, PLLC, our dedicated team is standing by to help you get through any challenging family law issues you may have. We understand these situations are emotionally difficult, which is why we provide personalized attention to every case. We take the time to get to know you in your situation so we can help chart the best path forward. Call 646-374-4093 today to arrange your initial consultation.
Attorney Randi L. Karmel
Bar Admissions:
New York
New Jersey
Maryland
District of Columbia
Education:
American University, Washington College of Law, Washington, District of Columbia
Professional Memberships and Achievements:
Kings County, Assistant District Attorney
New York City Department of Investigation, Special Counsel
New York City Department of Investigation, Deputy Inspector General
SuperLawyers 2014- 2020