« Back to Results
Marrinan & Mazzola Mardon, P.C.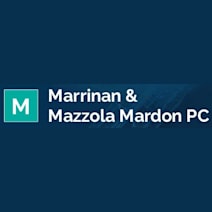 Labor Law | Serving New York, NY
Connect with a local New York, New York firm for experienced Labor legal representation.
Average Experience:
26 years
Representing Labor Unions & Their Members
Our firm was founded in 1955 and quickly focused its efforts on providing skilled representation to labor unions. The firm has had a pivotal role in addressing cutting-edge legal issues in collective bargaining, including the legality of work preservation agreements, secondary boycotts, lockouts, injunctions and multi-employer bargaining units.
Marrinan & Mazzola Mardon, P.C., represents its labor union clients in organizing, negotiations, arbitrations, federal and state court litigation, and proceedings before administrative agencies. The firm's ERISA practice involves representing multi-employer and single-employer Taft-Hartley pension, health and welfare, scholarship, and royalty funds.
Contact us today if you need legal assistance with any of the following:
Admiralty & Maritime Law
Labor Law
Employee Retirement Income Security Act (ERISA) -- Employee
Employment Law -- Employee
Employment Law -- Employer
Call today at 212-425-3240 to arrange your initial consultation.
Attorney Andre Mazzola Mardon
Bar Admissions:
New York, 1979
New Jersey, 1977
Pennsylvania, 1976
U.S. District Court District of New Jersey, 1976
U.S. Court of Appeals 3rd Circuit, 1978
U.S. District Court Southern District of New York, 1979
U.S. District Court Eastern District of New York, 1979
U.S. Court of Appeals 4th Circuit, 1979
U.S. District Court of the District of Columbia, 1979
Supreme Court of the United States of America, 1980
U.S. Court of Appeals 11th Circuit, 1980
U.S. Court of Appeals 5th Circuit, 1981
Honors and Awards:
New Jersey Labor Advisory Board Good Labor Relations Award
Pro Bono Activities:
Forest Hills Gardens Corporation, 1984 - Present
Education:
Temple University School of Law, Philadelphia, Pennsylvania, 1976
---
Attorney Kevin J. Marrinan
Bar Admissions:
New York, 1981
U.S. District Court Southern District of New York, 1982
U.S. District Court Eastern District of New York, 1982
U.S. District Court of the District of Columbia, 1984
U.S. Court of Appeals 3rd Circuit, 1985
Supreme Court of the United States of America, 1986
U.S. Court of Appeals 2nd Circuit, 1986
U.S. Court of Appeals 4th Circuit, 1989
U.S. Court of Appeals 1st Circuit, 2010
Education:
McGeorge School of Law, University of the Pacific, Sacramento, California, 1980
---
Attorney Elizabeth A. Alexander
Bar Admissions:
New York, 1995
New Jersey, 1994
U.S. District Court District of New Jersey, 1994
U.S. District Court Southern District of New York, 1998
U.S. Court of Appeals District of Columbia Circuit, 1999
U.S. District Court Eastern District of New York, 1999
U.S. Court of Appeals 4th Circuit, 2000
U.S. Court of Appeals 5th Circuit, 2003
Education:
City University of New York School of Law at Queens College, Flushing, New York, 1994
---
Attorney John P. Sheridan
Bar Admissions:
Massachusetts, 1994
U.S. District Court District of Massachusetts, 1995
New Jersey, 1998
U.S. District Court District of New Jersey, 1998
New York, 2001
U.S. District Court Southern District of New York, 2002
U.S. District Court Eastern District of New York, 2003
U.S. Court of Appeals District of Columbia Circuit, 2003
U.S. Court of Appeals 3rd Circuit, 2005
U.S. Court of Appeals 2nd Circuit, 2006
U.S. Court of Appeals 4th Circuit, 2006
U.S. Court of Appeals 1st Circuit, 1997
Professional Memberships and Achievements:
New York City Bar Association
Education:
Boston College Law School, Boston, Massachusetts, 1994

Law Journal: Boston College Environmental Affairs Law Review, Business Editor

Harvard College, 1990
---
Attorney Lesley A. Mardon
Bar Admissions:
New York, 2015
U.S. District Court Southern District of New York, 2015
U.S. District Court Eastern District of New York, 2015
Professional Memberships and Achievements:
New York State Bar Association
Education:
Temple University Beasley School of Law, Philadelphia, Pennsylvania, 2014

Honors: cum laude
Law Journal: Temple Journal of Science, Technology, and Environmental Law, Research and Articles Editor

Dartmouth College, 2008
Languages:
English (Primary)
Mandarin Chinese
French
---
Attorney Nicholas M. Graziano
Bar Admissions:
Professional Memberships and Achievements:
Federal Bar Association, 2016 - Present
New York State Bar Association, 2016 - Present
Pro Bono Activities:
Education:
Hofstra University School of Law, Hempstead, New York, 2017

Honors: cum laude
Law Journal: Hofstra University School of Law's Labor and Employment Law Journal, Articles Editor

University of Scranton, 2014
---
Attorney Daniel Wolff
Bar Admissions:
New York, 2015
U.S. District Court Southern District of New York, 2019
U.S. District Court Eastern District of New York, 2019
Education:
New York University School of Law, New York, New York, 2014
Tufts University, Medford, Massachusetts, 2008

B.A.
Honors: magna cum laude