Extensive Experience In A Wide Range Of Legal Issues Confronting Individuals And Businesses
Many people are hesitant to contact a lawyer because they think it will be too expensive, or the problem is too small for anyone to care about.  My philosophy of law practice is the opposite - I will give you the same quality of service and attention no matter what is at stake and I will tailor fees to your individual circumstances.  You will never find me preoccupied with checking e-mail or giving you less than my undivided attention whether we are meeting in person or speaking by phone. In sum, I try to be the lawyer you and your closest friends and family would be comfortable with, and trust, not only a professional basis, but also on a personal level.
My primary area of practice is civil litigation in the New York state and federal courts. I handle general business disputes, breach of contract, employment discrimination and civil rights actions, real estate related litigation, creditors' rights and non-medical professional malpractice cases.  In addition to work in the Courts I am also involved in alternative dispute resolution such as mediation and arbitration.
Though I am primarily a litigator, I also work with clients to try to avoid litigation. In this role as an advisor, I prepare and analyze business contracts and real estate contracts.  I draft and review employment agreements, including severance and retirement packages.  I also provide Estate Planning services, including preparation of Wills and Trusts, for individuals and families.
My goal is to find a solution that best fits your legal challenges in the most efficient manner possible.  I welcome inquiries regarding any matter, large or small, and I would be happy discuss your legal issues in person or by telephone.
Contact us today if you need legal assistance with any of the following:
Commercial Litigation

Breach of Contract
Collection and Enforcement of Business Debts
Real Estate Related Litigation Including Foreclosures
Non-Medical Professional Malpractice
Creditors' Rights and Bankruptcy Related Litigation
Defense of Small Businesses in Americans With Disabilities Act Claims

Employment Litigation

Racial Discrimination
Sexual Harassment
Age Discrimination
Gender Discrimination
National Origin Discrimination
Interpretation and Enforcement of Employment Contracts
Defense or Enforcement of Non-Compete and Non-Solicitation Agreements
Defense of Federal and State Wage and Labor Law Claims

Business and Personal Counseling

Draft and Review Sales and Services Contracts
Preparation and Analysis of Employment Agreements
Advise on Developing Employee Handbooks and Policy Guidelines for Businesses
Review and Advise on Severance and Retirement Agreements
Provide Counsel on Commercial and Residential Real Estate Leases

Wills, Trusts and Estate Planning

Individual and Family Estate Plans
Wills and Trusts
Health Care Planning
Business Succession Plans
Estate Related Litigation
Call today at 212-772-6285 to arrange your free initial consultation.
Attorney Andrew M. Wong
I am a native New Yorker, born Flushing and raised in Rego Park, Queens.  On my father's side I am a third generation American - my father was born and raised in New York City's Chinatown and his father was born in California.  I am first generation on my mother's side - she emigrated from China in the 1950s.  My father owned, with two his brothers, a pharmacy Chinatown that was the oldest drug store in the United States.
I am a proud product of the NYC public school system - P.S. 139 in Rego Park and Russell Sage Junior High School in Forest Hills.  Like my father, I attended Stuyvesant High School (in the old building) and graduated in 1985.  
I was fortunate to attend college at Cornell University in Ithaca, New York.  I received a Bachelor of Arts in Government from Cornell in 1989. During college I was a member of the Cornell Lightweight Crew.
Following college I spent two years, 1989-91, in Washington, D.C. working on Capitol Hill on the staff of Congressman Gary L. Ackerman of New York. This entry level job that barely paid enough for me to survive was one of the best periods of my life.  After studying government in college it was fascinating to see how politics really worked.  I was able to attend the State of the Union address, meet the Congressional leadership, help constituents with problems, pick up the Congressman from the airport and buy his trademark white carnation in the morning.
In 1991 I left the Hill to pursue my long-held ambition to become an attorney by enrolling at the Syracuse University College of Law for three more long, cold central New York winters. I received my J.D. from Syracuse in 1994.  During my third year I served as Executive Editor of the Syracuse Law Review and I was a legal writing instructor for first year law students. Though many people have horror stories of the law school experience, I truly enjoyed law school.  I found the courses interesting (for the most part), the professors very good and I met smart interesting people who remain my friends and colleagues today.
 
I began my legal career working at large law firms, representing corporations and businesses, gaining valuable experience that I now apply to my small business and individual clients.  However, after a few years of large firm practice, I wanted to get back to why I became a lawyer - to help solve the problems of individuals and small business owners like my father. So I took what I learned from the large law firm to start my own law practice devoted to giving clients high quality legal representation with individualized attention on a time efficient and cost-effective basis.  I am able, working with the client, to handle every aspect of a case from start to finish while also being able to offer reasonable billing rates and alternative billing plan options to fit each client's particular needs.
I was admitted to the bar of the State of New York in 1995.  I am also admitted to practice in the U.S. District Court for the Southern, Eastern and Northern Districts of New York as well as the U.S. Court of Appeals for the Second Circuit.
I live on the Upper East Side of Manhattan with my wife Lily and our 15-year-old twin daughters, Amy and Jill.  Outside of work I enjoy spending time with my family, playing an all-too-occasional round of golf, watching too much (according to my wife) sports on TV and cooking meals with my girls.  Also, after always regretting not learning to play the piano when I was a child I began taking piano lessons in October 2013 - I love it and practice every day.
Since 1997, the "Lead Counsel Verified" status has been granted to attorneys who possess:

The Right Professional Experience
A Spotless Record
The following attorneys at this firm are Lead Counsel Verified: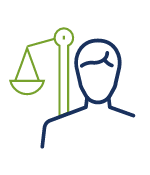 Andrew Michael Wong
This attorney is Lead Counsel Verified in the following practice areas:
| Practice Area | Year |
| --- | --- |
| Appellate | Since 2021 |
| Employment Law | Since 2021 |
| Practice Area | Year |
| --- | --- |
| Appellate | Since 2021 |
| Employment Law | Since 2021 |
For Attorneys:
Download Lead Counsel Badge