Call for the Representation You Need and Deserve
Franchising is highly regulated in the United States at the state and federal level. At the federal level, the Federal Trade Commission requires franchisors to provide a detailed disclosure document, which contains specific information about the franchisor and the proposed franchise agreement. In addition, many states require franchisors to register before they can offer or sell franchises in those states.
New York franchise lawyer David T. Azrin, a partner at the law firm Gallet Dreyer & Berkey LLP, assists existing and start-up franchisors, as well as franchisees, comply with the applicable laws, prepare and review the necessary documents, and resolve disputes. Mr. Azrin is rated "Excellent" by the client rating service Avvo, "Distinguished" by the peer review rating service Martindale-Hubbell, and a "Legal Eagle" by Franchise Times Magazine, a designation given by the magazine to the top 125 franchise attorneys in the country.
Contact us today if you need legal assistance with any of the following:
Franchising
Disclosure Document Review
Disclosure Document Preparation
Master Franchise Agreements
Franchise Disputes and Litigation
Corporate Formation
Trademarks and Intellectual Property
Lease Review and Negotiation
Loan Document Review and Negotiation
Antitrust and Price Discrimination Issues
Employment Issues
Mr. Azrin assists domestic and foreign franchisors to prepare franchise disclosure documents, franchise agreements, master franchise agreements, licensing agreements, corporate documents, and employment agreements. He also assists clients with trademark matters, leases, corporate governance, and employment matters.
Call Attorney David Azrin today at 917-397-4306 to arrange your free initial consultation.
Attorney David T. Azrin
David T. Azrin is a partner of the law firm Gallet Dreyer & Berkey LLP, since 2003. Mr. Azrin began his career in 1988 at the law firm, Greenberg Traurig, in its main office in Miami, Florida, where he worked for six years. He had his own law firm in Miami for six years, from 1994 to 2000, before moving to New York, where he joined the law firm, Meiselman Denlea Packman & Eberz, from 2000 to 2003. Mr. Azrin is a 1988 graduate of the University of Michigan Law School, where he was an editor on the Michigan Law Review. He obtained his undergraduate degree from Stanford University in 1985, where he graduated with Honors in Economics and Phi Beta Kappa.
David T. Azrin is a member of the American Bar Association's Forum on Franchising, the New York State Bar Association, the New York County Bar Association Referral Network, the Westchester County Bar Association, and the Miami-Dade Bar Association.
Mr. Azrin has been named a "Legal Eagle" by the Franchise Times magazine. Legal Eagles are the top 125 lawyers in franchising in the country, as nominated by their peers and determined by a Franchise Times editorial panel.
Mr. Azrin is an active member of the International Franchise Association, and he is the sponsor in the New York City tri-state area for the International Franchise Association's Franchise Business Network program.
Mr. Azrin has been a speaker at the IFA's national convention, and has written several articles on franchise law matters.
Mr. Azrin is a member of the New York, New Jersey, and Florida bars.
Since 1997, the "Lead Counsel Verified" status has been granted to attorneys who possess:

The Right Professional Experience
A Spotless Record
The following attorneys at this firm are Lead Counsel Verified: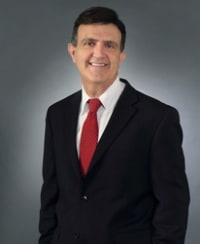 David T. Azrin
This attorney is Lead Counsel Verified in the following practice areas:
| Practice Area | Year |
| --- | --- |
| Business Law | Since 2003 |
| Practice Area | Year |
| --- | --- |
| Business Law | Since 2003 |
For Attorneys:
Download Lead Counsel Badge