« Back to Results
The Law Offices of Robert F. Rich, Jr. PLLC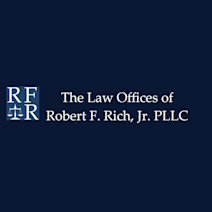 New York Personal Injury Law Firm
For over 30 years, Bob has spent his legal career mostly defending personal injury and medical negligence claims. He learned, developed, and successfully used "every weapon in the arsenal" to win scores of verdicts in court on behalf of the insurance companies or their insureds.
Now, Bob uses his experience and first-hand knowledge of the techniques used by the defense to deny claims in order to all the more effectively fight on behalf of the victims of negligence. Decades of trying complex cases involving various areas of medicine have allowed Bob to acquire a broad and in-depth knowledge of medical issues, which makes him particularly skillful at evaluating, investigating, and preparing your case for trial.​
Contact us today if you need legal assistance with any of the following:
Personal Injury
Nursing Home Negligence​
Medical Malpractice
Call 845-846-8194 today to arrange your initial consultation.
Attorney Robert F. Rich, Jr.
​Bob Rich has spent over 30 years developing and mastering his skills as a trial lawyer, concentrating primarily in the areas of medical and dental malpractice defense, and has successfully tried scores of cases to verdict on behalf of doctors, dentists, podiatrists, hospitals, and other health care providers. In 2012, he was honored to be rated among the top 1% of trial counsel for medical malpractice in New York State by Medical Malpractice Lawyers, an independent, national publication that uses a rigorous, multi-point rating system including recent courtroom results and peer reviews.
This year, he was designated as one of the top attorneys in the Hudson Valley area by Hudson Valley Magazine and was selected for inclusion in Super Lawyers Magazine for 2019.  Martindale-Hubbell has recognized Bob as preeminent in his field with its highest rating (AV). Bob's exceptional record, attained while often handling difficult, complex cases with multiple millions of dollars on the line, has earned him the gratitude of his clients and the respect of his adversaries. After many years of winning cases on behalf of the insurance companies and their insureds, Bob decided to open his own office, where he can devote his energies and expertise to representing the injured parties in civil litigation matters.
Bob is a member of the New York State Academy of Trial Lawyers, the New York State Trial Lawyers Association, the New York State Bar Association (where he serves on the Health Law Section and Committee on Professional Discipline), and the Dutchess County Bar Association. Bob is admitted to practice in all courts in New York State, as well as the Federal Courts in the Southern and Northern Districts of New York. He is licensed to practice in the states of New York and Connecticut.
​Bob attended Albany Law School of Union University, where he distinguished himself by winning a national-level interscholastic moot court competition and coaching two other teams at the national level, as well as earning the Clements Memorial Award for achieving the highest standing in Insurance Law. After graduating in 1987, he had the honor of serving as Principal Law Secretary to Judge Robert C. Williams, Justice of the New York State Supreme Court (Third Judicial District) until 1990, when he entered into private practice in the Hudson Valley specializing in civil litigation, eventually becoming a partner in a mid-sized litigation firm.
​​As a seasoned trial attorney with extensive courtroom experience, Bob has served as a lecturer numerous times, written course materials and helped educate other attorneys about how to successfully handle civil litigation, and has provided continuing legal education to attorneys in New York. He has also given talks to groups of physicians and other health care providers in the areas of risk management and avoiding liability pitfalls in their practices.
---
Attorney Jeffrey Downey
As an experienced trial attorney,  Jeffrey Downey has tried numerous types of cases in both Federal and State courts throughout the Eastern United States, specializing in nursing home negligence. He has won millions of dollars on behalf of his clients and was recently included on the Best Lawyer's List in "Washingtonian Magazine" for his work as a nursing home negligence attorney.
​Jeff spent the first seven years of his career handling defense work for the Federal Government and a Virginia insurance defense firm where he litigated personal injury lawsuits, criminal matters, employment suits, medical malpractice cases, declaratory judgment actions, commercial cases, and civil rights claims.​ In 1995, after having tried numerous cases to verdict on behalf of insurance companies, Jeff became a personal injury lawyer for plaintiffs, representing the injured parties in civil litigation matters. Before opening up his own practice, Jeff was a partner at the national law firm of Robins, Kaplan, Miller, and Ciresi, LLP where he handled a variety of complex cases, including elder neglect, health care fraud, medical malpractice, personal injury, and antitrust matters. As first chair, he tried a landmark antitrust case for Blue Cross Blue Shield of Massachusetts that resulted in a $36 million recovery for his clients after a jury found that the defendants willfully restricted competition in the market of two popular anti-anxiety medications.
​Jeff has been a staunch advocate for elders in our long-term care system. Having personal experience with his own father in a long-term care facility, he knows first-hand how these issues impact a family. He has devoted his personal time to helping educate families and elders in our long-term care system about their rights. He has lectured to resident council groups in nursing homes. His clients have testified before the United States Congress to help educate our legislators about the prevalence of neglect in our long-term care facilities. He has served on the Board of the Consumer Consortium of Assisted Living (CCAL), a non-profit education and advocacy organization dedicated solely to the needs, rights, and protection of assisted living consumers and their loved ones. He has served as a member of the National Citizen's Coalition for Nursing Home Reform (NCCNHR), a national non-profit advocacy group for nursing home residents that has been instrumental in influencing legislative policy for the benefit of our elders.
Jeff is admitted to practice in New York, the District of Columbia, West Virginia, Virginia, Maryland, Federal District Court for the Eastern District of Virginia, and Federal District Court for the District of Columbia.