Proven. Thoughtful. Committed.
Atwood, Holsten, Brown, Deaver, Spier and Israel Law Firm, P.C. first opened its doors nearly two decades ago. Since then, we have earned a noteworthy record of success representing clients' personal injury, workers' compensation, medical malpractice and wrongful death cases.
When you are recovering from a serious accident or trying to secure fair compensation for an injury you sustained at work, the prospect of navigating the legal system can seem overwhelming. We take on the legal stress of your case, focusing on your financial recovery so you can focus on your physical recovery.
As a Martindale-Hubbell® "AV" Preeminent* rated law firm, we have earned national recognition for our legal ability and integrity. While we are very proud of this honor, we measure our successes by our clients' successes - one client, one victory at a time.
Contact us today if you need legal assistance with any of the following:
Personal Injury
Medical Malpractice
Wrongful Death
Workers' Compensation
Insurance Settlements And Mediation
Call today to arrange your free initial consultation.
Attorney Profile
Attorney Raymond P. Atwood Jr.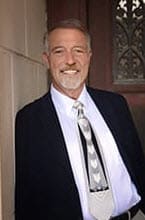 Raymond P. Atwood, Jr. is a native of Ossining, New York and a graduate of the University of Nebraska and the University of Nebraska College of Law. Mr. Atwood received additional education at the University of California, Center for Trial and Appellate Advocacy, San Francisco, 1978, the Medi-Legal Institute, Orthopedics and Disability, Chicago, IL, 1987, and the National College of Advanced Trial Advocacy, Harvard Law School, 1988.
Mr. Atwood has 35 years of personal injury trial practice experience, principally in workers' compensation. He is a frequent moderator and guest presenter in continuing legal education programs and is also a certified mediator. Mr. Atwood is ranked as an "AV" lawyer by Martindale-Hubbell . "AV" is the highest rank awarded by Martindale-Hubbell and is held by only 10 percent of the lawyers in the United States. Mr. Atwood is a biographee in Marquis "Who's Who in American Law," "Who's Who in America" and "Who's Who in the World." Mr. Atwood is the founder and President of Atwood, Holsten, Brown, Deaver & Spier Law Firm, P.C., L.L.O. in Lincoln, Nebraska.
Certified Legal Specialties:
Awards and Achievements:
"AV" lawyer by Martindale-Hubbell
"Who's Who in American Law"
"Who's Who in America"
"Who's Who in the World"