« Back to Results
Madigan, Dahl & Harlan, P.A.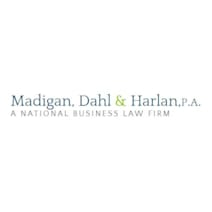 Business Law | Serving Minneapolis, MN
Madigan, Dahl & Harlan, P.A., a local Business Law firm with years of experience helping clients in the Minneapolis, Minnesota area.
Average Experience:
24 years
Agile Law Firm, Proven Results
Madigan, Dahl & Harlan, P.A., is an agile, results-focused Twin Cities-based law firm serving many long-standing clients in Minnesota and across the country. Clients value our legal team's deep knowledge and experience, practical business perspective, creativity and proven strength in high-profile litigation.
We place a high premium on communication and collaboration with our clients. We devote the time, attention to detail and research required to understand our clients' unique business-critical objectives and risks. Our attorneys and professional staff share a common mission: identifying and effectively navigating the best paths to resolve our clients' complex legal issues and protect their legal interests.
Contact us today if you need legal assistance with any of the following: 
Alcohol Beverage Law
Business Services
Franchise And Distribution Law
Individual Services
Litigation Services
Real Estate
Commercial Real Estate
Call 612-604-2000 today to arrange your free initial consultation. 
Attorney Michael D. Madigan
Managing Shareholder of Madigan, Dahl & Harlan, P.A. Over thirty (30) years of experience practicing in the areas of administrative, alcohol beverage, antitrust, business, commercial, distributor, dealer, franchise, construction, employment, and environmental law. AV-rated by Martindale Hubbell for twenty-eight(28) years and recognized as a "Super Lawyer" for seventeen (17) years. Selected for inclusion in the Best Lawyers in America in the practice area of Franchise Law. For the last twenty-two (22) years, served as an Arbitrator and Mediator on the Complex Commercial Panel of the American Arbitration Association and served as a Neutral on the Minnesota ADR Neutrals Roster. Inducted as a Senior Fellow, Litigation Counsel of America (a trial lawyer honorary society composed of less than one-half of one percent of American lawyers). Appointed by Governor Dayton to the Metropolitan Airports Commission from 2011-2019. Instrument rated Private Pilot. Appointed by Washington County Commissioners to serve on the Board of Managers, South Washington Watershed District (2011 - present). Treasurer of Minnesota Trout Unlimited (2018 - present). Previously served eight (8) years on the Woodbury City Council and three (3) years as Chair of the Woodbury Planning Commission. Previously served eleven (11) years on the Board of Minnesota Center for Environmental Advocacy. Formerly, Adjunct Professor at William Mitchell College of Law. Recipient of the Alumni Student Award of Merit and Editor of William Mitchell Law Review.
---
Attorney Richard M. Dahl
Rich Dahl is a founding shareholder in the firm of Madigan, Dahl & Harlan.  For the past 30 years, he has been actively engaged in a nationwide practice in the above-reference areas representing both companies and individuals in a broad range of sophisticated commercial matters.  He is licensed in the states of Minnesota and Wisconsin and the 8th Circuit Court of Appeal.  Rich has been AV rated by Martindale Hubble for many years.
Rich graduated (Cum Laude) from Hamline School of Law in 1983, where he was a published author and served as a primary editor of the Hamline Law Review. He received his B.S. (Summa Cum Laude) and Master's Degree (with honors) in Public Administration from Northern Michigan University (NMU). While attending NMU on an athletic and academic scholarship, Rich was honored as an All American by the NCAA. 
During the past thirty years, Rich has represented numerous members and licensees of the beverage alcohol industry in administrative, licensing, regulatory, transactional and litigation matters.
---
Attorney Thomas P. Harlan
Tom is one of the founding shareholders of Madigan, Dahl & Harlan, P.A. except for a short hiatus with a startup real estate/tax lien acquisition, holding and servicing company, he has practiced law since 1991.
Tom's focus has been on business, construction and real estate law. He serves as counselor to a variety of small to medium-size businesses advising them on all aspects of business law from formation and capitalization of entities, to consulting and negotiating various contracts, leases, and other agreements, and finally representing these clients and their needs in federal and state courts across the country. He has advised clients on all forms of corporate transactions, financing, and land use issues. Tom's experience also extends into the area of energy and infrastructure projects and transactions with an emphasis on wind energy. He has participated in the relicensing of nuclear power plants and their attendant spent fuel storage systems.
Tom has presented at numerous legal education and other seminars on issues concerning real-estate, land use, and construction law.
---
Attorney Brandt F. Erwin
Mr. Erwin is a shareholder at Madigan, Dahl & Harlan, P.A. having joined the firm in November of 2012. Mr. Erwin graduated Magna Cum Laude from Hamline University School of Law in 2011. While at Hamline, he was a Primary Editor on the Hamline Law Review, served as a class representative for the Student Bar Association, and earned Dean's List honors. Prior to law school, Mr. Erwin attended Berklee College of Music in Boston, Massachusetts before transferring to Bridgewater State College and earning a Bachelor of Science Degree in Criminal Justice. 
Mr. Erwin has been recognized as a "Rising Star" for the last three (3) years and the Best Lawyers: Ones to Watch for 2021.
Prior to joining Madigan, Dahl & Harlan, Mr. Erwin was the law clerk for the Honorable Mary A. Yunker in the Tenth Judicial District of Minnesota. This opportunity gave him the benefit of learning from an experienced attorney and judicial officer, and he acquired experience in a variety of areas of the law.
Mr. Erwin is currently licensed to practice in all Minnesota state courts, the U.S. District Court for the District of Minnesota, the U.S. Courts of Appeals for the 5th, 8th, and 9th Circuits, and the United States Supreme Court.
---
Attorney Megan J. Kunze
Megan Kunze joined Madigan, Dahl & Harlan as an associate in October of 2018. Megan's practice is a blend of litigation and transactional work, allowing her to serve the varying needs of her business clients.
Prior to joining Madigan, Dahl and Harlan, Megan worked in the area of Consumer Collections and Creditors rights, representing several large financial institutions and was able to gain significant experience litigating matters on her clients' behalf. Megan also has extensive courtroom experience, having previously worked as a District Attorney, where she appeared in court almost daily. Megan enjoys putting these skills to work on behalf of her clients.
Megan graduated from the University of Denver Sturm College of Law. During law school, Megan was the recipient of the Dean's Scholarship at law for demonstrated academic merit, Secretary of the Student Trial Lawyers Association and a Student Attorney at the Adams County District Attorney's office. Prior to law school Megan attended the University of Wisconsin-Eau Claire where she graduated Cum Laude, earning a degree in Political Science and History.
---
Attorney Christopher W. Bowman
Christopher Bowman joined Madigan, Dahl & Harlan as an associate in November 2019.  His practice area is a blend of litigation and transactional work, with a particular emphasis on appeals and litigation. 
Before joining MDH, Chris worked at a national railroad litigation firm, where he represented employees of the nation's rail carriers in injury claims under the Federal Employers' Liability Act and whistleblower claims under the Federal Rail Safety Act.  Chris was one of the country's leading attorneys under the FRSA, having successfully argued cases and appeals before the Department of Labor and the Fifth and Ninth Circuit Courts of Appeals.  
Chris is a member of the Appellate Practice Section Council for the Minnesota State Bar Association, and has represented the MSBA before the Minnesota Supreme Court and the Minnesota Court of Appeals on multiple occasions, either as amicus or as counsel appointed by the appellate courts or the MSBA to ensure a full development of the arguments, on matters relating to civil rights litigation, family law, and civil procedure.  In recognition of this pro bono service, Chris was awarded the MSBA's Award of Professional Excellence in June 2019.
Chris received a Bachelor of Arts Degree in Government and English from Lawrence University of Wisconsin before earning his J.D., cum laude, from William Mitchell College of Law in Saint Paul, Minnesota.  
---
Attorney Amy M. Byrne
Amy Byrne began working at Madigan, Dahl & Harlan as an associate in June of 2021. Her practice includes a variety of litigation and transactional work for small to large businesses. Amy specializes in providing a personable results-focused approach to her practice and works to find a variety of solutions to provide the best outcome for her clients.
Prior to joining Madigan, Dahl & Harlan, Amy worked primarily as a defense attorney for national businesses and insurers. She has experience working in District Court on complex dissolution Trials while working as a Certified Student Attorney and Director at the Civil Practice Clinic at the University of Minnesota Law School. Before obtaining her license, Amy obtained judicial experience while working as a Judicial Extern for The Honorable Joan N. Ericksen at the U.S. District Court, District of Minnesota.
Amy graduated Magna Cum Laude from Georgia Southern University, located in Savannah, Georgia. She majored in Law and Society with an emphasis in Government and Judicial Studies, and minors in English and Legal Studies. She graduated from the University of Minnesota Law School on a Deans Distinguished Scholarship and was a member of the Business Law Association and Honor Code Committee.
---
Attorney Jon R. Steckler
Jon's practice is focused on commercial and business law and related litigation and appeals. Serving as general corporate counsel for companies in various industries, Jon regularly advises clients on a broad range of issues facing businesses on a day-to-day basis.
Jon advises on and prepares complex commercial contracts, franchise agreements, distribution contracts, construction contracts, non-compete agreements, commercial leases, and asset and stock purchase agreements. In addition to representing clients in general commercial, corporate and operational matters, Jon represents companies and individuals in state and federal courts, licensing, and regulatory tribunals and in alternative dispute resolution in jurisdictions nationwide. Assessment and management of risk for clients on wide-ranging operational and strategic issues, timely issue spotting and front-end problem solving are among Jon's core strengths.
After receiving his undergraduate degree in Political Science from South Dakota State University, Jon received his J.D. from the University of South Dakota School of Law, where he served as the Managing Editor of the South Dakota Law Review and earned Dean's List honors. After law school, Jon served as a judicial clerk at the Minnesota Court of Appeals. Early in his legal career, Jon served as a prosecuting attorney for several suburban municipalities.
Jon has provided pro bono legal services through Volunteer Lawyers Network and LegalCORPS and has served as pro bono general counsel for a non-profit no-kill animal shelter and adoption agency for over 16 years.
Recently, Jon obtained a jury verdict and judgment exceeding $1,170,000 in a condominium construction defect case, and successfully defended the verdict before the Minnesota Court of Appeals.
Jon has been listed as a Rising Star and Super Lawyer by Minnesota Super Lawyers in 2013-2015, 2022, as well as being recognized by America's Top 100 Bet-the-Company Litigators.
Jon and his wife live in Golden Valley with their daughter, and their long-haired Chihuahua, Jeffrey. In his spare time, Jon enjoys running, biking, swimming, hiking, and golfing, and has volunteered as an instructor for the Loppet Foundation Trail Kids Mountain Bike Program.
Successfully defended a Minnesota distributor in a case where the plaintiff sought damages in excess of $3.3 million for claims alleging tortious interference with a noncompete agreement, interference with business relationships and unjust enrichment. Following a two-week trial, the jury returned a unanimous defense verdict in favor of Madigan, Dahl & Harlan, P.A.'s client dismissing all of the plaintiff's claims.
---
Represented a beer distributor who received a $1.1 million arbitration award following the termination of certain distribution rights.
---
Successfully represented scores of distributors in supplier disputes in both state and federal courts with regard to threatened terminations, refusal to consent to proposed sales and other matters.
---
On behalf of the National Beer Wholesalers Association, submitted amicus briefs in constitutional challenges to state liquor laws in the United States Supreme Court and the 1st, 4th, 6th, 7th, 8th and 9th U.S. Circuit Courts of Appeal.
---
Represented two highly successful beer distributors opposing brewer's efforts to terminate the defendant's multimillion-dollar distribution rights. Madigan, Dahl & Harlan, P.A., asserted that the distributors were protected under the applicable state law and was successful in securing a dismissal of the claim and the abandonment of the termination.