« Back to Results
Hellmuth & Johnson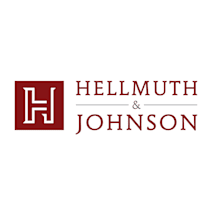 Your Trusted Legal Partner for Over 25 Years
As a leading firm with nationally respected practices, our arsenal is formidable indeed. We're authorities in our legal fields, and well established at the crossroads of law and business. We think creatively, work collaboratively and act decisively. In combining the in-house assets of a large law firm with the accessibility and flexibility of a smaller one, we have all the muscle you need without any of the fat.
What truly sets Hellmuth & Johnson apart, however, is our personal investment in each client and our focus on cultivating long-term relationships to ensure you're never left exposed. Count on us to understand exactly what you have at stake. Know that we'll guard your legal interests zealously, defend them aggressively, and pursue your objectives with every resource at our disposal. Our dedication not only makes Hellmuth & Johnson unique; it makes us your strongest possible advocate.
Contact us today if you need legal assistance with any of the following:
Agriculture Law
Banking, Finance & Workouts
Business & Corporate Law
Mergers & Acquisitions
Cannabis Law
Construction & Lien Law
Entertainment Law
Estate Planning
Family Law
Homeowner Associations
Hospitality & Events
Insurance Coverage
Intellectual Property
Litigation & Appeals
Real Estate Law
Call 952-392-9277 today to arrange your consultation.
Attorney KC Ahrens
Bar Admissions:
---
Attorney Mark W. Balzarini
Bar Admissions:
---
Attorney Joseph M. Barnett
Bar Admissions:
---
Attorney Heidi J. Bassett
Bar Admissions:
---
Attorney Raymond R. Bonnabeau
Bar Admissions:
---
Attorney Michael R. Cashman
Bar Admissions:
---
Attorney Earl H. Cohen
Bar Admissions:
---
Attorney Timothy O. Davis
Bar Admissions:
---
Attorney Erika N. Donner
Bar Admissions:
---
Attorney Jonathan R. Engel
Bar Admissions:
---
Attorney Zachary J. Freese
Bar Admissions:
---
Attorney Patrisha M. Garger
Bar Admissions:
---
Attorney Samantha J. Graf
Bar Admissions:
---
Attorney Richard M. Hagstrom
Bar Admissions:
---
Attorney Elena D. Harvey
Bar Admissions:
---
Attorney David G. Hellmuth
Bar Admissions:
---
Attorney Cole A. Hickman
Bar Admissions:
---
Attorney Joel A. Hilgendorf
Bar Admissions:
---
Attorney Phaedra J. Howard
Bar Admissions:
---
Attorney Robyn L. Ingber
Bar Admissions:
---
Attorney Chad A. Johnson
Bar Admissions:
---
Attorney Christopher R. Jones
Bar Admissions:
---
Attorney Kylie E. Kaminski
Bar Admissions:
---
Attorney J. Robert Keena
Bar Admissions:
---
Attorney Brendan M. Kenny
Bar Admissions:
---
Attorney John A. Kindseth
Bar Admissions:
---
Attorney Michael D. Klemm
Bar Admissions:
---
Attorney Michelle M. Kniess
Bar Admissions:
---
Attorney Jordan A. Kolinski
Bar Admissions:
---
Attorney Jacob E. Lanthier
Bar Admissions:
---
Attorney Lindsey LaBelle Larson
Bar Admissions:
---
Attorney Amanda K. Linden
Bar Admissions:
---
Attorney Michele R. Loughrey Tschida
Bar Admissions:
---
Attorney Ethan W. Malark
Bar Admissions:
---
Attorney Taylor A. Martin
Bar Admissions:
---
Attorney Mallory A. Moen
Bar Admissions:
---
Attorney Terrance W. Moore
Bar Admissions:
---
Attorney Carol R. M. Moss
Bar Admissions:
---
Attorney Alexandria M. Mueller
Bar Admissions:
---
Attorney Blake R. Nelson
Bar Admissions:
---
Attorney Brian W. Nelson
Bar Admissions:
---
Attorney Brian N. Niemczyk
Bar Admissions:
---
Attorney Nancy T. Polomis
Bar Admissions:
---
Attorney Thomas H. Priebe
Bar Admissions:
---
Attorney Nathan D. Prosser
Bar Admissions:
---
Attorney Mary B. Rannells Rowan
Bar Admissions:
---
Attorney Michael S. Redden
Bar Admissions:
---
Attorney Anne T. Regan
Bar Admissions:
---
Attorney Mary Ellen Reihsen
Bar Admissions:
---
Attorney Suzanne M. Remington
Bar Admissions:
---
Attorney Jennifer A. Rutz
Bar Admissions:
---
Attorney Christopher R. Sall
Bar Admissions:
---
Attorney Alec C. Sherod
Bar Admissions:
---
Attorney Darbie A. Smith
Bar Admissions:
---
Attorney John J. Steffenhagen
Bar Admissions:
---
Attorney Jeremy C. Stier
Bar Admissions:
---
Attorney Colman M. Sutter
Bar Admissions:
---
Attorney Ryan M. Theis
Bar Admissions:
---
Attorney Karl M. Tsuchiya
Bar Admissions:
---
Attorney Kyle L. Vick
Bar Admissions:
---
Attorney Rodney M. Zerbe
Bar Admissions: