Drew, Cooper & Anding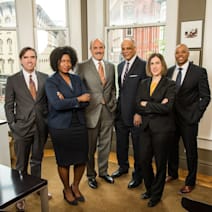 Grand Rapids Business & Commercial Law Firm
Drew Cooper & Anding is a boutique law firm located in downtown Grand Rapids serving clients throughout Michigan and providing Just Results for more than 25 years.
During that time, we have become one of the most trusted sources of quality, effective advocacy and support for those who have legal needs. Some of our areas of particular focus include:
Complex commercial litigation
Consumer protection and finance fraud
Employment law
Personal injury
Sexual harassment and abuse
However, our practice encompasses many areas. Our law firm's team of dedicated, award-winning attorneys possess more than 100 years of combined legal experience, and we are completely committed to helping you achieve the favorable outcomes and justice you deserve no matter how complex your legal challenges. As evidence of our success, we hold an AV-Preeminent peer-review rating* from Martindale-Hubbell, and U.S. World and News Report voted our practice among the Best Law Firms in the country in 2019. A number of our attorneys have also been selected to Super Lawyers.
In addition, we are also listed in the Bar Register of Preeminent Lawyers, and we give back to our community through our involvement and sponsorship of various civic and charitable organizations in our area. This means you can expect to receive unmatched counsel directly from a local attorney totally devoted to your needs, and we utilize the latest in technology in order to help you obtain the positive results you seek efficiently and cost-effectively. Call 616-512-9457 today to arrange your initial consultation.
Attorney Anding, John E.
A graduate of Wayne State Law School, Mr. Anding is a founding partner in the law firm of Drew, Cooper and Anding. In starting the firm in 1991, Mr. Anding brought his experience in complex commercial litigation to a unique and diverse partnership.
Mr. Anding's commercial litigation client base ranges from consumers and individual entrepreneurs to international corporations. He has practiced before the Federal & State Courts in Michigan, Texas, New York, Florida, Alaska and Colorado as well as before the Sixth, Tenth, Eleventh and Federal Circuit Court of Appeals. Verdicts obtained by Mr. Anding include numerous damage awards in excess of $1 million, including a $72 million verdict in 2015 and a $27.5 million verdict in 2003. In addition, Mr. Anding is experienced in arbitration including international arbitration before the London Court of International Arbitration.
As a trial lawyer specializing in fraud, finance and consumer class actions, Mr. Anding has authored several articles on the topic of lender liability and has served as a faculty member at various seminars related to his expertise on various topics within the practice of commercial litigation.
---
Attorney Ann M. Cooper
Ann Cooper graduated from Michigan State University, Byrn Mawr College, and the University of Michigan Law School. She was a Fulbright Scholar in France. She is a member of local, state and federal bar associations and the Women Lawyers Association of Michigan. She has practiced in Michigan courts and in the eastern and western districts of Michigan's federal courts. Ms. Cooper served on the United States 6th Circuit Judicial Merit Selection Panel in 1998.
Ms. Cooper was a member of the Michigan Supreme Court Task Force on Gender Issues in the Courts, the State Bar's Open Justice Commission, and the Equal Access Initiative of the State Bar. She was a member of the Grand Rapids Community Relations Commission and a Trustee and Board Chair of the Grand Rapids Foundation.
Ms. Cooper continues to work in civics education programs for Grand Rapids high school students and on diversity and inclusion issues in the Grand Rapids Bar Association.
---
Attorney Stephen R. Drew
Stephen R. Drew is a founding partner of Drew, Cooper and Anding. He earned his undergraduate and law degree from the University of Michigan.
For over 43 years Mr. Drew has practiced in the areas of Civil Rights, Personal Injury, Sexual Harassment, Sexual Abuse, Police Misconduct, and Employment law, and has litigated complex cases in state and federal courts in Michigan and throughout the United States. Known for achieving exceptional results for clients on unpopular and challenging cases against large corporate defendants, he has gained the recognition and reputation as a fierce litigator.
Mr. Drew is a fellow in the American College of Trial Lawyers and the College of Labor and Employment Lawyers of the American Bar Association, where membership is selected based upon recognition of skill and professionalism. He has been named Super Lawyer in Michigan in the field of Personal Injury since 2007. He has also been awarded the Champion of Justice Award by the Michigan Bar Association and has been listed in the Bar Register of Preeminent Lawyers since 1997. Because of his skill and integrity, he is often sought by other lawyers to serve as a facilitator in lawsuits.
Mr. Drew was selected by his peers as the 2017 Best Lawyers "Lawyer of the Year" for Employment Law, Grand Rapids—a designation he has received each year since 2011.
---
Attorney LaRissa D. Hollingsworth
LaRissa D. Hollingsworth joined Drew, Cooper & Anding in 2016. Ms. Hollingsworth earned her undergraduate degree from Michigan State University Honors College and her law degree from Wayne State University Law School in 2003. Her practice areas include general civil litigation, commercial and business litigation and criminal defense.
Ms. Hollingsworth is admitted to practice before the U.S. District Courts for the Western and Eastern Districts of Michigan, and the Sixth Circuit Court of Appeals.
---
Attorney Thomas V. Hubbard
Thomas Hubbard graduated summa cum laude from Michigan State University College of Law in 1999. After working as research attorney for the Michigan Court of Appeals, Mr. Hubbard joined Drew, Cooper & Anding in 2001.
Mr. Hubbard has practiced in the eastern and western districts of Michigan's federal courts, has appeared before the Michigan Court of Appeals and the Sixth Circuit Court of Appeals, and has been on brief before the Michigan Supreme Court and Federal Circuit Court of Appeals.
---
Attorney Amanda P. Narvaes
Amanda P. Narvaes, a Partner, joined Drew, Cooper & Anding in 2011. Ms. Narvaes is a civil litigator in the areas of complex commercial litigation, lender liability, copyright litigation, and consumer protection. She graduated cum laude from Carleton College with a bachelor's degree in history. She earned her law degree at WMU-Thomas M. Cooley Law School, graduating magna cum laude, and received Cooley's Distinguished Student Award.
Ms. Narvaes represents clients before Michigan trial courts across the state and in the Michigan Court of Appeals, and before the United States District Courts for the Western and Eastern District of Michigan.
Ms. Narvaes has volunteered her time to several nonprofits in the area, including the Tenant Law Project, Degage Ministries, and the Women's Resource Center. Ms. Narvaes currently serves on the committee charged with planning the annual Women Lawyers vs. Judges Softball Game, which raises thousands of dollars every year for the YWCA West Central Michigan.
---
Attorney Adam C. Sturdivant
After earning his law degree from The Ohio State University and practicing in Columbus, Ohio, Adam returned to Michigan and joined Drew, Cooper & Anding in 2008. He was named Partner in 2011.
Adam's blend of litigation and transactional work concentrates in the areas of labor-employment, catastrophic injuries, and contract matters involving real estate and business transactions. A fierce competitor and strategist, Adam helped achieve multi-million dollar results across his disciplines since joining DCA in cases involving construction site injuries, sexual harassment in the workplace, and wrongful death.
Adam has annually been recognized by Super Lawyers as a Rising Star since 2013 and by National Trial Lawyers as a Top 40 Under 40 attorney since 2014.