« Back to Results
The Law Firm of Hauer & Snover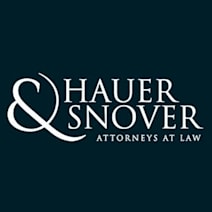 Family Law | Serving Bloomfield Hills, MI
Contact The Law Firm of Hauer & Snover for experienced Family guidance in Bloomfield Hills, Michigan.
Average Experience:
31 years
Experienced Michigan Divorce Lawyers With A Reputation For Success
When you face a difficult or contentious family law matter, it is critical to have legal representation that acknowledges your concerns and protects your interests. At The Law Firm of Hauer & Snover, in Detroit, we build on our years of experience to provide our clients with legal services in all family law matters.
As some of Michigan's most highly respected divorce attorneys, we have a tremendous reputation for preserving the property rights and parental rights of our clients in divorce and family law matters. Our law firm focuses solely in the area of family law, and we handle cases for everyone from high-profile individuals to homemakers in Oakland County and throughout Michigan.
Contact us today if you need legal assistance with any of the following:
Divorce: Our attorneys will review your case and help you decide what your options are, how to protect yourself and which assets you value during your divorce proceedings.
High-asset divorce: When highly valued assets and considerable income are factors in divorce, we provide crucial services to ensure that assets are properly valued, from valuing a family business or professional practice to valuing investments, retirement accounts and other property.
Child custody/support: Issues involving one's children are often contentious and emotionally charged. We are mindful of your concerns, your rights and the rights of your children, whether guiding you through initial child custody proceedings, post-judgment issues or custody issues for unmarried parents.
Domestic violence: Sadly, domestic violence is all too common in today's society. We help clients obtain protection when these issues arise. We also help those unjustly accused of such allegations.
Prenuptial and postnuptial agreements: These agreements can protect your individual assets later in your marriage and make divorce less contentious. Our attorneys have significant experience with the drafting and litigation of prenuptial and postnuptial agreements.
We will do what it takes to achieve the results you deserve. Call today at 248-258-0800 to arrange your initial consultation.
Attorney Harvey I Hauer
Bar Admissions:
Education:
Wayne State University Law School, Detroit, Michigan
Wayne State University, Detroit, Michigan
Professional Memberships and Achievements:
American Academy of Matrimonial Lawyers, Past President, Michigan Chapter
American Academy of Matrimonial Lawyers, Co-Chair CLE Committee
American Academy of Matrimonial Lawyers, Board of Managers
State Bar of Michigan, Coordinator of the Michigan Bar Journal Family Law Theme, 1987 - Present
Michigan Institute of Continuing Legal Education, Advisory Board, 1997 - Present
State Bar of Michigan, Past Chair of the Family Law Section
Family Law Portion of the Oakland County Bar Association, Bench/Bar Conference, "Implementation of the New Family Court", Past Chair
Michigan Supreme Court Domestic Relations Court Rule Committee , Past Chair
Oakland County Bar Association, Past Chair of the Family Law Committee
Michigan Civil Rights Commission , Past Referee
Michigan Inter-Professional Association, Member
State Bar of Michigan, Member
Oakland County Bar Association, Member
---
Attorney Mark A. Snover
Bar Admissions:
Education:
University of Detroit Mercy School of Law, Detroit, Michigan
University of Michigan
Professional Memberships and Achievements:
State Bar of Michigan, Member -Family Law Council, 2004-2008
Oakland County Bar Association, Member
American Bar Association, Member
Michigan Inter-Professional Association, Member
---
Attorney Nicole J. Hauer
Bar Admissions:
Education:
University of Detroit Mercy School of Law, Detroit, Michigan
Ohio State University
Professional Memberships and Achievements:
Oakland County Bar Association, Family Law Section, Member
State Bar of Michigan, Family Law Section, Member
National Association of Professional Women
---
Attorney Marcus M. Kasper
Bar Admissions:
Education
Thomas M. Cooley Law School, Lansing, Michigan
J.D. cum laude
Professional Memberships and Achievements:
Oakland County Bar Association, Member
American Inns of Court Program , Associate
Oakland County Bar Foundation, Fellow
---
Attorney Jared Ryan Jackson
Bar Admissions:
Michigan
U.S. District Court Eastern District of Michigan
Education:
University of Minnesota Law School, Minneapolis, Minnesota
J.D. cum laude
---
Attorney Emily Hollenberg
Bar Admissions:
Michigan
District of Columbia
Education:
Suffolk University Law School, Boston, Massachusetts
Boston University