« Back to Results
The Law Office of Thomas E. Pyles, P.A.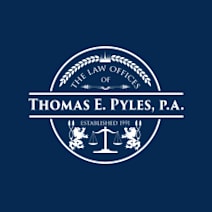 Obtain the Legal Representation You Deserve Today!
When accidents happen, many turn to lawyer Thomas E. Pyles, one of Maryland's most respected and busiest personal injury lawyers. In addition to personal injury, Thomas E. Pyles helps people charged with committing crimes, struggling with unpayable debt and dealing with the emotional and financial difficulties of divorce.
"We are there for you when bad things happen." That's the slogan of the Law Office of Thomas E. Pyles, P.A. Our records shows that we have been true to that commitment. We are one of the state's most aggressive accident injury firms and we have been there for thousands of clients coping with their legal problems.
Most lawyers will do anything to avoid a trial situation because they are afraid that they might lose. Thomas E. Pyles is open to settling cases out of court but he is not afraid to try a case in court if that is the best approach. Why? Because he wins. A lot.
At the Law Offices of Thomas E. Pyles, P.A., we take a down to earth approach to handling our client's legal matters. With over 31 years of legal experience, Thomas E. Pyles has spent a lot of time in the courtroom. First and foremost, he is a trial lawyer experienced and prepared to handle your legal claims either in or outside of the courtroom.
Contact us today if you need legal assistance with any of the following:
Personal Injury
Car Accidents
Trucking Accidents
Bicycle & Pedestrian Accidents
Bus Accidents
Delivery Vehicle Accidents
Cell Phone & Texting Accidents
T-Bone Collisions/ Head On /Rear End Collisions
Beltway & Interstate Accidents
Uninsured & Unlicensed Motorist
Slip and Fall Injuries
Dog Bites
Products Liability
Medical Malpractice
Injuries to Children
Wrongful Death
Criminal Defense
Traffic Violations – including DUI/DWI, speeding and reckless driving – MVA Matters
Drug Crimes – including possession, possession with intent, trafficking, manufacture and cultivation, drug king and drug charges
Violent crimes – assault and battery, domestic violence, protective order
Bankruptcy
Chapter 7 and 13 Bankruptcy
Domestic Law/Divorce/Child Custody Matter
Call Attorney Thomas Pyles today at 301-298-2271 to arrange your consultation.
Attorney Thomas E. Pyles
Admitted To The Bar:
U.S. Court of Federal Claims
Maryland
U.S. District Court for the District of Maryland
Education:
American University, Washington College of Law, Washington, D.C, J.D.
University of Baltimore, Baltimore, Maryland

Honors magna cum laude – Major- Criminal Justice
Professional Memberships and Achievements:
National Top 100 Trial Lawyers, 2013-2017
Top 100 Litigation Lawyer State of Maryland – 2016
Top 10 Best Attorneys and Firms – American Institute of DUI/DWI
2016 Top 10 Best Personal Injury Lawyers
2015 – 2016 Top 10 Best DUI-DWI Attorneys
2016 – Top 10 Best Criminal Law Attorneys
Top 100 DUI Attorneys State of Maryland – National Advocacy for DUI Defense, LLC
Rue Ratings – 2015-present – Best Attorneys
Maryland Trial Lawyers Association
American Bar Association
Maryland State Bar Association
Charles County Bar Association
St. Mary's County Bar Association
Prince George's County Bar Association
National Association of Consumer Bankruptcy Attorneys
"I would like to thank Mr. Pyles and his staff for their assistance and great work on my case. He handled a personal injury case for me and everything went really smoothly and I am very happy with my results."
- Arthur L.
---
"Mr. Pyles is always available for me and always gives me his best advice. I appreciate everything he has done for me over the years."
- Andrea H.
---
"I have used the law office for 3 criminal cases (which I was not guilty of) and the cases were ALL thrown out of court; thanks to the team's research and diligence. Then I used the law office for a 'not at fault' auto accident. My experience with the entire law office during my car accident case was an excellent experience and a great settlement."
- Tivon A.
---
"Mr. Pyles worked with me on my injury lawsuit. He was very straight forward and understanding and his staff responded clearly and in a timely manner whenever I had questions regarding my case. I would recommend him to anyone. Thank you again, Mr. Pyles"
- Lailaa G.
---
"During the whole process of my suit, having Mr. Pyles on my side was the only thing that assured me of a positive outcome. It couldn't have gone any smoother. He answered all of my questions and really made me feel like my case important even though it wasn't his only one. Once we looked over my case, he gave me the pros and cons of all of my options. Because he knew what he was talking about, I was able to make the best decision. His is extremely honest and will fight for you to the end. It would be a huge mistake if you don't hire Mr. Pyles"
- Kyra P.
---
"Mr. Pyles was very upfront and easy to work with. His staff is top notch. If I ever need a lawyer for anything, Mr. Pyles will be the man. There will be no need to look anywhere else. Thank you Mr. Pyles"
- Kevin K.
---
"After being denied visitation with my daughter, I hired Tom Pyles to help me. Mr. Pyles explained to me that I had a right to see my child and that he would fight to protect that right. As a result of his hard work and dedication to my case, I got exactly what I wanted. Thank you Tom Pyles for all your help!"
- Jason W.
---
"When I needed a lawyer to help me with my divorce, I turned to Tom Pyles. He handled my case in an aggressive and effective manner. His knowledge of the law and legal skill was obvious to me from the first meeting with him as he answered all of the questions that I had. He ensured the best possible outcome for me. I urge anyone with a legal problem to call Tom Pyles for help."
- Scott S.
---
"Tom Pyles has represented me since 2002 in a very bitter custody dispute. Most recently, Mr. Pyles' expertise in the court room prevented the father of my children from trying to have me arrested and incarcerated for contempt, when all I was doing was protecting my children. Mr. Pyles' hard work and commitment to his clients is unparalleled. I would recommend him to anyone deserving a fantastic attorney!"
- Danielle T.
---
"Mr. Pyles has been my attorney for more than 10 years. He is highly educated and also street smart. I felt like he could relate to me. I have recommended him to all my friends and family."
- Rusty A.