Hyatt & Weber, P.A.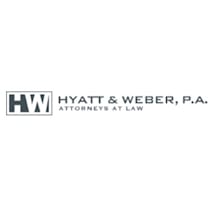 A Commitment to Full-Service Legal Representation
Founded in 1979 by Alan Hyatt, a real estate attorney, and expanded in 1993 when Paul Weber merged his established civil litigation practice into the firm, Hyatt & Weber has grown into one of the leading law firms in the Mid-Atlantic region. Headquartered in Annapolis, Maryland, the firm has three additional offices in Baltimore and Northern Virginia to serve clients living and doing business in the D.C. and Baltimore metropolitan markets and throughout the state of Maryland.
Our talented attorneys, paralegals, legal assistants and administrative professionals are dedicated to providing every client and every matter the responsive service, personal attention and commitment to excellence that has defined our approach for decades. By listening to clients, taking the time to understand their goals and concerns, answering questions, identifying opportunities and keeping them apprised of developments, Hyatt & Weber lawyers have earned the respect and trust of those they represent.
Contact us today if you need legal assistance with any of the following:
Alcoholic Beverage Licenses and Compliance
Banking Law
Bankruptcy
Business Law
Commercial Litigation
Employment Law
Estate Planning and Probate
Insurance Coverage
Intellectual Property
Land Use and Zoning
Medical Malpractice
Personal Injury
Professional License Defense
Real Estate
Call 410-849-0663 today to arrange your initial consultation.
Attorney Jon Brassel
Mr. Brassel concentrates on product and professional liability, personal injury and environmental litigation. He serves as national counsel for several clients involved in multi-jurisdiction asbestos litigation. He has successfully defended multi-million dollar environmental cases in multiple jurisdictions, and tried jury trials in aviation crashes and medical malpractices cases resulting in million dollar verdicts. Brassel is nationally recognized for defending multi-million dollar toxic claims, and has acted as lead counsel in defending thousands of personal injury and property toxic lawsuits.
Mr. Brassel has been recognized for his work in Personal Injury litigation as one of Maryland's "Super Lawyers" from 2007-2022 and the only Maryland Corporate "Super Lawyer" for environmental litigation. He has been recognized by over 1000 attorneys surveyed in Anne Arundel County as the leading medical malpractice attorney in the area. He has also been voted as one of the top 100 trial lawyers in Maryland and is included in the Martindale-Hubbell Bar of Register of Preeminent Lawyers with an A-V rating. Brassel has also been voted by his peers into the 2010 – 2018 editions of The Best Lawyers in America in the specialty of Personal Injury Litigation and included in Washington D.C.'s Best Lawyers 2010 Edition. Brassel was recently selected by America's Top 100 Attorneys for a Lifetime Achievement award for his "lifetime of hard work, ethical standards and community enriching accomplishments that are inspiring among the legal profession."
---
Attorney Mark F. Gabler
Mark has been practicing law in Maryland since 1995, focusing his practice on complex litigation in various areas including commercial law, environmental law, construction law, land use, real estate and zoning, administrative law, contracts, personal injury and maritime accidents and injuries. 
In addition to his litigation practice, Mark also works extensively with landowners and developers, providing representation in a variety of regulatory and business matters. Mark regularly appears before the Court of Special Appeals and the Court of Appeals for the State of Maryland and has argued cases before the United States Court of Appeals for the Fourth Circuit.
---
Attorney Steven M. Heinl
Steven Heinl focuses his practice on estate planning, probate/trust administration, land use and small business matters.
Steven prepares wills, trusts, powers of attorney, advance medical directives and other planning documents. He also assists clients in navigating the complexities that often arise during the probate process when dealing with the estate of a loved one, as well as those serving in various fiduciary roles.
Steven has an extensive background in land use and zoning matters. He served as a legislative director for state and local elected officials for more than eight years before entering the private practice of law. This experience afforded him the opportunity to form valuable relationships with government officials, developers, business owners and community leaders.
Steven lives with his wife Mandee, their two children and dog in Pikesville, Maryland.
---
Attorney Benjamin S. Henry
Benjamin Henry is an associate in the firm's Business, Land Use and Zoning, and Real Estate practices.
Benjamin is a lifelong resident of Anne Arundel County with deep family ties to Annapolis. Benjamin is the son of Annapolis attorneys, Darrell L. Henry and the late Mettie M. Smith.
Benjamin graduated from University of Maryland Francis King Carey School of Law and from Stevenson University with a B.S. in Paralegal Studies. He is admitted to practice in Maryland.
Starting in 2013, Benjamin was an undergraduate intern with a local Annapolis firm, Rex S. Caldwell, III, P.A.. Benjamin continued to work for Rex S. Caldwell, III, P.A. until being hired as an associate attorney in 2018. After Mr. Caldwell's passing in early 2019, Benjamin became a member of Henry & Smith, LLC, another law firm in Annapolis. Benjamin continued with Henry & Smith, LLC for over a year prior to joining Hyatt & Weber. Benjamin is also former counsel to the City of Annapolis Board of Appeals, Historic Preservation Commission, and Planning Commission.
In his spare time, you will find Benjamin spending time with his family, exploring the outdoors, out on the baseball diamond, or working various automotive and household projects. Benjamin is a graduate of St. Mary's High School and currently resides in Edgewater.
---
Attorney Alan J. Hyatt
Alan Hyatt, the founder of Hyatt & Weber, has actively guided the law firm for more than 35 years to become one of the most successful practices in the region. Based in Annapolis, Maryland, Alan represents large and small companies, financial institutions, entrepreneurs, business owners, real estate developers and individuals from Maryland and across the nation.
Because of his deep knowledge of the real estate market, lifelong ties to Anne Arundel County, and established relationships with state, county and city officials, Alan is often seen as a pivotal force in helping advance his clients' projects. He was instrumental in transforming the old downtown Annapolis hospital site into the desirable Acton's Landing residential community of condominiums, townhouses and single-family homes; helping pave the way to bring the Maryland Live! Casino to Anne Arundel County; and working on various projects that have shaped the landscape of the region.
Alan also maintains an active practice in the areas of business law and banking law, with a focus on commercial transactions. He provides strategic counsel on a wide range of matters – from contracts, financing and liquor licensing to regulatory compliance, loan documentation, workouts and foreclosures.
Active in the community, Alan serves as chairman and president of Severn Bancorp, a Nasdaq-traded bank holding company, and its subsidiaries, including Severn Savings Bank, FSB, a community bank with more than $785 million in assets. He currently serves on the boards of the Anne Arundel Medical Center, Annapolis Community Foundation and the Anne Arundel County Retirement and Pension System, and is the former chair of the Anne Arundel Community College Foundation.
---
Attorney Steven D. Hyatt
Steven Hyatt runs the Firm's Government Affairs and Lobbying practice group and is an associate in the Banking, Business, Land Use & Zoning, and Real Estate practices. He represents a wide variety of public and private businesses, developers, non-profit organizations, and trade associations before local county and municipal governments in Maryland, the Maryland Legislature, and Executive Agencies in Annapolis. As a lawyer and lobbyist, Steven develops strategic solutions to help his clients achieve success.
Steven advises his clients on strategic and day-to-day legal and legislative aspects of their business operations, which span a range of industries, including banking and other financial institutions; cannabis-related operations; commercial & residential builders and contractors; environmental companies; energy providers; real estate developers; retailers & restaurateurs; start-ups; and technology companies.
Over the past decade, Steven has gained first-hand experience working on complex issues and transactions in banking, commercial real estate, and the legal industry. He has also served in several leadership roles, including COO of Hyatt Commercial and managing attorney of Hyatt & Weber, P.A. Steven has developed strong relationships with business professionals, local and state elected officials, executive branch personnel, and community leaders. He graduated with honors from the University of Baltimore School of Law and from the College of Charleston with a B.A. in Corporate Communication. He is admitted to practice in Maryland.
He is on the Board of Directors for the Anne Arundel County Chamber of Commerce and previously served on the Board of Directors for the University of Baltimore Foundation. He is also a member of Maryland Building and Industry Association (MBIA), National Association of Industrial and Office Properties (NAIOP), the International Council of Shopping Centers (ICSC), and Maryland Government Relations Associations (MGRA).
In his spare time, you will find Steven with his family, exploring the Chesapeake Bay, out on the golf course, skiing, and around Annapolis supporting local businesses. Steven is a graduate of Severn School and resides in Annapolis.
---
Attorney Robert D. Miller
Robert D. Miller's extensive state and county regulatory experience includes the following areas: tidal and non-tidal wetlands, water rights surface and ground water appropriation, floodplain management and regulation, dam safety, coal and non-coal mining, Critical Area regulation, storm-water management, erosion and sediment control, environmental dredging, reforestation, stream restoration, solid waste management, local land development, and zoning. He has developed and testified on land use and environmental legislation, regulations, and programs at the state and local levels of government.
As an attorney in the Land Use & Environment Practice Group of Hyatt & Weber, P.A., Robert has represented public and private sector entities involved in land development and environmental permitting and regulatory matters. The practice involves both administrative representation and litigation. Public sector clients include two Soil Conservation Districts and a local housing authority. Private sector clients have included large and small commercial and residential land developers and individuals involved in land development or property disputes. Representation has involved both advocacy for and opposition against proposed projects, as well as work with the Maryland General Assembly and the Anne Arundel County Council related to local and State legislation.
Legal representation has included administrative and appellate work with special exceptions, variances, nonconforming uses, comprehensive and administrative rezoning, subdivision activities, site development activities, landlord-tenant matters, property lease and contract matters, and local business licenses, as well as representation of clients before the City of Annapolis and Anne Arundel County Alcohol Beverage Boards. The practice involves all aspects of local land use approvals and State and Federal environmental permitting.
---
Attorney Barbara J. Palmer
Ms. Palmer has 30+ years of experience as a trial lawyer and has earned a reputation for effective and aggressive representation of clients. She regularly appears before the Circuit Court, the Court of Special Appeals, and the Court of Appeals. She also handles cases the United States District Court for the District of Maryland and has argued before the Fourth Circuit Court of Appeals.
Ms. Palmer actively engages in land use law, including zoning, subdivision, development, permitting, and critical area issues. She has handled variances, special exceptions, and re-zoning cases before the Administrative Hearing Officer and the Board of Appeals.
Ms. Palmer handles issues pertaining to real estate matters, real estate contracts, general contractual matters, land transfer issues, landlord/tenant disputes and business disputes.
---
Attorney Mark E. Rosasco
Mark is a veteran trial attorney with several reported Maryland cases to his credit in his more than 20 years of practice. He is an AV Preeminent peer review-rated attorney by Martindale-Hubbell. This is the highest possible rating in both legal ability and ethical standards.
Mark has run in the Boston, New York City and Marine Corps Marathons, competed in many other running events, and finished the JFK 50 Mile Run in under eight hours. He also enjoys hiking and has hiked many high peaks, including Mt. Whitney, CA, which is the highest mountain in the contiguous United States.
---
Attorney Amanda C. Sprehn
Amanda Sprehn has been an associate at Hyatt & Weber since 2004. Amanda's practice focuses on Civil Litigation, including the representation of clients for personal injury and medical malpractice, as well as defending landlords in toxic tort matters. She also handles complex liens, including Medicare and Medicaid, that often arise in personal injury and medical malpractice litigation.
Prior to joining Hyatt & Weber, Amanda clerked for the Honorable Ronald A. Silkworth in the Circuit Court for Anne Arundel County. She has successfully handled cases in Maryland's District, Circuit and Appellate Courts.
Amanda has served as president of the Aleph Bet Jewish Day School board, and was recently appointed to serve a two-year term on the Peer Review Committee for the Attorney Grievance Commission of Maryland. Amanda is a passionate animal lover and enjoys supporting animal welfare organizations that provide shelter, care and advocacy for animals.
When Amanda isn't practicing law, she is spending time with her husband, two daughters and spoiled Jack Russell Terrier.
---
Attorney Shannon T. Waldron
Shannon joined Hyatt & Weber, P.A. in 2003 and since then has represented clients before the City of Annapolis and Anne Arundel County Boards of Appeals, the City's Planning Commission and Historic Preservation Commission, and the County's Office of Administrative Hearings. Having practiced in the City of Annapolis and Anne Arundel County for several years, she focuses on the local legislative, entitlement, and permitting processes, and the balance between regulations, agency actions, public participation, and administrative efficiency.
In 2009, Shannon became the sixth attorney in the State of Maryland to achieve accreditation as a Leadership in Energy and Environmental Design Accredited Professional (LEED AP), with a specialty in Building Design and Construction (BD+C). This certification evidences an advanced depth of knowledge in green building practices, which are routinely being legislated into local building codes. Also related to responsible and efficient environmental choices, Shannon had the honor of serving on the founding Board of Directors of the Watershed Stewards Academy, as a member of the City of Annapolis Energy Efficiency Task Force, and on the City of Annapolis Building Board of Appeals.
---
Attorney Jonathan Wall
Jonathan Wall is a senior civil litigation associate at Hyatt & Weber, P.A., and he leads the firm's Bankruptcy and Intellectual Property practices.
Jonathan has been a member of the bar since 1995 and has been lead counsel in hundreds of Maryland state and federal Civil Litigation matters, including: Foreclosures, Adoptions, Guardianships, Contracts and Civil Rights, Legal Malpractice, Malicious Prosecution, Shareholder/Partner Litigation, Police Brutality, Will Challenges and other Estate matters, Patent Infringement, Fraud, Confessed Judgments and related Litigation, Landlord/Tenant, Divorce, Riparian and Construction Defects and Mold, Employer/Employee Wage and other disputes and Appellate practice and Insurance Litigation.
In addition, as lead counsel, Jonathan has represented and advised asset-based lenders, financial institutions holding secured and unsecured claims, equipment lessors, landlords, manufacturers, lienholders, taxing authorities and purchasers of distressed loans or assets in hundreds of Maryland bankruptcy or bankruptcy-related cases, frequently involving the extension and violations of the automatic stay, complex workout and Chapter 11 plan negotiations, borrower adversity complaints, claims litigation, asset protection and restraining orders, contested plan confirmations, fraudulent conveyance claims, preference actions and many other forms of contested matters in bankruptcy cases. In addition to creditor representation, Jonathan has extensive experience representing borrowers, guarantors and other debtors in Chapter 7, 11 and 13 bankruptcy proceedings, restructurings and litigation matters.
Jonathan represents and advises corporate and quasi-governmental entities in matters involving: Construction, Procurement, Ethics, Governance, state and federal Constitutional Law, Environmental Law, Contracting, Mechanics Liens, lead paint and other remediation, Leasing, and Land Use. He also maintains a significant estates and trusts practice, often acting as successor personal representative for non-performing estates and rapidly identifying and marshalling assets, negotiating with secured and other creditors with regard to claims, and sensitively and successfully addressing divergent beneficiary needs.
Jonathan's intellectual property practice includes a diverse group of corporate clients from multi-national engineering firms to Fort Lauderdale-based designers and manufacturers of multi-million dollar yachts; from writers and regional travel magazine publishers to local fashion accessory manufacturers; from artists and art studios to software designers, gallery owners and restaurateurs. His intellectual property practice focuses on corporate governance, U.S. and international trademark prosecution, copyright, and boat hull design protection, as well as technology transfer and licensing.
Jonathan contributes a substantial amount of his time providing pro bono or reduced-fee services to particularly needy or charitable clients, including: churches, synagogues, charities, and victims of fraud and abuse. He is a member of the Board of Partnership Development Group Rehabilitation Services, Inc., a non-profit facilitating the return to employment for people with disabilities. He is a panel attorney for the Maryland Lawyers for the Arts and has been an Annapolis/Anne Arundel County resident since 1988.
---
Attorney Paul J. Weber
Paul Weber, a Hyatt & Weber partner, is an accomplished litigator with more than three decades of experience in insurance coverage, medical malpractice and personal injury law. Based in Annapolis, Maryland, Paul represents individuals and businesses, including the majority of chiropractors in the state and their insurers. He also maintains an active practice representing medical professionals in licensure disputes. His understanding of the law from the perspective of both plaintiffs and defendants makes him one of the most sought-after lawyers in the Baltimore-Washington region.
Paul has prevailed for clients at local, state and federal trial and appellate court levels, as well as in arbitration and mediation forums. He has secured wins in numerous complex civil litigation cases, including a coverage dispute between two insurance companies involving a claim in excess of $70 million; complex million-dollar medical malpractice suits; and a high-profile coverage and liability action brought by a concert attendee who was severely injured when a fan dove into the audience from the venue's stage.
Clients praise Paul for his hands-on service approach. He evaluates the merits of each case, discusses all available options, and stays engaged at every stage of the process – whether pursuing resolution through out-of-court negotiation or at trial. Drawing on his experience representing plaintiffs in personal injury and medical malpractice litigation, Paul frequently counsels medical professionals and businesses on litigation avoidance and insurance coverage strategies. He regularly presents seminars to chiropractors and offers practical, frank advice on ways to implement best-practice tactics designed to mitigate risk.
Throughout his career, Paul has held a number of leadership roles in professional and civic organizations in the area. In addition to holding Martindale-Hubbell's AV Preeminent rating, he has been recognized for excellence in Best Lawyers for representing both plaintiffs and defendants in medical malpractice cases, as well as by Super Lawyers, The Capital and What's Up? Annapolis.
A resident of Arnold, Maryland, Paul and his wife, Susan, are the parents of two teenage daughters, Claire and Brooke, who they adopted from Vietnam.
---
Attorney Gregg M. Weinberg
Gregg is a licensed title attorney and an agent for Commonwealth Land Title Insurance Company. He has substantial experience in real estate title matters. He represents financial institutions, developers, and individuals in all aspects of Commercial Real Estate, including: Acquisition, Development, Leasing, Sale, Financing and Loan Documentation.
Gregg also represents clients in a wide variety of business matters, including: Entity Formation and Reorganization, Business Acquisitions and Sales, and the raising of equity through private placement memoranda.
Annapolis Office
200 Westgate Circle Suite 500 Annapolis, MD 21401
Baltimore Offices
1111 Park Place, Suite L150 Baltimore, MD 21201
6115 Falls Road, Suite 150 Baltimore, MD 21209
Easton Office
10 West Dover Street Second Floor Easton, MD 21601