« Back to Results
Johnson Bowman Branco, LLP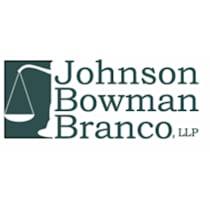 Accomplished. Experienced. Responsive.
Located in the state capital of Frankfort, Kentucky, Johnson Bowman Branco, LLP is the firm clients trust for aggressive representation and compassionate client service. Known as the "Capital's Law Firm," we represent a wide base of clients throughout the Commonwealth of Kentucky. We are a general practice firm with a focus on personal injury, criminal defense and family law. In these areas and others, we give our clients an optimal mix of personalized attention, experience and skills. We work diligently to obtain the most advantageous outcome possible. Although we aggressively defend you in the courtroom, we place a strong emphasis on treating you compassionately and giving you the attention and respect you deserve.
Contact us today if you need legal assistance with any of the following:
Personal injury — We represent clients in a full range of personal injury cases, including claims arising from car accidents, slip and fall incidents, dog bites, medical malpractice and defective products. If a family member was the victim of a fatal instance of negligence, our lawyers advise you of whether wrongful death damages are available.
Family law — For divorce and other family law concerns, such as custody, child support and adoption, we deliver compassionate guidance while safeguarding your rights.
Criminal defense — Our attorneys protect and defend our clients' rights in all types of criminal defense. Whether you've been accused of drunk driving, theft, a drug offense, a traffic violation or some other criminal misconduct, we'll stand up for you against police and prosecutors.
Administrative law — If you have a state or federal administrative law issue, we have a thorough understanding of the applicable rules and procedures used by such agencies as the U.S. Environmental Protection Agency, the Kentucky Department for Environmental Protection, the U.S. Department of Health and Human Services, the Kentucky Cabinet for Health and Family Services, the Kentucky Transportation Cabinet, and the Kentucky Personnel Board.
Civil litigation — As experienced trial lawyers, we can help you with all types of general civil litigation, including business litigation, breach of contracts, property damage, personal injury claims, insurance claims and torts, in state and federal courts.
Health law — We apply our in-depth knowledge of health law to ensure that you remain in compliance with regulations and issues associated with the Patient Protection and Affordable Care Act (PPACA), the Health Insurance Portability and Accountability Act (HIPAA), Medicaid, Medicare and other aspects of the healthcare system.
Regardless of your specific concerns and goals, we will develop a thorough strategy to help you achieve your objectives as completely and efficiently as possible.
Johnson Bowman Branco, LLP in Frankfort represents Kentucky clients in several legal practice areas, including family law, personal injury and criminal defense. We welcome the opportunity to get to know you and advise you on your situation. Call 502-605-6100 today to arrange your free initial consultation.
Attorney William E. Johnson
Bar Admissions:
State of Kentucky, 1957
United States Supreme Court, 1971
U.S. Court of Appeals for the Sixth Circuit, 1984
U.S. Court of Appeals for the Third Circuit, 1990
U.S. District Courts for the Eastern and Western Districts of Kentucky
Pro hac vice for the U.S. District Courts for the Virgin Islands
District of Kansas
Southern District of Ohio
Education:
University of Kentucky, LL.B., 1957, converted to Juris Doctor, 1970
Eastern Kentucky University
Professional Memberships and Achievements:
President, Kentucky Bar Association, 2014-2015; President-Elect, 2013-214; Vice-President, 2012-2013
Member, Kentucky Bar Association, Board of Governors, 1986-1989; Chairman of the House of Delegates for the year 1979
American Bar Association, The Association of Trial Lawyers of America, Board of Governors, 1980-1983
Kentucky Academy of Trial Attorneys, President 1979
Franklin County Bar Association, President, 1980
Kentucky Association of Criminal Defense Lawyers, President, 1990
Kentucky Justice Association
---
Attorney W. Eric Branco
Bar Admissions:
Kentucky, 2016
United States District Court, Western District, 2016
United States District Court, Eastern District, 2016
United States Court of Appeals, Sixth Circuit, 2016
Education:
University of Kentucky, College of Law, J.D., 2016
University of Florida, Criminology, B.A., 2013
Professional Memberships and Achievements:
Kentucky Bar Association
Young Lawyer's Division
American Bar Association
Franklin County Bar Association
Kentucky Association of Criminal Defense Lawyers
Kentucky Justice Association
Rules Committee
Wellness Committee
Diversity Committee
Young Lawyers Committee
United Way of Franklin County – Board Member
---
Attorney Joseph P. Bowman
Bar Admissions:
Education:
University of Kentucky
UK College of Law in 2004
Professional Memberships and Achievements:
Kentucky Bar Association, 2004 membership, licensed to practice in Kentucky District and Circuit Courts, Court of Appeals and Supreme Court. *** no disciplinary history ***
United States District Court for the Eastern District of Kentucky.
United States District Court for the Western District of Kentucky.
United States Court of Appeals for the Sixth Circuit.
Franklin County Bar Association, serving as past Treasurer and Secretary.
Kentucky Justice Association.
American Bar Association.
Boy Scouts of America, Eagle Scout