Seek Justice with the Help of a Skilled Legal Team
When you've been injured in an accident, an experienced injury attorney will immediately take the necessary steps to protect you, your case and your credit rating from the long arm of creditors.
Excellent legal representation requires a thorough and up-to-date knowledge of legal precedent, case law and legislation that may influence your financial recovery. An experienced personal injury attorney will gather the facts, analyze the complexities of your claim and develop legal strategies that will maximize your settlement or award.
The cornerstone of Ward & Ward's legal practice is respect for the law, community, faith and family. They value their clients from all walks of life. You can be assured they will represent you with consideration and unsurpassed legal skill and commitment. The lawyers at Ward & Ward protect, not only the known — but the unknown.
Contact Attorneys Don and Charlie Ward today if you need legal assistance with any of the following:
Birth Injuries
Construction Accidents
Doctor Malpractice
Medical Device Injury
Medical Negligence
Negligence
Nursing Home Abuse and Neglect
Pedestrian Accidents
Premises Liability
Products Liability Law
The dynamic father and son team at Ward & Ward Law Firm has over 85 years of combined experience representing clients who have been injured by another person's negligence.
Call Ward & Ward today at 317-978-9252 to arrange your free initial consultation.
Attorney Charlie Ward
Jurisdictions:
State of Indiana
US District Court, Northern and Southern Districts of Indiana
US Court of Appeals, Seventh Circuit
Admitted To The Bar:
Education:
Indiana University, J.D., 1989
Butler University, B.A. cum laude, 1985
Professional Memberships and Achievements:
Indianapolis Bar Association
Indiana State Bar Association
Indiana Trial Lawyers Association
State delegate, The Association of Trial Lawyers of America, 1996
Governor, Young Lawyers Divisions, 1995–1999
Indianapolis Inn of Court
Law Clerk to Justice Richard M. Givan, Indiana Supreme Court, 1990-1991
AV® Preeminent™Peer Review RatedSM by Martindale-Hubbell®
Super Lawyers, 2005–2013
Foreign Languages Spoken:
---
Attorney Donald W. Ward
Jurisdictions:
State of Indiana
US District Court, Northern and Southern Districts of Indiana, 1989
US Court of Appeals, Seventh Circuit
Admitted To The Bar:
Education:
University of Notre Dame, J.D.,1954
Hanover College, A.B., 1951
Professional Memberships and Achievements:
Vice-President, Indianapolis Bar Association, 1975
Indiana State Bar Association, 1975
President, Indiana Trial Lawyers Association, 1978–1979
Governor, 1979–1982, 1997, The Association of Trial Lawyers of America
Judicial Nominating Commission and Indiana Judicial Qualification Commission, 1978–1984, 1993–1995, 2001
AV® Preeminent™Peer Review RatedSM by Martindale-Hubbell®
Sagamore of the Wabash, 2005
Hoosier Freedom Award, 2005
Lifetime Director and Lifetime Achievement Award, Indiana Trial Lawyers Association, 1996
Foreign Languages Spoken:
I met Charlie Ward after I was involved in an auto accident where I was hit from behind and driven into the car in front of me. The impact was so hard that it knocked the radio out of the dash. I incurred injuries from the accident and the insurance company kept dragging their feet on a settlement. Charlie was incredibly helpful and encouraging throughout the whole process. It took over three years and mediation, but I finally received a settlement. I know that I would still be waiting for a settlement if I hadn't contacted Charlie. Charlie also assisted me in setting up my Will, Living Will, Power of Attorney, etc. He truly goes the extra mile to take care of his clients and I know he is genuine in his concern. I can never imagine ever using anyone but Charlie for my legal issues.
Susan Miles
---

Don Ward has helped me during various points in my life, some of which include: the settling of my husband's estate, along with setting up my will, and securing various assets for my children. Don Ward has been not only a reliable and kind attorney; he has been an unbelievable role model to my children. He is a loyal confidant, a fierce ally, and most of all...a wonderful friend to my family during times of great emotional need. I always know when dealing with Don Ward that he has my best interest at heart. I would recommend Ward and Ward Law Firm, without hesitation, to anyone.
Leigh Williams
---

The staff at Ward & Ward Gives Lawyers a Good Name, forget the stereotypes here! Charlie and his Father are kind and caring people that put their clients interests and feelings first! You'll forget you are a client and begin to believe you are one of the family. I was first referred to Charlie by my employer who knew him from before he was in law school. Charlie earned his way doing landscaping, so he knows that it takes hard and honest work to make your way in this world. When my father fell seriously ill in early 2005, he knew that he needed to get his will in order so my mother would be able to continue on without having to struggle with a complicated estate. I contacted Charlie and he made an unpleasant task unbelievably easy and comforting. Charlie and his aide made the 30 min drive to my parent's home and collected all the needed information without hesitation. Within just a few days, Charlie returned for a review of the documents and signatures. My Dad was very impressed with Charlie and his kindness. Six months later, my father passed away knowing that Mom would be able to continue on, without any difficulties. Since that time Charlie has made himself available for advice and counsel when legal issues arise in my life, even on evenings and weekends. I can always count on Charlie for straight answers, even when it's not what I want to hear. When I was involved in an auto accident two years ago and the other driver's insurance company was "playing games", once again Charlie came to my aid and treated me like family. Needless to say, the insurance company became much more reasonable! Ward & Ward is the finest law firm in the entire state of Indiana. Do yourself a favor and look nowhere else, you have found the BEST, MOST HONEST and CARING LAW FIRM in INDIANA !
Ed Riley
---

My name is Lindsey Brink a year and a half ago i was bit in the face by a dog. I had never had a situation that required legal attention but because of all the great things i had heard about Charlie Ward i knew he would be the best person to call. After a lot of back and forth and attention to detail,on behalf of Charlie, we closed my case with better results than i could have ever asked for. I would recommend Charlie Ward to anyone that is dealing with a personal injury case. I am only 25 years old and could have easily been taken advantage of, but Charlie treated me with the utmost respect and made sure i was taken care of just like any other client. I owe him a lot and am blessed to have had him on my side.
Lindsey Brink
---
The following testimonial was written by a client who, along with her husband, received a confidential settlement for severe injuries her husband received in an accident involving a semi tractor-trailer. Her name and the name of her husband have been redacted for purposes of privacy:

"As many of you may know, [my husband] and I filed a complaint against the trucking company that owned the truck that hit [my husband] back in 2012. After working with two wonderful attorneys, Charlie and Don Ward from Ward & Ward Law Firm out of Indianapolis, after what seemed like an eternity, we were able to settle the claim with the help of Charlie and Don's hard work. I'd like to thank them for their help and all they have done for [my husband] and myself."
Since 1997, the "Lead Counsel Verified" status has been granted to attorneys who possess:

The Right Professional Experience
A Spotless Record
The following attorneys at this firm are Lead Counsel Verified: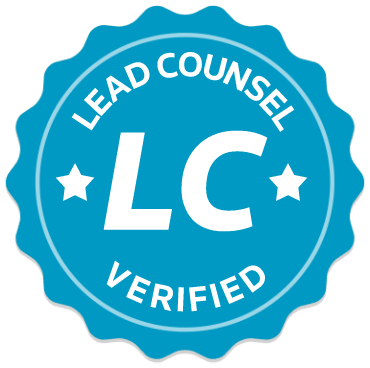 Charles Ward
This attorney is Lead Counsel Verified in the following practice areas:
| Practice Area | Year |
| --- | --- |
| Personal Injury | Since 2014 |
| Practice Area | Year |
| --- | --- |
| Personal Injury | Since 2014 |
For Attorneys:
Download Lead Counsel Badge