David E. Deal and Associates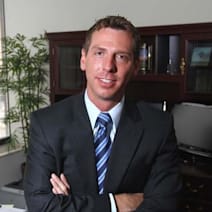 Award-Winning Litigation Firm Fighting for You!
At David E. Deal and Associates, we strongly believe our clients cannot afford a criminal conviction or the medical expenses and property damage that can come with a serious injury. When so much is at risk, you will need to have a skilled Indianapolis lawyer at your side advocating for your rights.We know that there are always at least two sides to every story. Make certain your side is heard loud and clear with help from our law firm! 
Contact us today if you need legal assistance with any of the following:
DUI
Drug Crimes
Violent Crimes
White Collar Crimes
If you are currently facing a legal matter, speak with an Indianapolis litigation attorney at David E. Deal and Associates immediately. We are here to help fight for your rights and safeguard your future. Call 317-932-8388 today to arrange your free initial consultation.
Attorney David E. Deal
Founding Attorney David E. Deal studied psychology at Purdue University, graduating with his Bachelor's degree in 1998. From there, he moved on to the Indiana University School of Law in Bloomington, where he graduated in 2001.
David Deal served as a clerk for the Morgan County Circuit and Superior Courts in addition to serving as a certified legal intern for the Morgan County Prosecutor's Office during law school. After graduating, Mr. Deal remained in Indiana, working at Ryan, Moore, Cook & Hunter as an attorney for businesses and banks.
In 2002, Mr. Deal was chosen to serve as the President of the Clinton County Bar Association. With a desire to continue his work in litigation, he later returned to his hometown of Indianapolis, where he worked for the Marion County Prosecutor's Office as a deputy prosecuting attorney.
After gaining a wealth of litigation experience as lead government counsel for countless trials, Attorney Deal went on to begin his own firm in 2004. He handled cases for clients who were injured in accidents and charged with criminal offenses. In 2007, Attorney Deal joined Voyles, Zahn & Paul to manage the firm's civil suits while also maintaining his practice in personal injury and criminal defense.
Attorney David Deal is licensed to practice law in the U.S. District Court for both Northern and Southern Districts of Indiana. In addition, Mr. Deal is a member of the Indianapolis Bar Association and the Indiana Trial Lawyers Association and was invited to be a member of the National Trial lawyers Top 40 Under 40 in 2012, which is an exclusive collection of the highest-rated lawyers in Indiana. He has also served on the Decatur Township Educational Foundation Board of Trustees, was selected to the 2015 and 2016 lists of Super Lawyers® Rising Stars℠, and recognized as a Super Lawyer in 2021 & 2022.